The NEAFL GIANTS' season is over after going down to an impressive Aspley side by 22 points in an elimination final at Voxson Oval on Saturday.
The third-ranked Hornets started strongly to take an early advantage and although the GIANTS rose to the challenge all over the field, they struggled to find reward on the scoreboard, ultimately going down 9.14 (68) to 6.10 (46)
A goal to Xavier O'Halloran in the opening 15 seconds of the final term got the GIANTS within 16 points and within striking distance, but, as they had all game, the Hornets made good use of their opportunities and replied, with both teams kicking 3.2 in the final term.
GIANTS NEAFL coach Adam Schneider said the loss was "devastating" as the GIANTS left nothing on the field in their pursuit of a preliminary final berth.
"First and foremost, credit to Aspley, they were sensational," he said.
"They played a really good brand of footy – a really tough, contested brand. We obviously had a bit of a young midfield and younger bodies, and they really taught us a lesson in that area.
"It was great learning for our players, it really was. We had 70 tackles and we had players throwing their bodies everywhere, which was what we were after.
"Unfortunately, Aspley was just better than us on the day, they played the ground and conditions better than us and I think they deserved to win.
"I'm still devastated and really disappointed with the end result on the scoreboard, but after watching it back – and also how I felt on the day – I was pretty proud of the boys, the way they cracked in and they really leave nothing out there.
"So I was pleased in that aspect, but just very devastated for the players that they didn't get to enjoy winning a finals game of footy."
Tommy Sheridan led the GIANTS for possessions with 26 on the back of an outstanding work rate, while young midfielders Jye Caldwell (23) and Jackson Hately (20) also had an impact.
Rookie-listed Jack Buckley made a strong return to the team, collecting 21 disposals as a high half-forward and bringing plenty both offensively and defensively, while Kieren Briggs continued to step up as the GIANTS' sole ruckman, winning 37 hitouts and collecting 18 disposals against former AFL ruckman Jake Spencer.
Although they trailed on the scoreboard all afternoon, the GIANTS never looked out of the contest as they challenged Aspley every step of the way.
"We went into the game knowing it was going to take 120 minutes – it could've taken until the last minute to crack them, it was not going to be an easy game," Schneider said.
"We kicked the first goal of the last quarter; we had the belief and opportunities to do it.
"We won the inside 50s in the last quarter 18-11, we just couldn't quite capitalise."
The elimination final was the GIANTS' first foray into the NEAFL finals since 2016, when they won the premiership.
The GIANTS of 2019 were a much younger outfit, and have had to absorb an at-times considerable injury toll from the AFL side, forcing more young players to step up and take on more responsibility.
Schneider said although it was disappointing to see the GIANTS' season come to a close, the team should be proud of how they played on the day and for the season as a whole.
"I was super proud of them for what they've been through through the year – we won a game with five (AFL-) listed players a couple of weeks ago," he said.
"I thought we played some good footy and some individuals have really grown this year, which is the most pleasing thing.
"Looking back, I think the guys have really bought in, especially the guys who have come and help us through the Academy as well, they've been sensational."
Aspley 3.5, 4.9, 6.12, 9.14 (68)
GIANTS 2.5, 2.7, 3.8, 6.10 (46)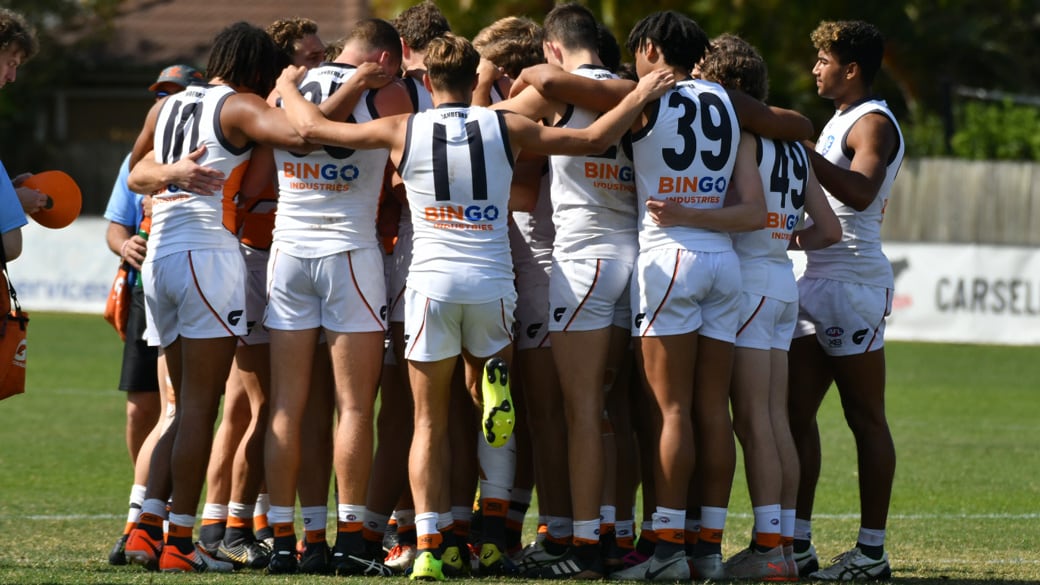 The GIANTS left nothing in the tank in their elimination final against Aspley. Photo: Sharon Vella / NEAFL
GIANTS NEAFL coach Adam Schneider on the GIANTS' AFL-listed players:
Tommy Sheridan – 26 disposals, seven inside 50s, six tackles, six marks
"Tommy was one of our better mids for the day. His leadership was fantastic – you could hear him yelling from the sidelines. With a young midfield group, I wanted to make sure he really led the way in that. We put him around the footy to help the younger guys and I thought he did a fantastic job of that. His work rate off the ball really stood out for a bloke who hasn't really had a consistent year with his body and running. I thought it was a really good game from him."
Jye Caldwell – 23 disposals, 11 tackles, four inside 50s, one mark
"Jye was great. Obviously, we know Jye has got elite hands, he's still a young kid coming through also hasn't played a lot of footy this year. He was good – I thought he was really, really good for us in tight, some of his hands were super. He just had a crack and had 11 tackles for the day as well. He's a prime example of someone who gave their all for us."
Jack Buckley – 21 disposals, seven marks, five inside 50s, four tackles
"Jack had an outstanding game for us, playing a high forward role really suits him. He played up the field; his work rate stood out. He was able to burn his player both ways, which was great for us. It was his first game after four weeks off, so to come out and do that was super impressive and to have 21 disposals on the back of that in such a big game, in a finals game, was super for him."
Jackson Hately – 20 disposals, five inside 50s, four tackles, three marks
"Jacko was super impressive with his work rate. His running capabilities on the ground really stand out and one of the first goals of the game was from Jackson's work rate, from a centre clearance (and then) to get in there and follow up – he gave a handball to Aiden Bonar, who kicked a goal. He's fought really hard, played a bit inside, a bit of wing as well. It was never easy changing positions like that, but I thought he gave it his all as well."
Kieren Briggs – 37 hitouts, 18 disposals, three tackles, three inside 50s, three marks
"I thought Briggsy was outstanding for us. He was pivotal early. The first five minutes of the game he was great. Coming up against Jake Spencer, who's an ex-AFL ruckman, he really did fight all day. He battled hard and looked after our younger blokes in there, which was great. He got in some huge one-on-one contests down the line, against Spencer. All I asked for him was just to compete and not be out-marked, and I don't think Spencer out-marked him once long down the line, so I'm really happy with that. It was a really good game. I thought it was a really big step in the right direction for Kieren, so really pleased for him."
Xavier O'Halloran – 17 disposals, five tackles, four marks, two inside 50s, one goal
"Xavier had a tough day. It took him a little bit to get going, but after watching the game back, I felt some of his running patterns were really outstanding to get back and support our defence, which is one of his greatest strengths, and it was good to see him use that. We know he's tough and aggressive, which I love. It's just about getting the right balance of not being too aggressive and pushing the boundaries, but also making sure he's right because his attack on the footy is fantastic."
Aidan Corr – 16 disposals, four tackles, four marks, one goal
"Corry was super, he played on Freeman – one of their best forwards. The ball got peppered in there a fair few times and there were a lot of one-on-ones with him, but he used his body work really, really smartly and covered the ground really well as well, and also kicked it pretty good by foot. We swung him forward in the last quarter to try to win the game, and he ended up kicking a goal and having another shot on goal for us. It was a really good output by Aidan, and we got out of it what we needed to."
Isaac Cumming – 16 disposals, two tackles
"It was a tough day for Isaac. I thought he defended really well; I don't think he got beaten in a one-on-one at all; the defensive side of his game was super. I guess we were hoping we'd get a little more offensively, but the way the game played out we didn't have too many opportunities. He was putting himself in the right positions at the right times, but it was one of those days where he didn't get used by his teammates, and that's footy. Offensively, it would've been great to have more output, but it wasn't for a lack of effort. He did pretty well and was really, really sound defensively. He's starting to look like an AFL footballer out there, which is really good."
Matt Buntine – 15 disposals, nine marks, four tackles, one inside 50
"He's one of those blokes you'd go to war with every week. He puts himself in holes on footy fields that not many people do and stands under the footy like he does. He was super courageous for us and some of the marks he took were great. Players grew around him, his leadership was fantastic. He really did save us a fair few times coming into our defensive fifty. He's playing some really solid defensive footy at the moment."
Nick Shipley – 13 disposals, seven tackles, five marks, two inside 50s
"After such a great year, the opposition put a lot of time into him on the wing. They wanted to make sure he didn't have a big impact and he found it tough to get going. It was really an open, flowing game on a big ground, which normally suits Nick, so he found it a little bit tougher. He just couldn't quite find the footy like he normally has, but also his running to support our defenders and forwards stands out as well. He didn't quite get rewarded for it, but we definitely notice it."
Jake Stein – 13 disposals, seven marks, two tackles, two inside 50s
"Steiny was super for us, I think he had 12 or 13 spoils for the day. His opponent barely touched it. He really did play his role for the team, and won some big one-on-ones as well, which was crucial for us at times. He was very good for us down back, especially when the ball was coming in pretty hot there in the second and third quarter, I thought he really stood up for us."
Callum Brown – 13 disposals, three marks, one tackle
"Browny was okay. He started slow, in the second half he got going and gave us a bit more of a run and carry. For what he's done this year, we couldn't have asked for any more. For a guy to play his first year of footy, I don't think he's missed a game since he started, which we didn't think would happen. We thought we'd ease him into it, but he's just shown so much potential. He's still got a lot to learn, there's no doubt, but what we see is huge potential. He's had a super year and we love it when he runs and carries and breaks tackles."
Aiden Bonar – 10 disposals, seven tackles, three marks, two inside 50s, two goals
"Bonar played predominantly forward for us, we wanted to try to use his speed and strength and get him in a one-on-one as much as possible, which we found really worked. He kicked the two goals, which was great, he also laid seven tackles. Part of the plan was to get him up high and beat his player back, and that's how he got one of his goals, so that worked for us. Again, they put a bit of time into Aiden, because he's a very good player, when he went into the midfield. He didn't get as much footy as he probably would've liked, but I thought he played a role for us up forward."
Dylan Buckley – nine disposals, one inside 50
"Dyl obviously had a long time out, and it's never easy to come into a game – a final especially – against a tough team like Aspley. Dyl being such a dangerous player, they tagged him very hard and didn't give him any space. It wasn't quite the return he would've liked, but that's footy, unfortunately."
Zach Sproule – nine disposals, four marks, two inside 50s, one hitout, one inside 50, one goal
"Sprouley had a very good defender play on him for most of the game as well. After playing in AFL, we know he can play at that level. Unfortunately, it just wasn't his day and his player got the better of him."
Connor Idun – seven disposals, three marks, one tackle
"Connor was pretty good again. Obviously, it's been a big year for Connor, he's another player who hasn't missed a game, which is huge for a first-year player. He played on one of their very dangerous small forwards who he kept relatively quiet, but what he's produced this year has been fantastic. He's one of those players who'll stand up for his team no matter what. He's very aggressive and makes it hard for his opponent to get the footy, and I thought on the weekend he did that at times, but just couldn't quite get it done for four quarters, but overall we're very pleased with what we've seen from Connor."