Ahead of the GIANTS' Elimination Final against the Western Bulldogs, foundation member and cheer squad spiritual leader Michael Shillito has penned a letter to fellow GIANTS members and supporters.
GIANTS members! GIANTS supporters! Can you feel the excitement rising?
Finals are here. 10 teams are out, and only the top eight remain.
The cream of the crop. And we are one of them.
We're playing the Bulldogs. We've played them in finals before. But finals footy was a new experience for us then.
We learned a lot that night, and now it's time to put it into action.
This time around, we've got the numbers in the crowd. And we need to make it count.
TICKETS: Click here to get your tickets to the Eliminaiton Final at GIANTS Stadium, the last AFL game in Sydney in 2019!
Firstly, come! There are still tickets available. It's not too late to snap up your tickets and be a part of this.
We have 30,000 members and a growing number of supporters; and we need you there.
Secondly, wear your GIANTS colours! The sight of orange and charcoal around the ground will show that this is our turf!
It's called GIANTS Stadium for a reason; and that reason is that this is our home; and it needs to look like our fortress.
And then, when the game is on, we need to hear you!
Raise your flags, raise your voices. Clap your hands, stamp your feet, jump in the air.
A vocal home crowd lifts the team. As the GIANTS run the ball forward, the rising tide of noise will inspire them. Ride the wave, as the sound carries our players down the field and washes up as the ball goes through the big sticks.
Umpires shouldn't get affected by crowds, but they do. We cop free kicks against us from the grandstands when we travel. But we can get them at home; let them know that the GIANTS fans are watching.
Let your passion lift the team. Wherever you are, whatever angle you're watching from; you can play your part. Like never before, we need to hear GIANTS support from all 360 degrees of our stadium.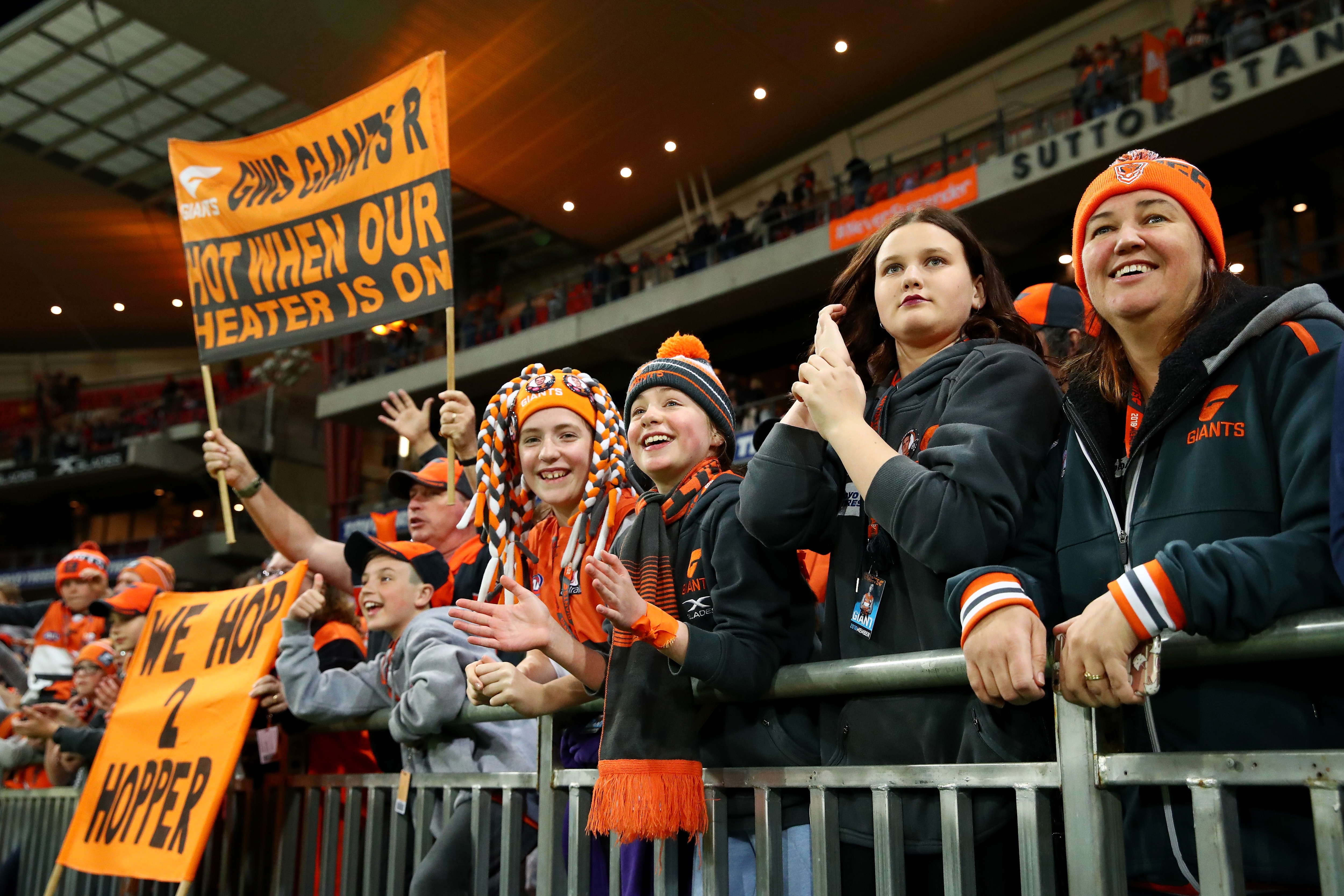 The odds are stacked against us, but this underdog can prevail. The Victorian media have written us off, but they underestimate our fighting spirit.
The knockers and the haters dismiss our chances, but they don't know the spirit of our club.
The spirit that inspired Stephen Coniglio to stay, when everyone else was so sure he would leave.
They said we wouldn't last, but we're going strong.
They said it couldn't be done, but we're doing it.
They said we have no history. But history isn't in books collecting dust on the shelf. We're making history every day, right now.
They said no one supports us, but we're growing rapidly. 30,000 members. It took the Bulldogs well over a century to get that many; and we've done it in eight years, far from the game's heartland.
Will you be there on Saturday? Not just to watch, but to play an active part.
Be seen! Be heard! Let's show the footy world that the GIANTS have what it takes. Your passion and vocal support will inspire our GIANTS players to run faster, jump higher, land those tackles and find their targets.
For we are not just spectators, but active participants. For we are GIANTS, and we will Never Surrender!
Wherever you sit on Saturday, the message is the same. The message we send is loud and clear; and everybody will know.
Here Come The GIANTS!