The GIANTS have unveiled their 2018 Indigenous jumper ahead of Sir Doug Nicholls Round next month.
After calling for entries from Indigenous and Torres Strait Islander artists in November last year, the club received dozens of designs from across the country.
After careful consideration, the club's Reconciliation Action Plan (RAP) working group - which includes players Zac Williams and Jeremy Finlayson - selected Northern Territory born artist Nathan Patterson's Learning Together, Growing Together, Walking Together as the winning design.
"In the centre I have painted a meeting place/campfire representative of the club but also the Aboriginal community as a whole," Patterson said of his design.
"I have incorporated the four community pillars (harmony, health, education, employment), represented by the four 'U' shapes seated around the central meeting place.
"Beyond the meeting place there are other campsites which symbolise the flow-on effects felt in community when these pillars are successfully applied.
"I have also painted four sets of footprints. These speak of true reconciliation, walking together side by side to create a better future for generations to come."
Included on the jumper for the first time is an acknowledgement of country that runs along the outside of the collar.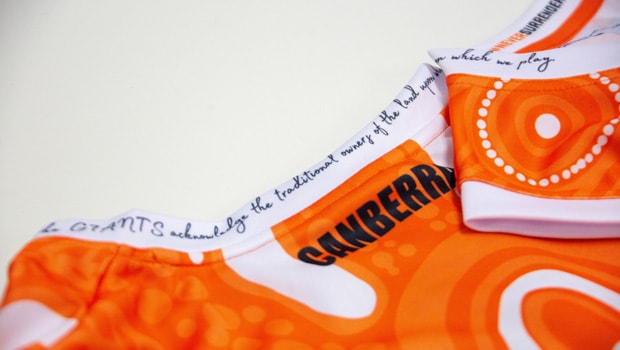 Defender Jeremy Finlayson said he is looking forward to wearing the jumper in what will be his first Sir Doug Nicholls Round.
"I've watched the boys run around in some amazing designs over the past few years, so I can't wait to pull on the jumper this year," he said.
While fellow defender Zac Williams will miss the game through injury, he's proud to have been part of choosing the winning design.
"I'm disappointed that I won't be playing as I really like Nathan's design and I'd love to be wearing it," he said.
"But knowing that I'll see the entire team wearing it in a few weeks, and knowing I had a part in choosing the design is something I'm really proud of."
The jumper will be worn by the GIANTS in their 2018 Sir Doug Nicholls Round clash with the Adelaide Crows at the Adelaide Oval on Sunday, June 3 and again during their round 11 match against the Gold Coast Suns at Spotless Stadium on June 9.
The AFL's annual round recognising and celebrating Indigenous players and culture was re-named in 2016 in honour of Sir Doug Nicholls.
Sir Doug, who epitomised the spirit of reconciliation, played 54 games for Fitzroy and was a brilliant all-round athlete.
He was the first Aboriginal person to be knighted, served as Governor of South Australia and was devoted to the wellbeing of Aboriginal and Torres Strait Islander people.