The GIANTS have released their 2016 Indigenous jumper, which will be worn in the round 10 match against the Crows in Adelaide.
It is the second year in a row that the GIANTS' Indigenous jumper has been designed by Luke Penrith, a resident of Brungle in the NSW Riverina.
Penrith is a proud Aboriginal man with cultural ties to the Wiradjuri, Wotjobaluk, Yuin and Gumbaynggirr nations.
This year's design is completely different to 2015 and reflects the growth in the GIANTS over the early years and the journey the club is on.
"The large footprints represent the impact the GIANTS are having on the region from Western Sydney, through Canberra and into the Riverina and will continue to have in the years to come," said Penrith.
"It also reflects the journey - within each foot step, the team is striving for bigger things and putting in the hard years. They are learning and building and believing in themselves and each other.
"The boomerangs represent the past present and future as well as symbolising the young players earning their stripes as they move forward - they are flying high, driving hard and outplaying their foes.
"And the Sunset dreaming on the back is all about dreaming of a brighter future as the sunsets over the Blue Mountains in the West."

Zac Williams with artist Luke Penrith
Penrith said he's thrilled with how the jumper looks.
"I'm over the moon with the design, it's very bright and very catchy.
"I recently shared it with Nathan Wilson and Zac Williams and they really enjoyed it.
"Those guys have been playing some good footy and are really looking forward to wearing it against Adelaide in a couple of weeks."
The GIANTS have five indigenous players on their list: Zac Williams, Nathan Wilson, Jarrod Pickett, Paul Ahern and Jeremy Finlayson.
The GIANTS will wear the Indigenous jumper when they play Adelaide at Adelaide Oval on Saturday May 28.
The AFL's annual round recognising and celebrating indigenous players and culture has been renamed in 2016 to honour of Sir Doug Nicholls.
Sir Doug, who epitomised the spirit of reconciliation, played 54 games for Fitzroy and was a brilliant all-round athlete.

The first Aboriginal person to be knighted, he also served as Governor of South Australia and was devoted to the wellbeing of Aboriginal and Torres Strait Islander people.
All 18 clubs will wear special indigenous-themed jumpers during the round.
Visit the GIANTS Shop to purchase your own jumper today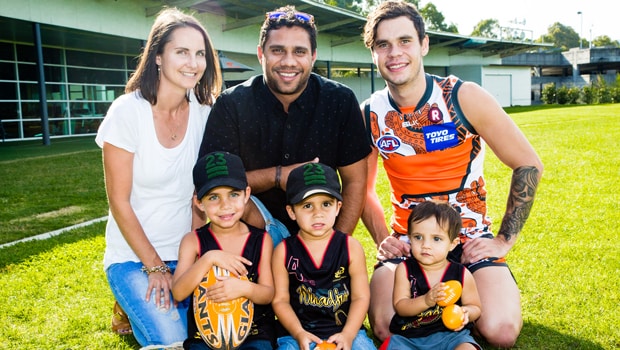 Zac Williams models this year's Indigenous jumper with artist Luke Penrith and his family at GIANTS HQ