The GIANTS are pleased to announce XBlades as the club's on and off-field apparel partner for the next three years.
XBlades will work closely with the players to produce quality apparel that is both bespoke to the GIANTS playing group and assists on field performance.
XBlades has also begun working with the club to deliver a new 2017 licensing and merchandising range for GIANTS members and fans.
XBlades has recently undergone a brand reinvigoration with former Geelong champion Jimmy Bartel coming on board as Product Development Director and investor in XBlades Australia.
Bartel and his team will work closely with the GIANTS players and staff to develop and design a new range of on and off-field apparel.

GIANTS Chief Executive David Matthews has welcomed the partnership.
"The GIANTS are delighted to partner with XBlades as both organisations enter the next exciting phase," said Mr Matthews.
"Xblades is an innovative Australian company that is eager to help us continue to grow as we break new ground in New South Wales and the ACT.
"To be able to have our players hands-on in the design process allows them to help tailor the high performance apparel they need.
"I've got no doubt that this three year partnership will be a popular one with not only our players but also our our members and supporters too."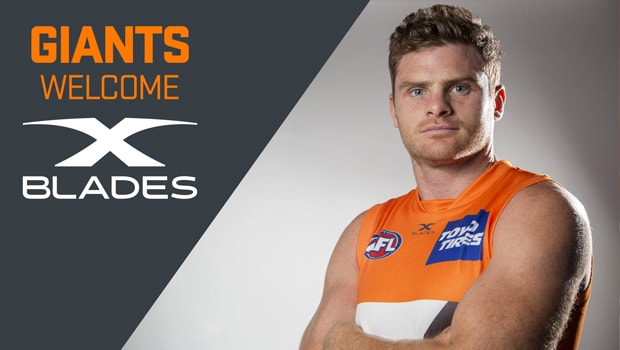 XBlades Australia Chief Executive Leighton Richards said he's excited to be partnering with the GIANTS.
"We're proud to provide the GIANTS with an immediate solution for their apparel and we're looking forward to working closely with the club and their leadership team to develop the high quality products they need to excel," said Richards.
"XBlades is all about combining athlete experience with scientific expertise to create durable, high performing apparel for long term success.
"XBlades products and technology will evolve with the game and we will strategically leverage our new networks to challenge the frontiers of innovation.
"We'll work together with the GIANTS over the next few months to bring major product developments across fabrics and design for apparel ready for 2018."
The new range of GIANTS merchandise will be available shortly at the GIANTS shop at the Learning Life Centre at 1 Olympic Boulevard, Sydney Olympic Park, or online at shop.gwsgiants.com.au