GIANTS coach Leon Cameron is bullish about emerging midfielders Tim Taranto, Jacob Hopper and Harry Perryman keeping the GIANTS in the flag race.
Cameron is in charge of what remains a feared list despite the GIANTS trading All Australian midfielder Dylan Shiel, ruck-forward Rory Lobb, running machine Tom Scully and young gun Will Setterfield.
Some suggested the GIANTS' premiership window shut when that quartet departed for draft picks and salary cap relief in the 2018 NAB AFL Trade Period.
It was a bold call, given stars such as Josh Kelly, Toby Greene, Lachie Whitfield, Stephen Coniglio, Callan Ward, Jeremy Cameron, Phil Davis, Nick Haynes and more remain.
Questioning how the GIANTS would cover midfielders Shiel and Scully, even though an ankle injury limited him to one game last year, seemed fair.
However, in Taranto (No.2 draft pick in 2016), Hopper (No.7 in 2015) and Perryman (No.14 in 2016), the GIANTS have talented and readymade replacements.
The internal Taranto-Hopper rivalry is also driving both to new levels.
"Taranto's in year three and he's sensing he's going to get more midfield time. That's going to be the case, obviously, with Shiel going," Cameron told AFL.com.au.
"Taranto's had a really good pre-season, Hopper's had a great pre-season, and young Harry Perryman is also in his third year.
"They will get an opportunity to get in there, and they should be improving."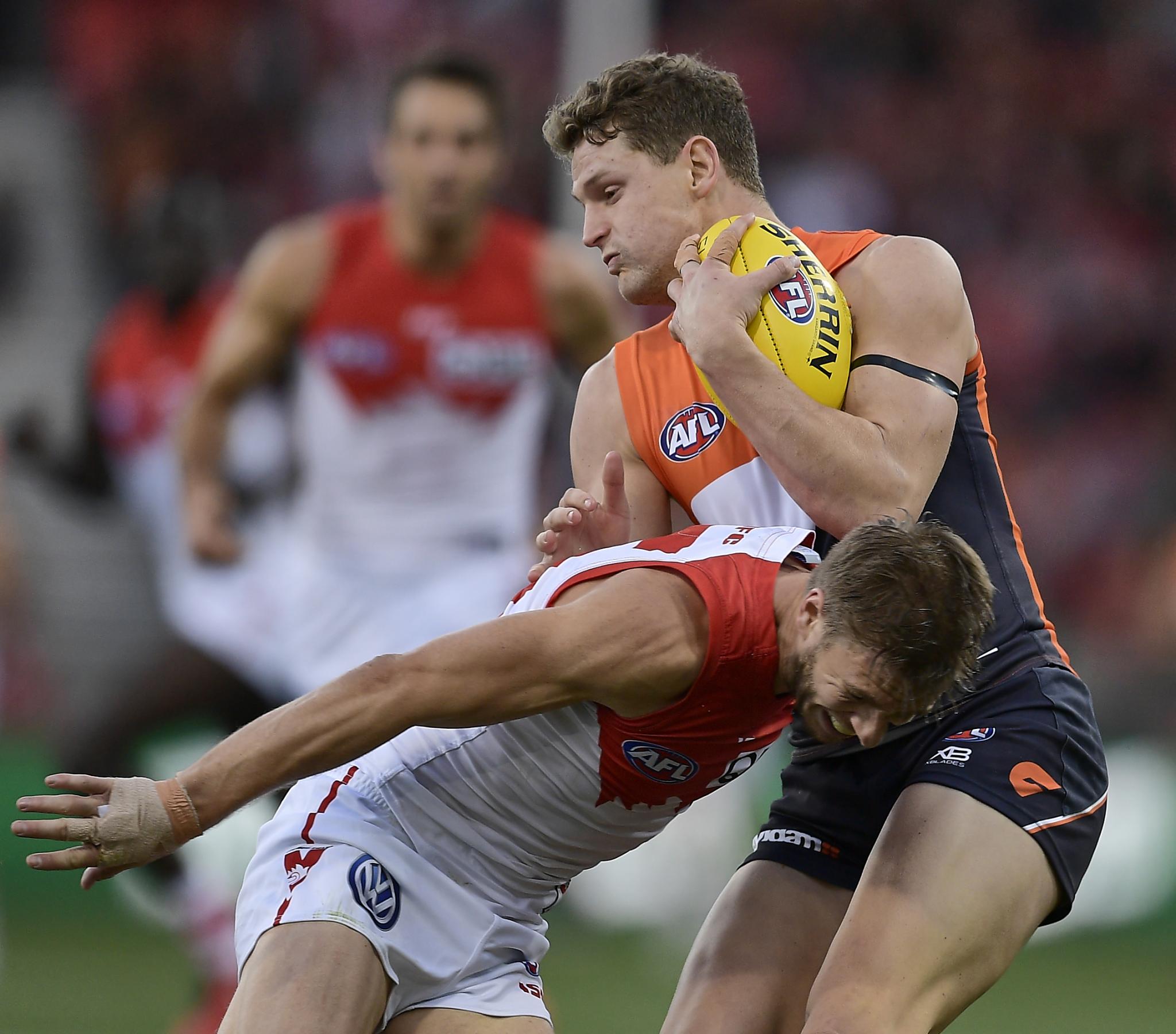 Taranto's time in the centre square spiked from 32 to 49 per cent last year and there promises to be a similar increase in 2019.
He already ranked No.1 last season at the GIANTS for total pressure acts and tackles, third for contested possessions, fourth in clearances, centre-bounce clearances, hard-ball gets and loose-ball gets, and fifth in disposals.
Cameron was reluctant to measure up the 21-year-old, whom the GIANTS coveted so much it traded up in the 2016 draft to select him, with any of the AFL's biggest stars.
Comparisons can be fraught with danger, but there are parallels in the first two seasons of Taranto and Josh Kennedy, albeit the champion Swan blossomed after joining a second club.
First two seasons of a GIANT and a Swan
| | | |
| --- | --- | --- |
| STATISTICS | TIM TARANTO | JOSH KENNEDY |
| Disposals | 18.8 | 19.4 |
| Kicking efficiency | 51.9% | 56.5% |
| Metres gained | 269 | 217 |
| Clearances | 3.1 | 4.4 |
| Goals | 0.4 | 0.4 |
| Score assists | 0.9 | 0.9 |
| Score involvements | 4.5 | 4.9 |
| Tackles | 5.2 | 4.4 |
"Tim's very rounded," Cameron said of Taranto.
"He turned 21 this week, and he's got a huge appetite to run … which is fantastic. He loves to tackle and loves to compete – he loves all the things everyone likes to watch.
"He'll definitely get more midfield time, but what I love is his flexibility. He plays on the wing, he plays inside and he plays forward. To learn that early in (his career) is really good.
"There's never any complaining. If I say, 'You're going to play more forward today', he'll go, 'Yep, not a problem'. I think that's why he's captured the whole group – his attitude is just spot on."
Cameron also has a take on the value of the figurative window teams supposedly must fit into to be in the flag mix.
"There's no doubt people talk about that cherry-ripe age of 23 to 26 and how many of your 22 are in that age bracket, as well as if you've got mature players who are healthy," he said.
"I understand the analytics of it all, but I don't understand it when you're in the week-to-week going of the season.
"You could be a really young team and just playing great footy. Well, your window is open. You could have eight 32-year-olds who are all healthy and playing great footy and you're winning games, too."
Cameron wouldn't be drawn on whether it would be a failure if this initial crop of GIANTS was unable to win a flag after back-to-back preliminary final exits in 2016 and 2017.
"I see our opportunity over the next five years. Has it been there the last three years? Absolutely, but we haven't been good enough," he said.
"I see this group we have in front of us at the moment and we can compete at a really good level.
"We've got some ripping kids coming through and a really good group there to play some good finals footy. We've just got to find a way to get over that last hump."