On Sunday afternoon Bobby Hill will make his AFL debut when the GIANTS take on Richmond at the MCG.
The road Hill has travelled to get to this point hasn't been a smooth one.
It's one littered with the bumps of sacrifice, the steep climbs that come with hard work and the potholes of injuries.
Naturally gifted and blessed with freakish abilities that could see him become one of the competition's great showmen, Hill was touted as a possible first-round selection ahead of last year's NAB AFL Draft.
But then, he faced his first traffic snarl; the night had ended and as the top 20 selections stood on stage, Hill was not amongst them.
He went back to his hotel undrafted.
"I didn't really get too much sleep, probably half an hour tops," Hill said.
"I just thought, I've now got to work my butt off if I do get drafted."
A tired Hill arrived at Marvel Stadium for day two of the draft unsure of where he'd end up, but little did he know that behind the scenes the GIANTS' list management team were working hard to land him with their next pick.
"He played really good footy as a bottom age player, under 17s, and then in his 18s year he had some injuries that saw him slide a bit on draft night," GIANTS List Manager Jason McCartney recalled.
"It allowed us, with three first round picks on the first night, to get a little creative on day two, and with the ability to trade picks it allowed us to move our second round pick up by giving up a future second-round pick.
"It allowed us to select two-fold - which was positional need and talent which was Bobby, but it also allowed up to avoid the possibility of a bid coming in for Kieren Briggs.
"With Bobby we thought our initial pick at 27 wasn't going to be enough, so it was get in early, get the talent and get the need and then get Kieren Briggs."
With pick 24 of the 2018 NAB AFL Draft the GIANTS selected Ian 'Bobby' Hill from the Perth Demons.
"To get drafted by the GIANTS was a dream come true," Hill recalls with a smile.
"I supported them a little bit when they first started… it was a brand-new club; they had a few good players coming through and a few were my favourite players and they had Gerard Ugle who is my cousin.
"I liked Toby (Greene) and then when Josh Kelly got drafted and Zaccy Williams was there."
In the moments after getting drafted Hill was handed an orange and charcoal jumper to be worn during photos.
He wouldn't take it off for nearly 24 hours.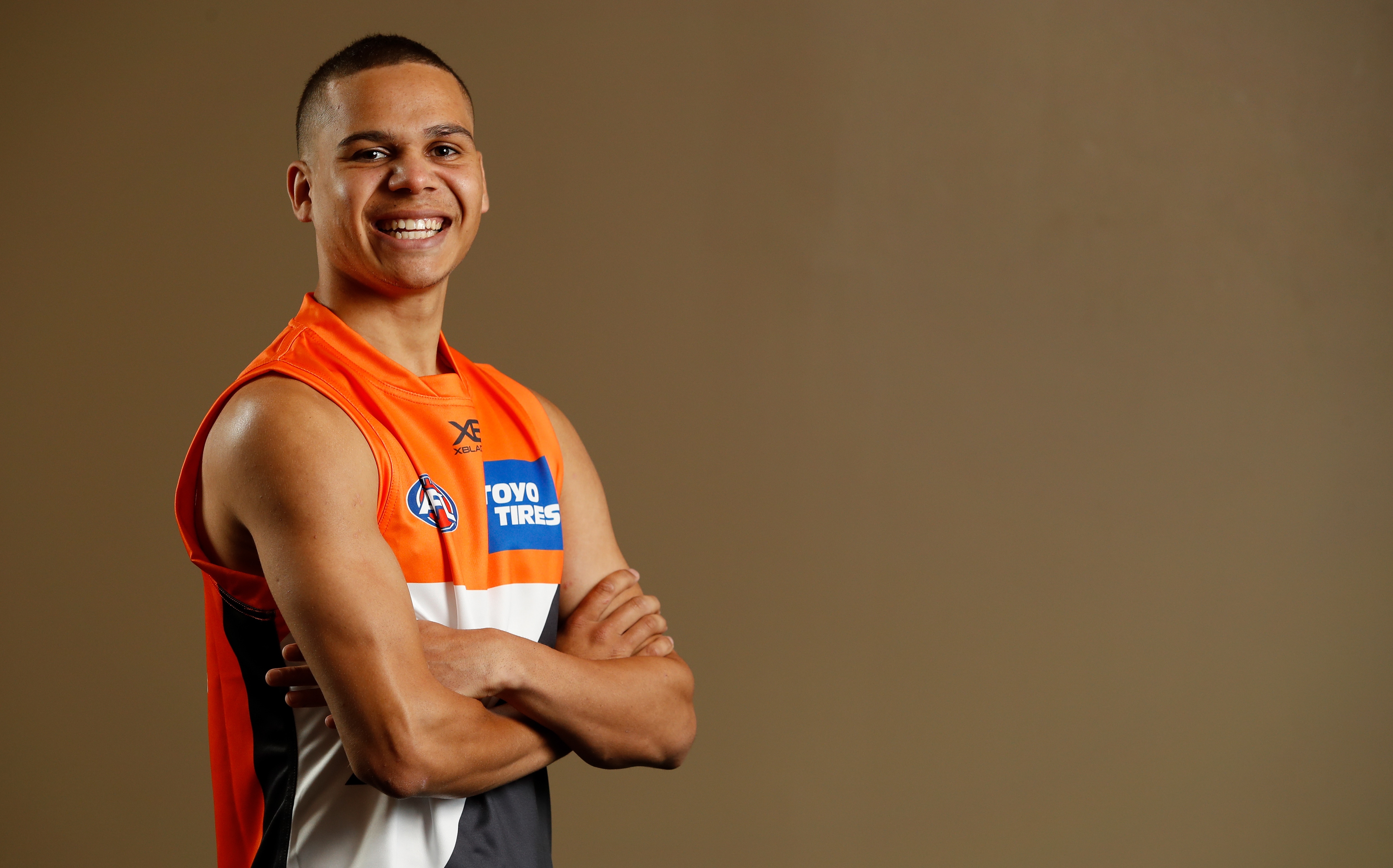 "Once I left Marvel Stadium, I wore it until I got home," he said.
"We had a big barbeque back home with all my family and I eventually took it off later that night, but I wore it the whole way on the long plane ride back from Melbourne to Perth.
"I just couldn't believe it, it was surreal; a childhood dream come true."
The celebrations took place at the Hill family house in Rivervale an inner eastern suburb of Perth which is a short trip from Lathlain Park where Hill trained and played with WAFL side the Perth Demons.
It wasn't Hill's childhood home, far from it in fact.
The now 19-year-old grew up in Northam, a football mad town 97km east of Perth that has produced AFL premiership players Leon Davis, Darren Glass and Ashley McGrath.
It was in Northam that Hill earned his moniker 'Bobby' from his grandfather Kevin while watching Bob the Builder as a child.
"At the start of last year, my draft year, they sacrificed moving away from Northam to Perth and help me with my footy journey to get drafted," Hill said.
"It made it a lot easier for dad with his fly in fly out work and it made it a lot easier for me.
"We're a very close family and for them to help me chase my dream is awesome.
"Their sacrifice was everything, they drove me to trainings and games back and forth from Northam to Perth.
"They did those little things to help me get my career to where I am now, they've done a lot for me."
Leaving his family behind in Perth, Hill soon found a new one at the GIANTS and formed a special bond with Zac Williams.
The two shared a special embrace after Hill's debut was announced to the playing group on Wednesday at training. Williams has helped Hill stay in gear and on the road to his debut.
"He's pretty much a big brother, he and Jeremy Finlayson," Hill said.
"As soon as I got drafted, I knew I had a few brother boys here, which was good and I knew we were going to click, especially with the other WA boys here.
"All the boys make you feel really comfortable here, but Zac's like the big brother I never had.
"Twice I was emergency and he just said, 'work your butt off, play your normal role in the NEAFL and your chance will come sooner'. I've got the chance now."
That chance has come off the back of a lot of hard work.
The shoulder injury that saw his draft stock slide meant that he had a delayed start to his pre-season.
"During pre-season I had the screw taken out of my shoulder and I had to work back to where I was," Hill said.
"Just finding my form took a lot of hard work and dedication.
"Obviously my fitness wasn't up to where I wish it was but yeah, I just had to work on my fitness and get bigger, and stronger.
"I'd done extras which was boxing sessions, cross-training and dedicating myself to improve my fitness and working my butt off.
"I did a lot of work with staff to get the confidence back in my shoulder, Schnides (NEAFL coach Adam Schnieder) and other coaches worked me hard."
View this post on Instagram
Jason McCartney, the man who played a big hand in bringing Hill to the GIANTS, has watched the young forward closely.
He's thrilled that Hill has earned his debut, that he's had to work so hard for it.
"He's had to work hard which is something I'm pleased about for Bobby, he's had to play week in week out in the NEAFL," McCartney said.
"He's worked on his defensive game and he's been able to kick goals off the back of that. It hasn't come easy, he's had to work really hard for it and it really holds him in good stead.
"Now he gets his chance on the MCG."
On Sunday Hill gets the opportunity to pull on the orange and charcoal jumper for the first time since draft day, but this time it'll carry his number 37 on the back and at some stage he will have to take it off.
The inspiration behind his choice of jumper number is simple but meaningful.
"I like the number, my two favourite numbers were three and seven," Hill said.
"Really what I got it for was Goodesy (Adam Goodes) as he wore it at the Swans.
"He's a big role model for all of us indigenous and non-indigenous players in the AFL and not in AFL.
"The sacrifices he would have had to of made and what he has gone through with the racism he faced and the way he played footy through it"
"He's a Brownlow Medallist and premiership player."
While Hill hopes that the road he's on leads to the success of his footballing heroes, he's not thinking too far ahead.
The bumps, bends and climbs of the past are behind Hill and for the time being the road is smooth.
Hill can see his next stop on the horizon, the MCG and a big clash with Richmond, but he's not thinking about it too much.
"I'm just going to play my role for the team, it's what I'm there for, my tackle pressure," he said.
"I'll let my magic do the rest."