On Saturday night Zac Williams will become the GIANTS Academy's first player to reach 100 AFL games for the club.
Popular with his teammates and loved by the GIANTS faithful for his dash off half-back, two people - who have watched Williams rise from a kid from Narrandera to one of the competition's best defenders and a leader at the GIANTS – speak about the 24-year-old ahead of his milestone match at the Gabba.
The Beginning
Lachlan Buszard was the inaugural Head Coach of the GIANTS Academy when it started in 2011.
One of the first players he came across was a skinny young kid called Zac Williams.
While Williams would become known for his incredible dash off the half-back line, it wasn't the case when he arrived at the Academy from Narrandera.
"Zac was a boy we tracked from 15, 16 and was an exceptionally clever footballer whose footy IQ was elite," Buszard recalls.
"He knew where to find the footy, but he probably wasn't the best athletically.
"He was probably a product of his environment, playing senior footy at 15, 16 and playing with farmers, shearers, plumbers and the like.
"He was at school and training with those type of guys so the example for him was what they were doing."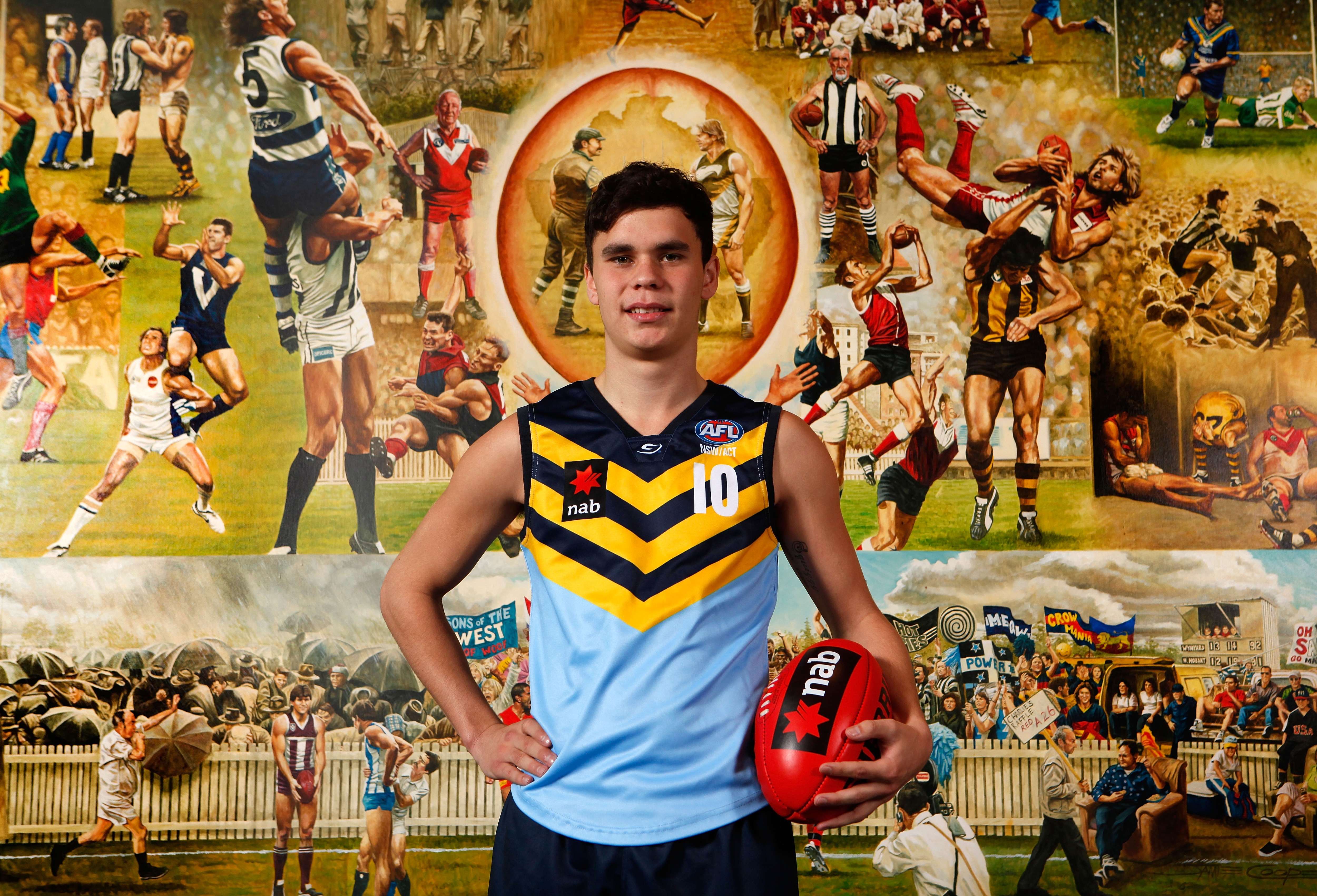 Through Zac's exposure to the Academy, the youngster got to see what was expected at the elite level.
He grew as a footballer and in his under 18's year was selected in the New South Wales side that would play at the Under 18's Championships.
Despite some impressive performances, there were many who didn't expect Williams to go further.
"He played in the midfield and played off half-back but again the big knock on Zac was always, from clubs and especially from recruiters, that he couldn't run or didn't have the running capacity to play AFL footy," Buszard said.
"But if you looked back through his history, he was actually a pretty talented young kid.
"He'd been to state trials for sprints and those sorts of things. He had the ability but probably didn't love the running side of the game."
The knocks on Williams saw him miss selection in the 2012 NAB AFL Draft.
It looked as if Zac's AFL dream would be over before it began.
However, he had the backing of two people at the club, Buszard and then head coach Kevin Sheedy.
"It was a really interesting conversation at the time because if I remember back to our list management meetings there was a conversation that the club wasn't really keen (on Zac)," he said.
"I went to Sheeds and got him in my corner and basically Sheeds pushed taking him with our last pick of the rookie draft."
Sheedy, renowned as the greatest promoter the game has ever seen, always kept a close eye on Williams.
With the admiration that the four time premiership coach held for Williams, it wasn't long before 'Zac Sheedy' became a well know nickname for the teenager around the GIANTS.
That push from Buszard and Sheedy resulted in possibly the best call the GIANTS made in that year's draft.
The GIANTS selected nine players across the National, Pre-season and Rookie Drafts and promoted two rookies.
Out of those 11 players just two remain.
The GIANTS' first pick Lachie Whitfield and their last pick Zac Williams.
Two men from different backgrounds and opposite ends of the draft that are now scintillating on the field and inseparable off it.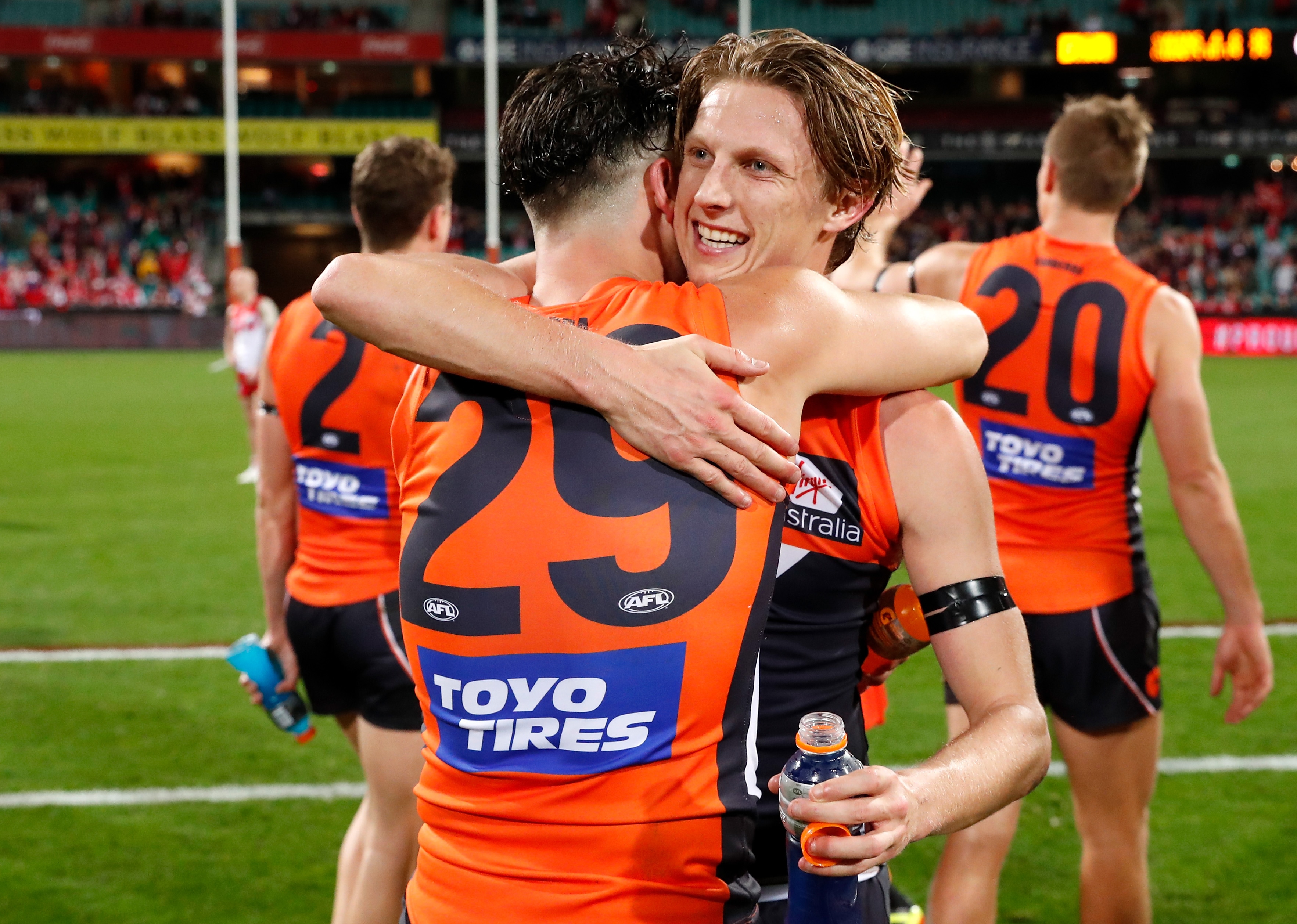 The Now
Buszard, who is now head of football at Melbourne's Xavier College, is proud of what Williams has become.
After battling through the expectations that come with a rookie's first pre-season, Williams made his debut in round one, 2013 and would play 11 games in his first season.
"The one thing Zac did was he kept on turning up and wanted to prove people wrong," he said.
"I guess he's shown that still today, he's a fighter, he's resilient and he's a wonderful human being."
Once Buszard left the GIANTS Academy, former Essendon star Mark McVeigh would take the reins.
After two seasons in charge of the Academy McVeigh would become the GIANTS' backline coach and crossed paths with Williams who was just beginning his third season at AFL level.
"Zac has always been really coachable," McVeigh said.
"He has this great personality where he's always comes to training happy, he's done that ever since he was young.
"He was a little shy but to see where is now, really confident in his football and with who he is, it's been a nice thing to see.
"We're seeing the best of him as a person and also a footballer."
While Williams' influence off field is highly regarded within the GIANTS family and his rebounding dash attracts plaudits, McVeigh said his ability to defend is often overlooked.
"His ability to kick the ball is wonderful; He doesn't get a lot of acknowledgement for it but he's a brilliant defender," he said.
"Be it a deep defender or a high defender he's not just an attacking player, which he probably gets praise for.
"I've got so much confidence in him as just a defender where he can spoil the ball, mark the ball and defend anything that comes in.
"He's passionate about being able to defend well."
Williams has arguably enjoyed his best season yet for the GIANTS in 2019, missing just two games and averaging a career-high 24 disposals.
His absence in 2018 when he tore his achillies was a setback for Williams and the GIANTS, however McVeigh believes it was the making of Williams.
The Future
Following surgery, Williams' chances of returning in 2018 were slim.
The now 24-year-old attacked his rehab diligently and from the moment he was out of surgery he had his mind set on making his way back into the GIANTS' side.
"I think that was the making of Zac," McVeigh said.
"To be able to get back for that first final against the Swans and have a significant contribution that day and us winning probably highlighted how seriously he took his rehab.
"He was always great around the group for the whole year which is a credit to him and I don't think anyone would ever doubt that he'd be like that.
"I think for Zac it was a massive learning experience because he hadn't really had a serious injury before, and he handled it exceptionally well."
As Williams worked towards his return, he helped coach the NEAFL team's backline.
While he's said he's not sold on a coaching career post football, his influence over some of the club's future stars says otherwise.
"He's a mentor to some of our Indigenous players whether it's young Bobby Hill or Jeremy Finlayson, who's had a breakout year this year," McVeigh said.
"They see him as a senior figure and I think he also understands the game really well."
With Williams and Finlayson both enjoying career best seasons and Hill extending his contract for a further two years this week, it's safe to say the future of the GIANTS is in good hands.