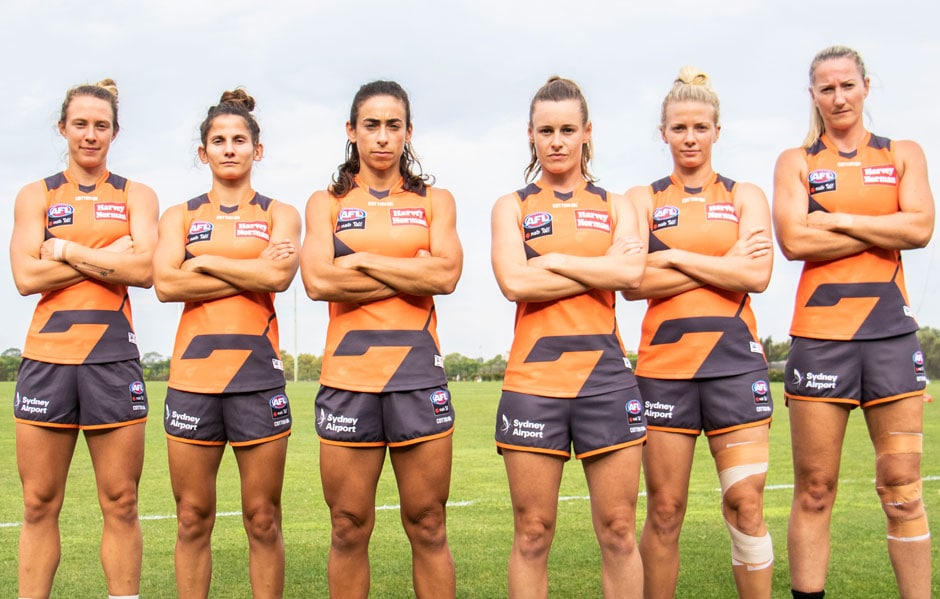 I'm really honoured to be elected to the leadership group that's been chosen by the players, I feel really privileged to be in this position.
Forward Christina Bernardi
Amanda Farrugia is set to become the NAB AFL Women's competition's most experienced leader with the Western Sydney product once again confirmed as the GIANTS' captain ahead of the 2019 season.
The club's inaugural captain, Farrugia was officially named as the GIANTS' skipper for her third consecutive season following a player vote.
The club's 2019 leadership group was announced to the players on Monday evening by Harvey Norman CEO Katie Page, representing the club's AFLW principal partner.
Reigning Gabrielle Trainor Medallist Alicia Eva will again serve as her deputy, named vice-captain for the second successive season.
Should Farrugia play in the opening three rounds of the season, the 33-year-old would break former Brisbane captain Emma Zielke's competition record of 16 games as captain.
"I remember when I was first given the captaincy in year one and I was really quite shocked and I wasn't sure if I had what it took to commit to the role and do it justice," Farrugia said.
"But I've learned along the way and that makes me proud to be involved in a club that had a lot of faith in me.
"Now it's all about making sure I give back to the club from an individual point of view and from a team point of view."
Jessica Dal Pos, Emma Swanson and Tanya Hetherington remain in the leadership group while Christina Bernardi has been elevated to the expanded six-person group.
28-year-old Bernardi joined the GIANTS in the 2018 NAB AFLW trade period from Collingwood, where she played 13 games over two seasons and was named in the 2018 Virgin Australia AFLW All Australian team.
Bernardi – who was part of the Magpies' leadership group in 2018 – said she's humbled to be elevated to the GIANTS' leadership group so soon into her time at the club.
"I'm really honoured to be elected to the leadership group that's been chosen by the players, I feel really privileged to be in this position," she said.
"It's a surprise, last year was my first time in a leadership group, so it's a huge shock to come to a new team where I didn't know a lot of the players and I definitely wanted to try and help out coming up here, being in my third year."
Bernardi said she's excited to be named in the group led by Amanda Farrugia and Alicia Eva.
"I've definitely picked up a lot from 'Fridge' (Farrugia) in the short amount of time that I've been here," she said.
"She's someone who has a real relationship with each of the players and definitely wants to lead by example in any way she can.
"And obviously I've been under Alicia's leadership before - she's fantastic both on and off the field as well."
The GIANTS open their 2019 NAB AFL Women's season on Sunday, February 3 against the Brisbane Lions at Moreton Bay Central Sports Complex, before they play their first home game at Drummoyne Oval against North Melbourne on Friday, February 8.
Entry to all AFL Women's matches in 2019 is free.