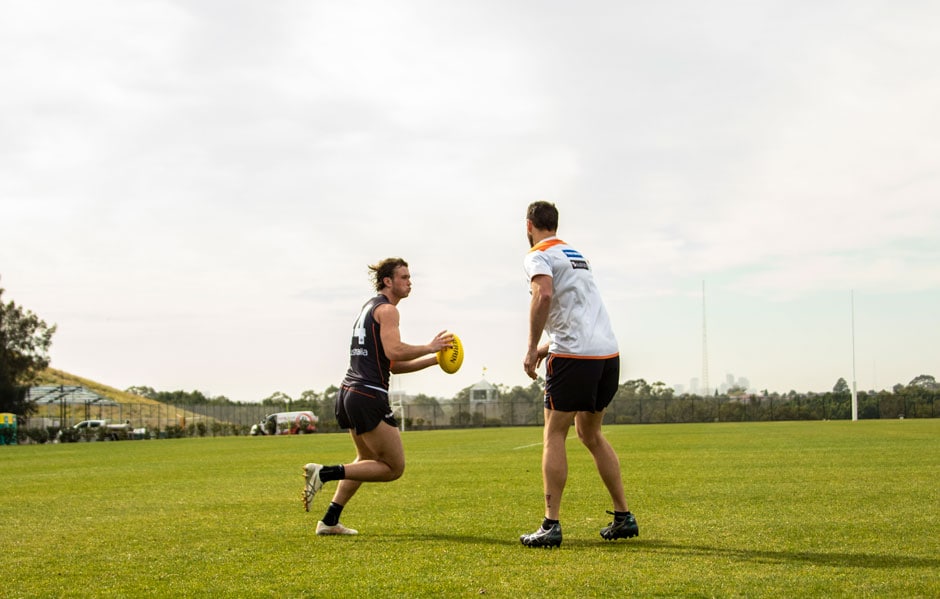 I can remember watching us and barracking for us and riding those waves of when we would win one or two games a year.
GIANTS Draftee Kieren Briggs
Emma Quayle is an award-winning journalist and draft expert who spent 16 years covering AFL for The Age newspaper before joining the GIANTS' recruiting team in February, 2017. As one of the industry's most respected writers and talent spotters, Quayle has a unique perspective on the GIANTS' recent crop of draftees and takes you inside the thinking of the recruiting team. In the first of her insightful six-part series, Quayle sits down with selection 34, Kieren Briggs.
Kieren Briggs was old enough to be drafted at the end of 2017, but he doesn't blame the us for not picking him up then.
"I didn't have a great year, that year," he said. "To be honest, I could barely touch the footy. I wasn't doing very much at all. But I guess it made me think. It made me wonder, 'do I have the ability for this?"
He wanted to find out. But it took him a while to get going. Kieren was asked back as a 19-year-old last year, which meant he got to train through preseason with the GIANTS team.
He thought he was a lot fitter. He thought he was looking after his sore hamstring well. And he was competing as hard as he could. He thought.
"I remember having this chat with Shane Mumford. It was around the end of the year," he said.
"I was a bit down before Christmas. I wasn't doing everything by the book. I missed a few exercises or sessions, and he just grabbed me in the kitchen one day and asked me what I was doing and gave me a flick behind the ear.
"He said to me, 'look, you've been given this opportunity, so don't leave any stone unturned because if you do then you're wasting your time and everyone else's time.' I came back after that and was much better, and it just stuck with me for the whole year, him giving me that wake up call but also having belief in me.
"When I came back in I wasn't really all that confident about where I could develop to or what I could achieve. It was mostly just, 'ok, I've got another year.' But he made me think, 'I have got some talent, let's actually use it and do some work.' I did all my work over the break and when I came back I was a different person. I definitely thought then that I could end up on a list at the end of the year."
He wanted it to be on the GIANTS' list. Kieren is from in Carlingford, which is about one kilometre inside the GIANTS' academy zone by his calculations. His mother was born in England; his father grew up near Blacktown.
He is the second western Sydney draftee to come to the club – Nick Shipley beat him to it – and the first to have followed our program right the way through, Nick having started at 12 and gone back to soccer for a little while, before returning for good when he was 15.
Kieren played soccer too, as well as a bit of rugby league and a tiny bit of union. He did athletics until he was 16 and showed promise at national level throwing the discus and shot put. But when he was 11, he went to watch a friend play footy for Pennant Hills, and was asked to fill in.
He did, and immediately loved the chaos of the game. He had only watched one or two AFL games at that point, but grew to love it quickly. He joined our academy the next season and is something not many players we pick have ever claimed to be: a GIANTS supporter growing up.
"I got into the academy as soon as I could and I can remember watching us and barracking for us and riding those waves of when we would win one or two games a year," Kieren said.
"I was still really into my athletics, but towards the end my heart wasn't there as much as it was with footy. It's a lot more individual doing athletics; when I was there with one of my best mates we'd be all fun and games but then barely talk to each other once we went out there to compete, so with that and footy it all just sort of fizzled out.
View this post on Instagram
"I remember when I was 14 being asked to train with the older kids who were in the academy, and they were a lot bigger and better than me and it just got me more interested in it all. I didn't really understand how the bidding worked at that stage but it seemed pretty simple to be part of that and follow a process all the way through, rather than somehow having to find your own way up the ranks.
"You could see that if you kept improving you might be able to get to the club. It was obviously still a hard thing to do and no-one knows when they're 14 that they'll be good enough to do it, but you could just see this pathway to take you there."
Eventually. Kieren wasn't sure where he sat when he started playing for the NSW-ACT team in the academy series early last season. But during his first game there he started to realise how much bigger and stronger he was than the other kids.
View this post on Instagram
Playing for the Allies in the national championships he felt stronger again, and the work he got to do with Mumford taught him more and more about how to play in the ruck. "I still have a lot of things to get better at," he said, "but he pushed me and kept encouraging me. He just kept telling me to actually have a go."
Then came the draft, which was the strangest experience of all. Kieren was one of the 20-something kids invited to be at the draft on both days. Like us, he wasn't sure which club was going to bid for him and where the bid might come.
That no bid came before our third pick – 22 – was good news. It meant we were able to get three players in before having to think about matching a bid for him. Trading up to pick 24 at the start of the second day, for Bobby Hill, made it four kids.
Kieren came across to our gathering after the first round finished, knowing we would pick him but still not feeling all that secure about things. He was there with Jye Caldwell, Jackson Hately and Xavier O'Halloran, not really feeling like one of them. Funnily enough, the AFL had him rooming with Hill at a hotel across the road from Marvel Stadium that night, both boys wondering how much longer they'd have to wait.
It was a relief the next day to be actually, officially, on board. "It was a strange feeling. Through the year it was, because you sort of feel like part of the club but you know that with the way it works, someone else could end up picking you. And being there on that first night, it was all just a bit weird," he said.
"I knew I was going to be taken the next day. I was pretty happy when Leon Cameron called me and gave me that reassurance on the first night, but it was still not really official and in the books. I just had to wait, and it wasn't for all that much time in the end. It was just nice to get it done and know I can come in here and not feel like a kid, like an outsider. I'm really one of the players now."