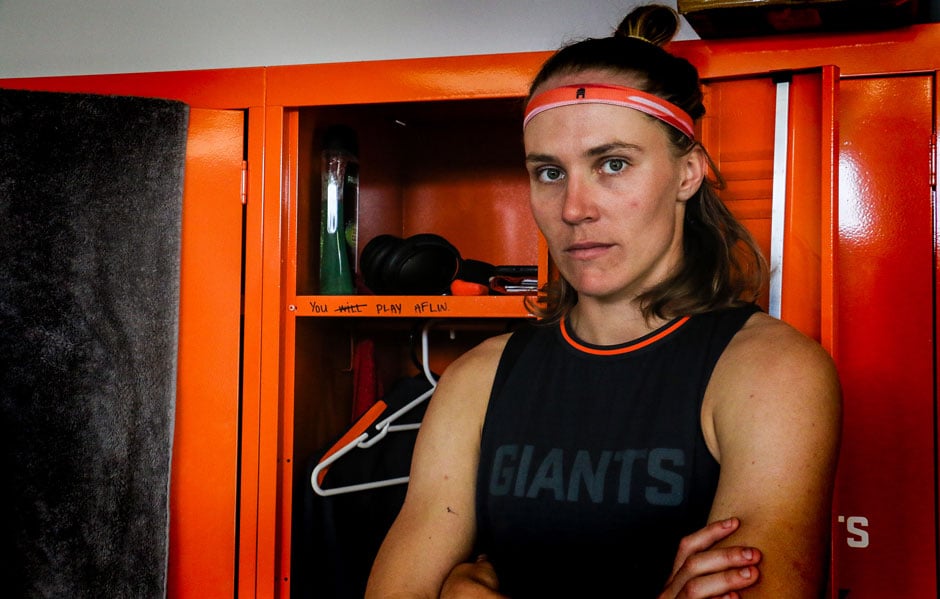 On those days when I'm stuck inside my own head and I'm down about how I trained or played that little note is so important as it helps me to stop and look back.
GIANTS defender Pepa Randall
There's a message inside Pepa Randall's locker.
Written on the metal shelf in neat block letters are the words You Will Play AFLW.
Will has a line through it.
It's a message Randall wrote to herself over a year ago. It's a message that meant so much to her then, but means a whole lot more to her now.
"It's got two stories that note in my locker," she said.
Story Number One
Randall was born to play football, it's in her DNA.
Her grandfather and great grandfather both played for Hawthorn in what was then the VFL.
A defender with dash and courage – which is no surprise given Randall's other hobbies include skateboarding and snowboarding – her body conspired against her after she was drafted by Melbourne with pick 121 of the 2016 NAB AFL Women's Draft.
"My first year of AFLW footy was with Melbourne and I had an absolute shocker of a year with injury," she says as she sips a home-made iced coffee, a throwback to her days as a barista.
"I did all sorts of ligament damage in my ankle, it was a mess down there. I also had random heart surgery in the middle of the season, so I think I spent more time in and out of hospital than I did training.
"They tried pretty hard to push me to get me to play but my body just couldn't get there, it wasn't in that state."
Randall had to sit by and watch as her Melbourne team-mates made history, and as the Australian public embraced women's football on a national level.
"I remember the game at Ikon Park, Collingwood versus Carlton and Melbourne all went as a team and I went in my moon boot," she recalls.
"The crowd was insane and there were fireworks as part of the countdown to the first game.
"I found myself overwhelmed – thinking 'Holy Shit, look at what's happening, I just have to be a part of this, I have to somehow be involved in this'.
"I decided then that I was going to play in the first year and I worked pretty damn hard to make it happen, but I probably pushed myself too hard to make it happen.
"I just had this massive emotional connection to it, having to play, having to be a part of it."
Football is a cruel game and when the season is only seven weeks long, it means opportunities and a career in the sport can easily slip by thanks to injury.
Randall couldn't return to fitness in time and the opportunity to play in the inaugural AFL Women's season passed.
A trade to the GIANTS at the end of the 2017 season provided Randall with a fresh start, but as round one closed in, her body again looked as if it would fail her.
"When I came up to the GIANTS I was determined to play," she explains.
"I think it was three or four weeks out from round one I got a stress fracture in my leg and my chances of playing in round one greatly diminished.
"I got to the point where I was like 'Oh my god I'm not going to play AFLW', I wouldn't know what it would feel like to play, I'm just never going to experience what it would feel like to be on the field and play and wear that jumper.
"I just got into this habit where I completely believed I was never going to play. It was never going to happen."
And that's when Randall wrote herself that note; You Will Play AFLW.
"I just made this decision one day that I didn't have a choice I had to play that year," she said.
"I just changed the phrasing in my head from 'you might play' or 'you've got to get better to play' and I just said, 'You will play AFLW'."
She didn't just write it on the shelf in her locker. She wrote it everywhere.
"I had the message stuck across from my bed so it as the first thing I saw when I woke up," Randall says with a laugh.
"It's so lame but it helped, that mental reinforcement. I had it in my bathroom on the mirror, one in the car on the mirror as well and the one in my locker."
That positive reinforcement worked and, with the help of the GIANTS' strength and conditioning staff, Randall was a slight chance to play in round one.
"My stress fracture was slowly coming good, but they take time and the odds of me playing round one were still pretty slim," she said.
"I'd had one training session back and Alan McConnell took a chance in playing me.
"I was in complete disbelief and in hindsight it all seems pretty dramatic, but at the time I couldn't even imagine what it was like to play because I'd had this shocking run.
"I went to my locker and saw the message 'You will play AFLW' and I thought oh my god I'm actually going to play. It's going to happen, I'm going to wear the jumper, I'm going to play in front of a crowd, with my teammates and in front of my family. I was just like 'crap it's going to happen'."
With that, Randall drew a line through Will. Not only did the message now look different, it would take on a whole new meaning.
Story Number Two
Randall's debut didn't exactly go to plan. The GIANTS lost a thriller against her former side Melbourne by six points at Casey Fields.
The 22-year-old didn't expect the significance of the day for her to affect her in the way it did.
"That first game down in Melbourne against Melbourne, that was pretty cool," she said.
"I was pretty excited and maybe it hampered me a little bit.
"Alan (McConnell) said to me afterwards 'Yeah you played alright, but it looked like you'd won a grand final just because I selected you'."
Randall would go on to play in all seven of the GIANTS' games in 2018 and become renown as one of the competition's toughest defenders, being named in the 40-player 2018 Virgin Australia All Australian squad.
And while many would expect her to be a certainty to play in round one, 2019, Randall knows not to take anything for granted when it comes to football.
"I think – and I'm sure a lot of girls know this – because the season is so short, it's so cut throat," she said.
"If you get sick the week before round one, you can't train and you don't get selected, and then there's every chance you won't play at all this season.
"If the team works in those eight weeks, why would you change it? It is very brutal in that you can do so much right and it can be one little thing that goes wrong.
"Last year we had a fantastic run in that we had no injuries and we had six or seven girls who weren't playing each week that are talented footballers.
"So, you definitely appreciate it."

Randall has barely had a moment to relax after the 2018 AFLW season, with the defender going on to win a VFLW premiership at Hawthorn alongside GIANTS teammate Rebecca Beeson.
And as Randall and her teammates start their journey towards the 2019 season, the 172cm GIANT is using the message in her locker as motivation and perspective.
"I think this year for a lot of girls it's going to be difficult from a mental health point of view because most of us have played back-to-back seasons now," she said.
"It starts to get exhausting because some of the novelty, that first and second year novelty of just doing anything to play, has worn off.
"For me, personally, I've struggled with mental health issues relating to trying to better myself and trying to improve lots of patterns of perfectionism that has been hampering me, creating anxiety.
"I know I'm not the only athlete who deals with that, but on those days when I'm stuck inside my own head and I'm down about how I trained or played that little note is so important as it helps me to stop and look back.
"To know what I've done is amazing and if I never did it again, I'd still be proud of what I've achieved."