The thought didn't work its way into Zac Langdon's mind straight away. Not while he was sitting in the doctor's office, hearing the impossible news. Not while he was on his way home that day, or in the next few days as he continued to take it all in. But late last September, he realised it was what he had to do. That there was no way he could nominate for last year's NAB AFL draft. That he would need to keep waiting.
It was not a thought he ever expected to have. Making it to an AFL club one day was the one thing he had always wanted to do. Even when he was a kid growing up in Dampier, the port town in the Pilbara hours from anywhere. Even when he asked his parents to let him go to boarding school in Perth, as a small, skinny kid who never got a look-in at his state league team. Even when he moved back home to start working as an apprentice electrician in the mines and especially when he returned to Perth two years ago, to play for Claremont and have one more go.
"It was something I'd always wanted," Langdon said. "And I didn't know what was going to happen at the draft or anything like that. But it felt closer than ever before."
Then, something happened. To someone who means much more to him than the game he plays. About two weeks after her 21st birthday party last August, Zac's girlfriend, Eli Suleska, began to feel some pain in her left shoulder. It wouldn't go away and then she started struggling to breathe, so badly that her parents took her straight to the emergency room. She had tests, she had chest scans and she was told she needed to go and see someone else: that there was a lump in there.
Things happened quickly from there, while also feeling agonisingly slow. Eli underwent a needle biopsy, but that didn't produce a big enough sample to test. She then had to have surgery, which opened up her chest. Recovering from that, she was called back in to see the specialist, taking Zac, her mum and her dad in with her. They were sitting with her when she was told the news. That it was cancer. That she had Hodgkin Lymphoma, the same disease her mother had beaten three times. That she needed four rounds of chemotherapy, followed by 10 straight days of radiation.
It was an enormous shock. "I felt like my life just left my body. I was so numb. I didn't really know how to feel," said Eli. "My mum, because she had been through it a few times, she was the most calm person in that room, so composed. She kept saying to me, 'you're going to be fine, you're going to be OK.' My dad was pretty distraught, having his daughter have to go through this. And then there was Zac."
He was shocked, too. "When I heard I just looked across at Eli and her face just crumbled and she started crying. It was just a pretty average time, even walking into the hospital to get the news I was just trying to be as strong as I could for her. It was tough, because you hear that, and you don't know what's going to happen. We kept saying it would be nothing, and then it was something," he said.
"After that, thinking about football and even going to work I felt like a bad boyfriend, like I needed to be there for her. I was tossing up whether to go to combine training and thinking that I should really pull out of the draft with everything that as going on. That was my thought, but she just kept telling me to keep going and we were lucky her family was there. We decided to keep going and we're glad that I did. Draft night was one of the best feelings ever, and everything that has happened since then too. If not for Eli saying what she said and making me keep going, I would never have kept going with it."
She gave him no real choice."We didn't speak about it too much, he was just deciding it and when I knew he was thinking like that I didn't want him to give up," said Eli. "I knew that with the doctors I had, everything was going to be ok. I didn't want him to give up on what he loves, and he had been dreaming to do just because of that stuff."
She was looking forward to it all, too. To sit in the chemo ward every Friday was unpleasant and confronting, for both Eli and Zac, not simply because of what she was going through but because there were so many other people in there at the same time, rows and rows of them grappling with the same sorts of thoughts and fears.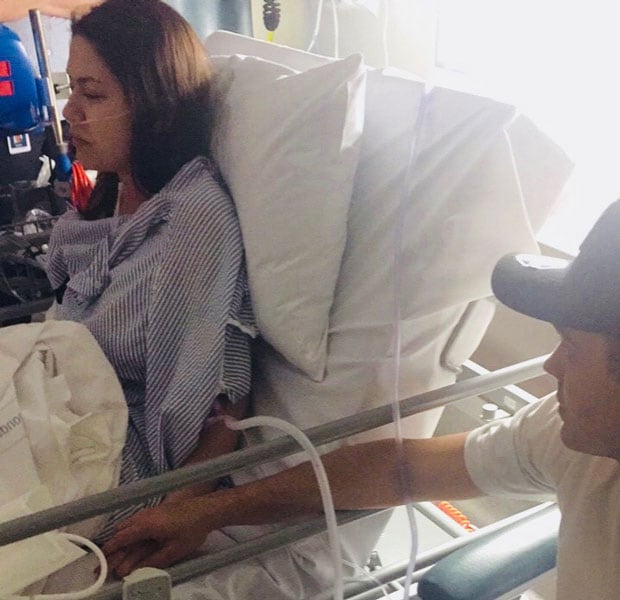 "It was sad but at the same time they were amazing, the people in there," said Eli, who felt her perspective start to change from her very first Friday morning in there.
"Eli's a real stress head, but she used to stress so much more before she got cancer," said Langdon. "I remember during it she just said, 'think of what I'm going through now and what I used to stress about before.' It was little petty things at work. It's made her a lighter person now, I think. We both know how lucky we are."
Eli was nearing the end of her treatment when Zac's name got called out on draft night. The GIANTS were the club both she and his mother thought deep down would pick him; every time they had a selection Eli would start recording, just in case. But when it happened, at pick 56, they were relieved, and happy, and so many other things.
"It was the positivity we needed," said Eli. "It was what we wanted, a fresh start, something new to do together, to leave Perth and come here and start a new life after what we'd been through." Langdon felt the same, though waiting more than a month for Eli to be with him was tough at times. She had to stay in Perth to finish her treatment. His days at training were long, hard, busy, challenging and fun – everything he had always wanted - but then he would go home, sit on the couch and miss her. "There were some lonely times but at the same time it was my dream come true, I was doing pre-season and getting used to that and loving being at the club," he said. "I was walking in there every day thinking, 'I'm an AFL player; this is unbelievable.' So, it was weird. I'd come home, and it was all that was on my mind at the time, but the club was the best place in the world for me to be."
Eli got her good news late in January: that no more treatment was needed, that she had been given the all clear. "They pretty much told me it was one of the best cases they'd seen, that I was fine and that they were really happy with the treatment and how it had all worked out," she said. "So, it was really lucky, and I'm really happy about it. It was the best news."
There was one last thing for Langdon to do then: tell his teammates what had been going on. He had held back for a long time because he didn't want them to look at him any differently, just to let him train and improve and fit in and show them what he could do. It wasn't until the very end of pre-season that he stood up in front of the group and read to them from some notes in his phone, telling them what had been going on and about Eli's all clear. When he finished, Phil Davis stood up too, and told him he would be making his debut in the GIANTS' round one side.
There were tears. "I remember getting up, and I was so nervous. It was the first time I'd really spoken about it," Zac said. "I had it on my phone, what I wanted to say, and I thought I'd be all good, but as soon as I started talking I started to cry and everyone was looking at me thinking, 'what's going on, what's he going to say?'
"Once I started talking the boys were all listening, and then I finished up and Phil got up to the front of the room and told me I was debuting. And it was huge. I was already crying from telling the boys, and hearing that I started crying some more. It was just good news, for me and for Eli. And there's going to be lots more, I reckon. Everything's come into place and we've got so much to look forward to."
Photo by Phil Hillyard courtesy of The Daily Telegraph.