Callum Brown had some simple rules to follow before round one of this year's NEAFL season. And there were some good reasons the coaches told him to simply get out there, have some fun, chase the ball around and see what he could do: he had just turned 18, he had spent most of the preseason rehabbing a groin injury and had spent just a few weeks on the track leading up to the game, not nearly enough time to learn how the GIANTS played and what they would need him to do.
Oh, and he was from Ireland, and had never played a game of Australian Rules football in his life. "It was all about having some fun, and getting him into it. I said to him, there's no pressure here at all. Just go and play, get a handball, get a kick, make a tackle and enjoy it," said NEAFL coach Adam Schneider. "I had no idea what to expect. I don't think any of us did. We just wanted him to have fun."
Brown listened to the instructions, took them in and knew what they were about. It had taken a long time for his groin to feel fully repaired, like he could run without restriction for the first time in a long time. So little time on the track meant he was still learning how to kick properly, let alone the rest. He was new. He was only just starting out. He knew this was all going to take a bit of time.
Still, Brown was used to winning, or wanting to win. He was one of the best young Gaelic footballers in Ireland before he decided late last year to sign with the GIANTS. He had grown up wanting to fight and compete no matter what sport he was playing. So the idea of playing a game mostly to have fun didn't feel quite right. Plus, he had a bet already running with Stephen Coniglio: score three goals in his first four games and he had $500 of new clothes headed his way. Miss that mark and he would have to have white tips put through the front section of his hair.
"In the first few games the coaches said that same thing, to go out and play, no pressure," said Brown, who had seven kicks, took three marks and kicked a goal in the game against the Swans. He ended up with two of those three goals, and was sent back to the hairdresser three times until he got the new colour right.
"I knew what they meant, but in my head I kind of thought, 'it would be good to have fun but I'm going to try and be pretty serious at the same time and make sure I get myself into it a bit more than that.' I'm not used to sport just for fun. I don't really like it. I like to be competitive and to win and do everything I can.
"I knew I was just starting out, so I just wanted to play the best I could and see how I went and what impression I could make. I was just excited to play after doing all that training, all of that running and watching the other boys. Ever since then I just wait to see what they say to me. They're starting to tell me more and teach me more things and they want more to come from me, which is good. They haven't put too much pressure on me but they're helping me pick new things up."
It started in the forward line, where Brown was keen to start. "He came over from Ireland as a goal kicker so he knows where the goals are and he tells me all about how much he likes kicking goals. That was familiar to him," Schneider said. "Once he started to get the knack of that it was, 'OK, what should we do with him now to teach him new things, and get him thinking about what he's doing a bit more? 'He's got a lot to learn, but he blows my mind with how quickly he picks things up.
"I remember him looking at me early on, and thinking 'is this kid actually listening to me or is he not taking any of it in at all? Then I'd talk to him again the next day and he'd remember every word. I'd push and test him, and he nailed it every time. He knows how far he has to go, but it's a good sign that he picks it up like he has. We throw it at him and he keeps taking it in, which is what you want in a kid no matter where they come from."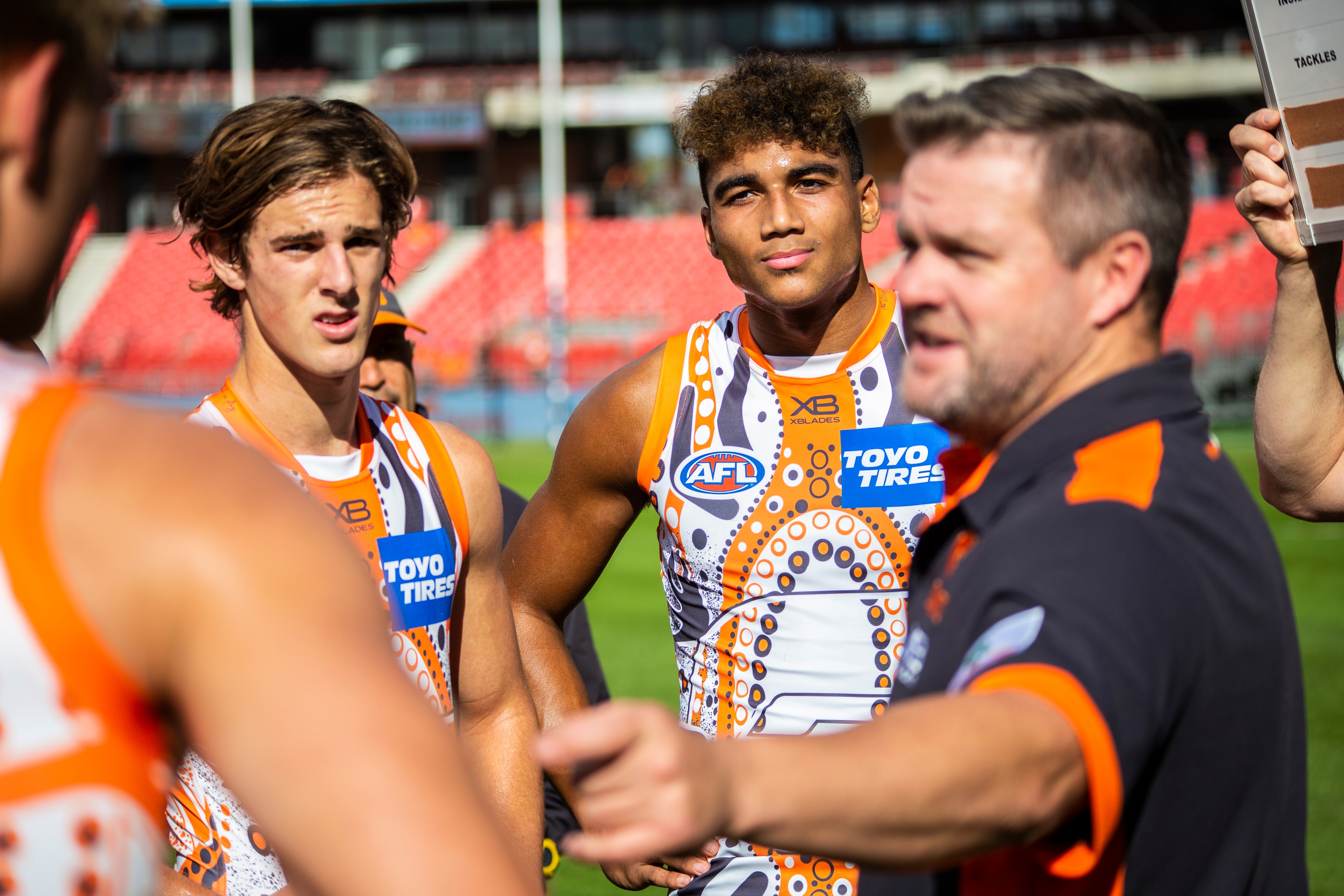 Down back, Brown has been working closely with Alicia Eva, the NEAFL team's backline coach. She has wanted him to keep using the things that come naturally to him – his strength, confidence, power, and aggressive speed off the mark – while teaching him how to concentrate for longer and how to stay in the game. Having a forward to follow around has given him something simple to focus on.
"It's just a few basic things that we want him to think about. I'd almost call it Backline for Beginners," said Eva. "We talk a lot about staying switched on, locating first and foremost and making sure he's consistent with that all game.
"We want him to go and win the footy himself if he can, because he's got so much power and leg speed and we want him to use it, and to jump and fly for the footy and take some contested marks too. But as soon as he's run, he needs to get back to his man. At the moment it's almost like he runs a 100 metre race. No-one can catch him, so he crosses the finish line then looks around and has to get back.
"That's the balance we're working on, but he's been kicking a round ball for most of his life, so he just doesn't have some of the footy IQ that you see in young kids. Part of that I think is because he's always in fast mode. He gets it and goes. And sometimes we're not set up ahead of the ball for that, so we're trying to talk to him a bit more about when to go and when to hold it up and take his time. But when he goes, he's exciting. He brings all this movement, and things really open up for us when he takes off. We'll just keep working on getting the balance right."
Brown is happy with that plan. He would like to get back to the forward line one day - "I do like kicking goals," he said – but because playing down back is so new, it has made him think more about how he should be doing things and as a consequence, ask more questions of all the coaches. He knows he could ask a lot more yet – he is still getting his head around all the little things that life as a full-time athlete demands – but has found more and more of them occurring to him each week.
"Obviously at the start I was like, 'ohhhh, the backline, it's not the same as playing forward,' but it's not too bad," he said. "Forward is enjoyable because you can take marks and kick goals, but you can take even more marks in the backline and I like playing against someone. I feel confident going in because I feel like I can use my strength and it's hard to catch me if I do get to take off and use my speed.
"The biggest thing for me is asking questions because I wasn't really into going up to the coaches at the start. I guess it was just, 'I'm new here, I don't think I need to do that yet, just relax.' But now it's more, I want to get my game better and get everything right and make sure I'm going up to them and watching my clips and working on my kicking, learning all the rights and wrongs about how to play. We go through all my strengths as well and I love doing all that with them.
"I've been watching every game I can. Every weekend I watch maybe six games of AFL. It's just enjoyable to look at the players down back, see a defender chopping out and marking. I see that and feel like I could bring that all out in my game, plus my speed and taking the game on. At the moment it's about having more composure – calming down – but I see things and think, 'I know I can do that.' Every game I play, I feel more confident. I just have to keep getting used to it."
That goes for off the ground, too. Brown had only just turned 18 when he moved to Sydney from County Derry in Northern Ireland last November, in time to start training with the new draftees. He had never lived out of home before he moved into a Breakfast Point apartment with Kieren Briggs and Connor Idun. He had always wanted to be a professional athlete, but didn't really know what that meant. He didn't now how to cook for himself, or how much he really did need to eat vegetables.
He was the best player on the ground in many of his Gaelic games, and is the new kid now. He loves his new teammates, but sees his friends back home having fun and wishes he could be there with them too. He flew home from his two-week trial with the GIANTS this time last year hoping he would be given a contract, and a chance to see what it was all about. But he wouldn't have moved over without the endorsement of his mother, Dee, and her encouragement still means a lot to him.
"I talk to my mum all the time. She complains sometimes if I don't reply," he said. "She always said 'this is up to you, but you always wanted to do something like this,' and she still says the same thing now. I miss home, but I'm just keeping my head down. I'm over here, I'm playing, I have this chance and I'm improving. I suppose I'm missing home, but my mindset is I like it here and I want to be here."
Helping Brown settle in has been a slightly different challenge for Brett Hand, the GIANTS' head of development, than working with your average teenage draftee. But in other ways, he has seen him slot in easily alongside the other first year boys.
"There's been little things. He's trying to get his licence at the moment, and he had his mum over to visit which was really good. And for me it's just a case of listening to him, partly because of the accent but also because there's not a lot of emotion with Cally. He's quite emotionless in the way he goes about things, he just takes them in his stride. It's been good for me, because I've had to narrow in my listening to what he's really saying and what he's really thinking," said Hand.
"I think the biggest difference is that someone who has come through the system and followed that all their life has an understanding of what a professional athlete does and what it takes to get there, whereas Callum saw the game and thought, 'I want to play that' without understanding what he needs to eat, that he needs to turn up on time, not one minute late, and that he needs to turn his phone off and get some sleep, not be talking to friends back in Ireland instead of going to bed.
"We're working on all that and he's getting there. He's improving all the time. And what we've had to stress to the coaches is that he's never had to worry about these things. They haven't really been asked of him before, he's new to it. It took us a while to get the message through to the staff that he is a little bit different. And that's not to say we were lenient at all. It was all just about educating him about what he needed to do. And that took some time, but he's going really well. He does seem to pick things up quickly, and we've seen that in how he plays."
He would like to get even better. Recently, Leon Cameron grabbed Brown for a chat. The coach wanted to talk about how he was going, what he was doing well, what his off season would be like, what he thought he could come back and do better in season two. It made Callum start planning ahead more than he had been.
View this post on Instagram
"Leon talked to me and he said he can see that I'm improving and that he didn't expect me to be doing what I'm doing right now, but that I need to make sure I'm working as hard as I can to be as good as I can, not in the future but right now," he said.
"He said all the vibes are that I'm playing well but that it's up to me now to keep it going, don't be at 80 per cent when you could be flying ahead and being part of the team and playing even better than you have been. He said, 'what will your offseason be like, are you going to make sure you're fit and ready to come back?' and I said 'I will make sure I will, I won't waste my time, I want to make it.'
"That's my mindset at the moment, be as good as I can with everything and make that good impression. I have improved a lot with kicking, handballs and the revision, but I want to play smarter, be good for my teammates, make sure all my communication on the field is good. Back home I was like that, I was talking all of the time so I want to take that into this game as well. I've learnt a lot but there is a long way to go and I don't want to be the downfall of myself, I want to always be positive and confident and try and use my competitiveness, 100 per cent."