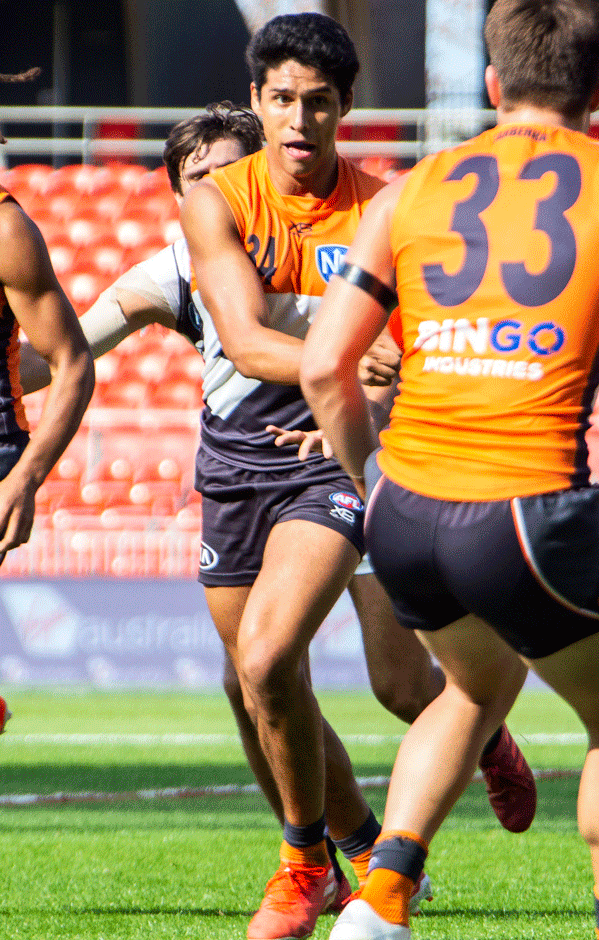 The boys played to plan and got the reward with the win.
GIANTS NEAFL coach Adam Schneider
The GIANTS' NEAFL side have claimed a big scalp, beating the previously undefeated Southport Sharks by 48 points on Sunday.
Zach Sproule kicked five goals while Nick Shipley racked up 41 disposals as the GIANTS notched up their third win of the season with the 14.15 (99) to 8.3 (51) victory at GIANTS Stadium.
First-year GIANT Jye Caldwell was also impressive collecting 32 disposals as fellow draftee Kieren Briggs took a mark of the year contender as he kicked two goals in an impressive aerial display.
The GIANTS were on from the start and, had it not been for wayward kicking, could have led the reigning premiers by more than the 15 points at quarter-time.
Rucks Dawson Simpson and Matt Flynn provided first use to the on-ballers in the second quarter while Isaac Cumming provided plenty of run off the half-back line, helping the GIANTS extend their lead to 24 points at the main break.
A five goal to two third quarter, including goals to Hill, Briggs and Sproule, saw the GIANTS establish an unshakable 46 -point lead at three-quarter time.
GIANTS NEAFL Head Coach Adam Schneider said he was pleased with the way his side played.
"I was very happy with the way we went about it, we went in with a plan to try and restrict their ball movement," Schneider said.
"The boys played to plan and got the reward with the win.
"Southport were 5-0 and were last year's premiers so we knew we were in for a challenge all week."
GIANTS 3.4, 6.8, 11.12, 14.15 (99)
Def.
Southport 1.1, 3.2, 5.2, 8.3 (51)
Goals: Sproule 5; Flynn, Hill, Briggs 2; Cumming, J.Buckley, D.Buckley 1.
The GIANTS NEAFL side will look to make it two wins in a row when they take on the Brisbane Lions at Maroochydore in Queensland on Saturday, May 25 at 11:30am.
GIANTS NEAFL Head Coach Adam Schneider on the GIANTS' AFL-listed players:
Nick Shipley – 41 disposals, four marks, five tackles
"He was huge for us yesterday, 41 disposals was just pure work rate. He just outran his opponents and did some really good stuff. He had the opportunity to kick a few goals to cap off a great game but didn't quite finish them. It was one of his best games for the season."
Jye Caldwell – 32 disposals, seven marks, three tackles
"Jye was super inside and very smart and clean with his disposals, so if you give him time and space he can tear you apart. It was good to see him play out a game this week. He's going to be a very good player for us going forward."
Aiden Bonar – 28 disposals, five marks, four tackles
"He's been working on a lot of things with his individual game to try and get his offense and defence on the same page and I thought that this game was one of his best in regard to that. It was good to see some really good stuff defensively but also to see him drive and carry was fantastic."
Isaac Cumming – 27 disposals, eight marks, three tackles, one goal
"Isaac on the half-back flank was very important for us, he defended really well when he had to but he also gave us some really good and smart ball use."
Jackson Hately – 26 disposals, 10 marks, five tackles
"Jackson was good on the wing, he was obviously very unlucky to be missing out on senior selection the last couple of weeks due to a few guys coming back. He played a role on the wing for us and worked tirelessly for us."
Xavier O'Halloran – 24 disposals, three marks, two tackles
"Another good game for Xavier, he was thrown around the ground a bit, playing as an inside midfielder, on the wing and as a half forward. So, for him to adapt to so many roles in one game was a credit to him. He competes all day inside and on the outside."
Matt Buntine – 21 disposals, 10 marks, two tackles
"Bunts was super reliable for us down there, he never got beaten in a one on one all day. His leadership and attitude to the game was first class."
Zach Sproule – 19 disposals, seven marks, five goals
"Zach was good, that's two weeks in a row that he's played some really good games. He works really hard in front of the footy and was rewarded with some goals. It was good to see him hit some really good form at the moment."
Matt Flynn – 17 disposals, seven marks, two tackles, two goals
"He was good, he got a lot more time in the ruck this week and his work around the ground was really good. He started clunking a few marks down the line which is something he does when he's at his best. He also snuck forward and kicked two goals too, so it was one of his better games for the year."
Jack Buckley – 17 disposals, five marks, seven tackles, one goal
"Jack was on the wing again and played a super running game for us. He played a really important role, he covers a lot of territory for us on the ground and he's building on the wing for us. I'm really pleased with the last few games he's played."
Dawson Simpson – 16 disposals, two marks, two tackles
"Dawson dominated the hit-outs for us again and gave our midfielders first use of the ball. Again, his leadership with the young guys was fantastic, he makes these guys better players when he's in the team. We're loving what he gives when he comes back to us."
Connor Idun – 15 disposals, seven marks, one tackle
"I gave Connor a good challenge again, and he loves a challenge, on one of their good small forwards and he's shown great ability over the last few weeks that he can play on a tall or a small. He took down his opponent on the day, he's very good when he's given a challenge."
Ian Hill – 14 disposals, two marks, two tackles, two goals
"A little quieter from Bobby yesterday but he still kicked a couple of goals. Most of the time he was caught with the ball going over his head or going for goals. He was a little bit quieter, but he can work on some things that will get him up to scratch to play AFL footy. When he does get the ball in hand, he's very clean and dangerous with it. We need to make sure there's more forward pressure so he can get the ball in hand."
Dylan Buckley – 13 disposals, two marks, three tackles, one goal
"It was good to have Dyl back, he's a good leader for us down forward and he really directs the young guys down there. He looked really dangerous with the ball, the way he runs and carries and breaks the line with the ball."
Jake Stein – 12 disposals, five marks, three tackles
"He was super reliable again. The ball was coming in a few times and I don't think he got beaten in the air at all. He didn't get a goal kicked on him all day."
Kieren Briggs – 11 disposals, four marks, one tackle, two goals
"We know how good it is to see him run and jump at the footy and he did take a great hanger yesterday, so that was good reward for what he's putting in during the week. He also kicked a few goals so he's starting to really find his rhythm now at centre half forward and offer us a target down the line and in the forward 50."
Callum Brown – 11 disposals, three marks, two tackles
"It was a good game by Callum, he was very good in Canberra and again on Sunday. He loves to fly at the footy and he can take a really good contested grab. When he gets it and runs using his speed, he can be really dangerous. He's still learning the game but I'm pleased with what I'm seeing so far."
Lachie Keeffe – Five disposals
"He was really reliable, you can say the same each week. He's rarely beaten and his leadership down there in the back is super as well. He keeps on digging in each week and is in good form. He came off at the start of the last quarter as the emergency for the AFL side."