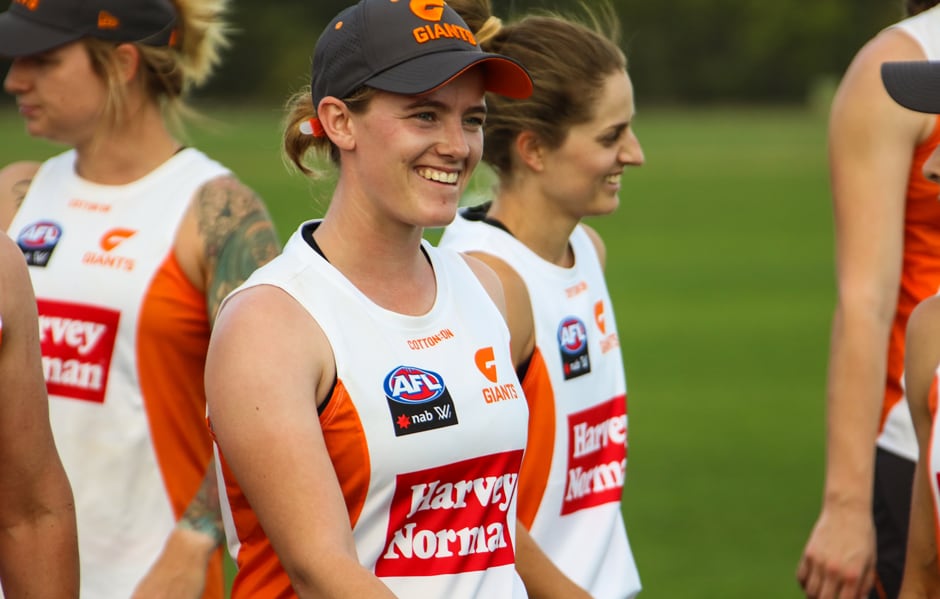 Name: Brittany Perry
Nickname: BP, Pez, Perry
Tell us about where you grew up: I grew up in a country town called Sandy Creek, north of Adelaide before moving to Gawler when I was about nine years old.
How did you get into football, and where and when was your first game? I have two older brothers who played football throughout their childhood and encouraged me to play as well. I played my first season at the Barossa Bulldogs in a boys modified's football team when I was six years old. I was one of three girls in the team that year, before my other sports took over and I didn't play footy again until I was 16 years old.
What's your favourite football memory? Coming from behind in the last quarter to win the grand final last year is definitely up there. However, after losing a close friend in footy, the memories with my Angle Vale teammates are the ones I hold closest.
What were you doing on draft day? I was teaching my class at school on draft day. I spoke to the students about the draft in the morning and their excitement grew throughout the day, they absolutely loved it when my name was called out!
Who's your favourite player to watch? There are so many! Daisy Pearce, Chelsea Randall, Dustin Martin.
You're on a desert island, what are the three items that you'd take with you? Water, a lighter and a footy!
What's your favourite flavour of Arnott's Shapes? Chicken Crimpy!
Vegemite: yes or no and if yes how much do you use? Absolutely yes, but not too much, just enough!
What's a hidden talent that you have? I can lick my elbow.
Do you have any pets? I have a beautiful dog named Buddy.
What other sports do you play or enjoy watching? I play cricket and indoor cricket outside of footy, but I love watching any sport.
Describe your perfect holiday: Probably an overseas trip with lots of adventurous activities and great beaches with my little family!
What is your favourite TV show? NCIS:LA
What song can you not help but sing when it comes on the radio? Any song that I know the words to.
What is your most over-used hashtag? #hashtagsthatarewaytoolong
What's your pet peeve? Spelling mistakes