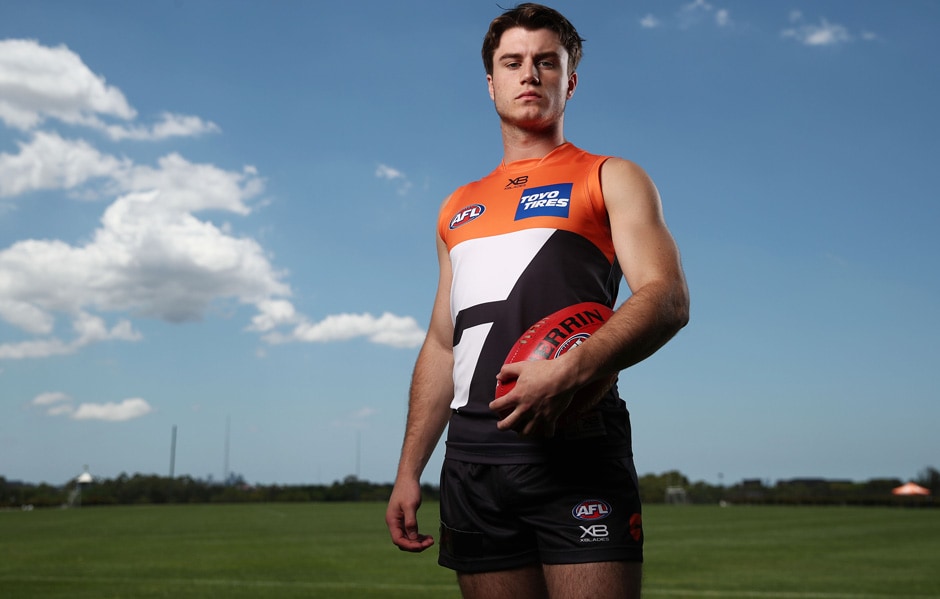 Xavier O'Halloran never got to meet his grandfather, the one who played for Footscray in the 1954 premiership. And he has never had the opportunity to sit down and watch the grand final back in full. But whenever it has been available he has made sure to wear jumper number 33, the same one Ron McCarthy wore in his 42 games for the red, white and blue. He will be wearing it for us this year, too.
"When we got here we got a text saying which numbers were free, and when I saw 33 on the list I thought, 'Oh, it would be really nice if that's still there when it's my turn to choose.' It was, so I was pretty happy. I went straight for it," Xavier said.
"I never got to meet him or know him, but I know how different it would have been for him. I suppose if he was still around, in the lead-up to the draft I would have been asking him all about the old days, how different it really was, what it was like for him. What the games were like, and the standards, and all of those things.
"I know he played his 42 games. I know he kicked a few goals, and I'm pretty sure he played predominantly on the wing but that he also went back and forward, a bit like me. And he got to play in the flag, as well. It's pretty cool, to think he did that."
O'Halloran grew up a Bulldogs supporter, and a western suburbs kid. He went to school at St Bernards in Essendon, catching a lift with his aunty, a teacher, for the first few years before making his way there on a public bus from his home in Altona. It meant he had to be up by 6.15am every morning, to be on the bus by seven. And it meant getting back home late some nights, especially when he had to train with the Western Jets.
There was no choice but to be organised. "I just had to be, and it was tough at times. I would be lying if I said it wasn't. It was handy because there was time on the bus to get some homework done, so I got a bit of study and revision done, but there were some long days and some full on days," Xavier said.
"Some days I wouldn't be home until 8pm or 8.30, but you get used to it. Once you're in a routine with school, it's funny how it starts to help with your footy, too. You figure out what works and you get into a routine and just go with it."
He made an impression at school, other than on the football field. It was hard to find anyone with a bad word to say about Xavier last year, but one of the most interesting insights into the person he is came from one of his Year 12 teachers. He could remember him when he was in Year Nine, breaking away from a group of mates when they weren't doing what they needed to do to get a group project finished. He remembered the way Xavier did it, as much as anything: the way he was able at that age to show some independent thought and desire to make his own decisions while still managing and maintaining his friendships outside of the classroom.
It was the same with his footy. His coaches spoke about his willingness to do anything for the team, even if it meant not getting to do what he thought he did best. He went into the Vic Metro squad as a midfielder, but realised the team had lots of options there, so went forward when asked without a making a single complaint.
His coaches saw the way he was able to get messages through to his teammates, how he was able to alter his message depending on who the kid was, and what sort of personality he had. They watched him take younger kids under his wing, and show them how things were done. And they saw him stand up for his side when things were tough, or games were tight, and someone had to.
His leadership wasn't the only reason we ranked him as high as we did – he has speed, power and lots of other things – but we saw it as very genuine, and something our group could benefit from. It's why we were hoping no club bid on Kieren Briggs in the first round of the 2018 NAB AFL Draft, so that we had an extra pick to use on him.
Xavier wants to be a leader, and hopes that he is one. But to hear people speak about him that way last year felt a little strange; he was busy trying to build up his confidence and work out what he could do and be as a player. The rest all came a bit naturally.
"It was a funny thing to hear," he said. "It was a nice thing to hear, but I just try and do what I do. And if that's something that can have an effect on the group that I play with then that's good, as long as I'm not straying away from what I need to do, playing a normal way and acting how I normally would outside the field.
"I'm a pretty vocal kid, on the track and on the field. And I'd like to think I'm a caring kid as well; that's just the way I've been brought up by my parents. I want the best for others, sometimes probably more than for myself. I think that's just transferred to my footy and the way I play and act around the footy club. That whole idea of being able to play with my mates and people I love to be with is important to me. I suppose it's why people have given me a chance in those roles."
The newest GIANTS (left to right): Bobby Hill, Connor Idun, Xavier O'Halloran, Kieren Briggs, Jackson Hately, Jye Caldwell and Callum Brown.
Other things felt less natural, but found their way to him with work, patience and some new experiences. Xavier co-captained Vic Metro last year; he was seen as reliable, dependable and unselfish, willing to do whatever the coach wanted if it was going to help the team win. But inside, he was still working some things out.
"When I went into Metro, it was at a time where I was gaining some confidence and believing in myself and learning how to do that," he said. "It's something I'd struggled with, and it was something I did lack a bit of. I'm probably not a super confident person, but going into that team and realising I was capable of doing good things for the team, it helped me grow and learn and see I could develop that.
"I knew it was my last year, last year. That it was my last year with the Jets, my last year with Metro and that I had one crack at it with the draft coming up. It was a good year. The more it went on, the more confident I felt that I should be able to do it. Once I had that belief, I just wanted to keep proving to myself that I could."