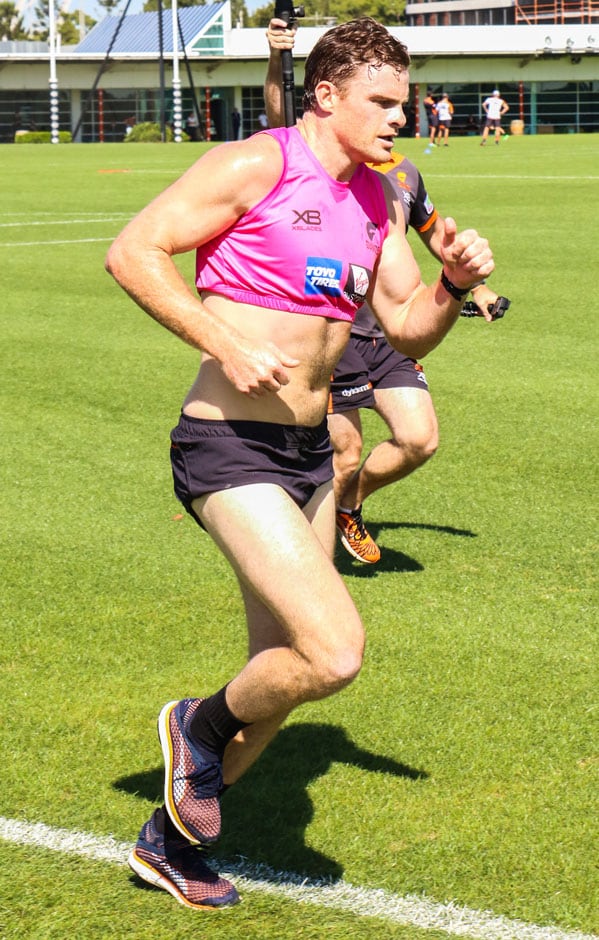 To have that many guys out there was great.
GIANTS defender Heath Shaw
The GIANTS' new year has begun in positive fashion with an almost full squad hitting the track in warm conditions for the first session of 2019.
The GIANTS have been cruelled by injuries in recent years but only star forward Toby Greene (ankle), athletic defender Nick Haynes (back tightness), and veterans Brett Deledio (modified program) and Shane Mumford (hamstring) failed to take part in a 2km time trial and some light skills work.
Off-season recruit Tommy Sheridan crossed the line first out of the listed players in the time trial, with midfielders Tim Taranto, Lachie Whitfield, Josh Kelly and small forward Zac Langdon close behind.
But none of them could keep pace with Academy product Matthew McGrory with the Canberran leading everyone across the line on his first day at the club.
The sight of Whitfield (knee) and Kelly (hip and knee) in full flight after post-season operations would have pleased coach Leon Cameron, with Heath Shaw (knee), Jon Patton (knee) and Aidan Corr (groin) also completing the run.
The only downside of the session was a calf issue that forced race leader Adam Tomlinson out of the time trial on the final lap.
Shaw, who had surgery after he suffered a serious knee injury against Adelaide in Canberra in round 21, told AFL.com.au that it was pleasing to see so many numbers on the track on Wednesday.
"The most important thing about pre-season training is making sure we have a healthy list when we come back after the Christmas break," he said.
"Before the break some guys have individual programs or things to work on to make sure they're right to go in January, and that leads into round one.
"To have that many guys out there was great."
View this post on Instagram
Shaw said the GIANTS will take a different approach to rehabilitating injured players this summer, after two of the club's most important stars in Kelly and Greene missed large chunks of footy last season.
Kelly missed six games early in the year after the groin problem he'd tried to manage over the off-season break flared up again.
Greene, who missed most of the 2018 pre-season with a toe injury, managed to get back for the GIANTS' round one smashing of the Western Bulldogs, but he broke down with hamstring and foot issues and played just nine games for the rest of the year.
The 2016 club champion and All Australian had ankle surgery late last year and hasn't started running yet.
"As an old coach once told me 'it's a marathon, not a sprint' this game," Shaw said.
"For some guys it's not even about getting to round one, it's about getting ready for round three or four, so we can have them fit and healthy for the whole year.
"I think we tried to push guys and bring them back a bit early last year and it didn't work, because we ended up losing them later in the year.
"But we've learned from that and I think that's a positive that we can take from it.
"I think a lot of clubs are a bit smarter with that now and they realise how tough football is these days."
The GIANTS snared some exciting and highly rated talent at last year's NAB AFL Draft, and youngsters like Jye Caldwell, Jackson Hately, Ian Hill, Xavier O'Halloran and Kieren Briggs have already impressed Shaw with their willingness to work hard.
HILL INSPIRED: GIANTS draftee speaks about his famous football family and his aims for 2019
Shaw likened the mindset of his rookie teammates to good friend and former teammate Dayne Beams, who made an immediate impression in his first season at Collingwood alongside Shaw in 2009 and played 25 games to be an important part of the Pies' premiership the following season.
"I love that our kids just want to get out there and take someone's spot," he said.
"They want to play in the AFL, they don't want to be stuck in the NEAFL, and if we go in with that attitude the standard rises, and it makes everyone else better.
"There's no reason why our young players can't jump up and grab a spot, that part of footy hasn't changed in 100 years.
"Tim Taranto did that last year because he was determined to take that next step in his second season, he got his spot and he didn't want to go out of the team."