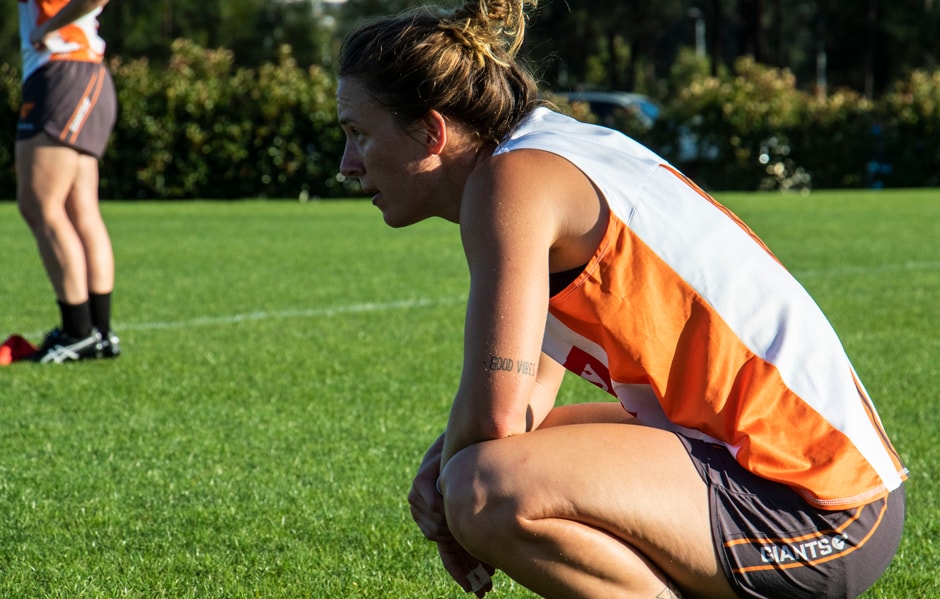 Just winning a few games isn't enough for us anymore and we've got a real drive to be the best team in this competition.
Emma Swanson
Emma Swanson is midway through her third pre-season as a GIANT and, despite the mix of torrential rain and oppressive heat, the 23-year-old is enjoying every minute.
"Pre-season is going really well, I think we've picked up from where we've left off from last year," she said.
"We've still got the same core group of girls and we've had the really good addition of seven or eight girls through the draft and trade period who have definitely been able to find their feet quite quickly.
"I actually said to Lou Stephenson that the offseason actually has gone really quick.
"Three years in, you sort of know what's coming and, coming up to Christmas, you know we're in for the hardest week."
While the offseason went quickly for Swanson, it helped that she took a different approach to the break.
Admittedly a 'footyhead', the East Fremantle product stepped back from Football during the 2018 winter.
While she still pulled on the boots for the NT Thunder in the VFLW - and was named in the VFLW Team of the Year - Swanson's new living arrangements stopped her from being as consumed by the game as she had been in the past.
"I like to mentally cut it off. Whether you get one week or three weeks or seven weeks, you really lap up that break and try to completely switch off from football," she said.
"Being up in Darwin over the off-season, it was easier to switch off football because there were no AFL games there, so I wasn't a spectator over winter, I just played.
"Traditionally over winter, I'd been an avid AFL supporter, a local footballer and an AFLW player during summer. It was sort of football overload.
"Up in Darwin, it was like a summer feeling anyway and with limited games on TV and no live games to go to on a Saturday or Friday night, I'm definitely mentally refreshed."
The idea of a refreshed and reinvigorated Swanson will have many players across the competition shuddering.
She won four best and fairests for East Fremantle before the age of 21, but injuries have hampered her impact in the AFLW across her two seasons so far.
View this post on Instagram
The midfielder is also especially motivated ahead of 2019, and so are her teammates.
The disappointing end to their 2018 campaign and a growing sense of belief has them ready and raring to go for the new season.
Swanson is quick to point out the stark contrast between the current pre-season and the pre-season before the inaugural season.
"We were going into that season happy to win one game and personally, I was going into that season happy to just get a kick," she said.
"So that mindset from year one to year three has changed.
"Just winning a few games isn't enough for us anymore and we've got a real drive to be the best team in this competition.
"It's not a secret and it's just something that every team is aiming for at this point, three years in.
POCKET PROFILE: Get to know Alyce Parker
"We're not just here to make up the numbers, which I know is clichéd, we're here to win it.
"Then form a personal point of view, I want to win a premiership, I don't care if I don't get a kick.
"It's a 180-degree difference in mindset from the first year to this year."