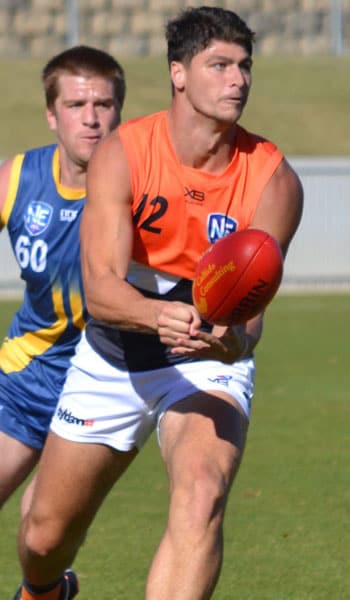 Jonny Patton kicked three goals and Matt Buntine made another step in his return from a knee reconstruction as the GIANTS Reserves lost by 51 points to the Canberra Demons on Saturday.
Patton and Buntine were amongst the GIANTS' best, alongside youngsters Zach Sproule and Brent Daniels, in the 11.8 (74) to 18.17 (125) loss at UNSW Canberra Oval.
"Credit to Canberra, they beat us on the outside and worked harder than us away from the footy," GIANTS NEAFL coach Adam Schneider said.
"They're a good team and they're hard to beat in Canberra.
"There were a few individuals that put some good games together, Zach Sproule was the highlight playing in the backline."
GIANTS 11.8 (74) defeated by Canberra Demons 18.17 (125)
Goals: Patton 3, Sproule, Daniels, Bonar, Buchanan, Coxall, Evans, Banuelos, Spencer.
The GIANTS take on Redland at Spotless Stadium on Saturday, May 26 at 4:00pm.
GIANTS NEAFL coach Adam Schneider on the performance of the GIANTS' AFL-listed players:
Jonny Patton – 3 goals, 14 disposals, 8 marks
"He kicked three goals, and could it could have been four. He took eight marks including a couple of contested marks and his work rate was extremely high. He competed really hard for us even when he had a few opponents on him."
Nick Shipley – 29 disposals, 3 marks, 4 tackles
"Shipley again keeps on improving in little areas of his game, it's new to him playing as an inside mid, but he's definitely learning each week and there's some positive signs ahead."
Matt Buntine – 27 disposals, 9 marks, 4 tackles
"Matt played off the halfback line again and is just enjoying playing footy. We're just letting him play. He's super, super brave and works extremely hard, it's good to see him working hard and putting some games together."
Zach Sproule – 1 goal, 29 disposals, 11 marks, 2 tackles
"Zach was super. I asked if he'd like to go down back as we're short with backline players and he didn't hesitate. He played his role for the team and 29 touches and a goal from 60m out was super for us. It was pretty exciting to see him adapt to his role and just like that he's played, forward, mid and back now.
Aiden Bonar – 1 goal, 19 disposals, 3 marks, 3 tackles
"He was a little quiet on the weekend but he's still building and working on different areas of his game. There's so much light at the end of the tunnel for him when he puts it all together I think he'll be an extremely good player for us for a long time."
Brent Daniels – 1 goal, 26 disposals, 3 marks, 4 tackles
"It was Brent's best game for the season, he was extremely damaging and looks really lively with ball in hand; he loves to sell some candy. It's really positive for him as he continues to build on his game time as well. He's probably full steam ahead now and we should see some really good things coming ahead."
Matt Flynn – 10 disposals, 5 marks
"He was very good in the ruck work again, he's starting to take some marks around the ground too and is playing like a big man should. He's growing every week and is working on little areas that he needs too."
Dawson Simpson – 47 hitouts, 22 disposals, 7 marks, 4 tackles
"It was a fantastic game from Dawson again, especially with his hitouts. Especially pleasing to see is that he ran 14.5k and his work rate was really high and he was rewarded with getting a few more touches aroud the ground."
Jake Stein – 5 disposals, 1 mark, 1 tackle
"His first game back for Steiny and it was a quiet game. Just to get back out there and play after some time off is never easy but he'll be better for the run."