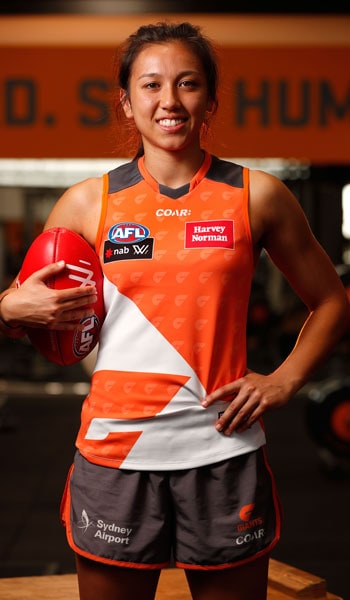 I feel like I know a lot more about the game and structures and knowing my role in the team.
GIANTS forward Rebecca Beeson
Forward Rebecca Beeson's performance in the GIANTS' round one loss to Melbourne has seen her nominated for the NAB AFL Women's Rising Star.
Beeson, who was recruited from AFL Sydney's UNSW-ES Stingrays, collected 11 disposals, took two marks and laid three tackles as the GIANTS fell six points short of the Demons at Casey Fields on Saturday.
The 20-year-old becomes the third GIANT to be nominated for the award after Erin McKinnon and Nicola Barr both received nominations in 2017.
Be GIANT in 2018 and support our AFL Women's team by becoming an AFLW Supporter Member
"It's super exciting, it's very unexpected," she said.
"I think I started a bit slow, obviously it's the first game so everyone's a little bit nervous and you're running around a bit, getting used to things again.
"I re-grouped at half time and had a bit of a chat to Alan McConnell and my forwards coach Adrian Pavese so it got a bit better towards the end but I'm disappointed we didn't get the win."
Beeson played in all seven of the GIANTS' games in 2017, kicking three goals. The Central Coast product feels being part of the inaugural season and the GIANTS AFLW program has made her a better footballer.
"I believe I've improved so much, coming in from last year - my first season - I feel like I know a lot more about the game and structures and knowing my role in the team," she said.
"Maybe a couple of years ago playing club football I tried to do everything, but now knowing my role in the team and knowing the game style, and structures, I've improved."
The impact of AFLW hasn't just been a personal one the dynamic forward. Beeson, who won the 2017 Women's AFL Sydney Premier Division premiership alongside GIANTS Maddy Collier, Phoebe Monahan and Jacinda Barclay, has seen the advent of the competition grow football within NSW.
"I grew up on the Central Coast which isn't really a football region, there wasn't any women's football growing up," she said.
"But now there's a Black Diamond Women's League there and there's some youth football coming through so it's really exciting. I wish I had that opportunity.
"It's definitely had a big impact on that region and on NSW so it's super exciting thinking of the opportunities that young females have coming through the ranks, not just in Sydney but in areas like the Central Coast."
The GIANTS now turn their attention to playing Carlton at Drummoyne Oval on Friday night.
"I know a lot of locals who are coming and a lot of people from interstate," Beeson said.
"So hopefully we get a good crowd in and put on a show for the local fans."