There's the goals, the great celebrations, the big pack marks, but as Jeremy Cameron celebrates his 150th AFL game in the GIANTS' clash with Gold Coast on Saturday, a few of his closest teammates have opened up about the GIANTS superstar.
And as they explain, there's more than meets the eye when it comes to the man affectionally known across the country as Jezza.
"He's a larrikin, he's great to be around, he's got a great grasp on life," GIANT Dawson Simpson said.
"I think it's pretty well known about Jezza as the footballer - he's a star and you can build a team around him, he's capable of winning games off his own boot - but as a person he's such a genuine man."
Now 26 years old, Cameron has changed a great deal since he arrived in Sydney as a skinny 17-year-old from the country Victorian town of Dartmoor.
Fellow forward Toby Greene has seen the change up close.
"I guess on the field he's one of my favourite players I've ever played with," he said.
"He's just as tough as they come, as competitive as they come, and he's got a lot of talent to go with it.
"Off the field it's been amazing to see his development. I think in his second year when he had an amazing year, his Sundays consisted of Jim Beam on the couch, I think now they consist of fishing, recovery and spending time with the missus.
"He's grown up a hell of a lot and it reflects in the way he's playing his footy."
View this post on Instagram
Fishing plays a big role in Cameron's life.
Be it dropping a line around the Sydney Heads or trying to reel in a flathead on the Parramatta River, Cameron is almost on the water as often he is on land.
While he's frequently fishing on his own or with his beloved dog Billy (a German Shorthaired Pointer) it's not his Fortress of Solitude.
Cameron is quick to invite teammates and friends along to enjoy the fun.
"We were probably drawn to each other for our love of fishing, shooting, four-wheel driving and getting out with the dogs; that sort of stuff," Simpson said.
"He's very generous also, he's always got people wanting to get out on his boat and he goes out by himself, but he always rings up people who are keen to go out with him and takes them on a good time."
Cameron sits second in the Coleman Medal race with 58 goals, his best season haul since 2015.
Although it's hard to draw a direct comparison between fish caught and goals kicked, it's clear to teammates that it's helped Cameron take a break from life in the game.
"I guess it's something he's probably been keen to do for a while," Greene said.
"Since he got the new boat he's been out there whenever he can and he's pretty big on the weather reports these days and I know he looks pretty far ahead.
"He takes whoever he can whenever he can.
"I've been saying for a while now that he should set up a charter company, because he does it better than anyone.
"When he's out there he doesn't really care about himself he's all for whoever he brings out. It's one of his key passions in life and it'll take him a long way outside of footy."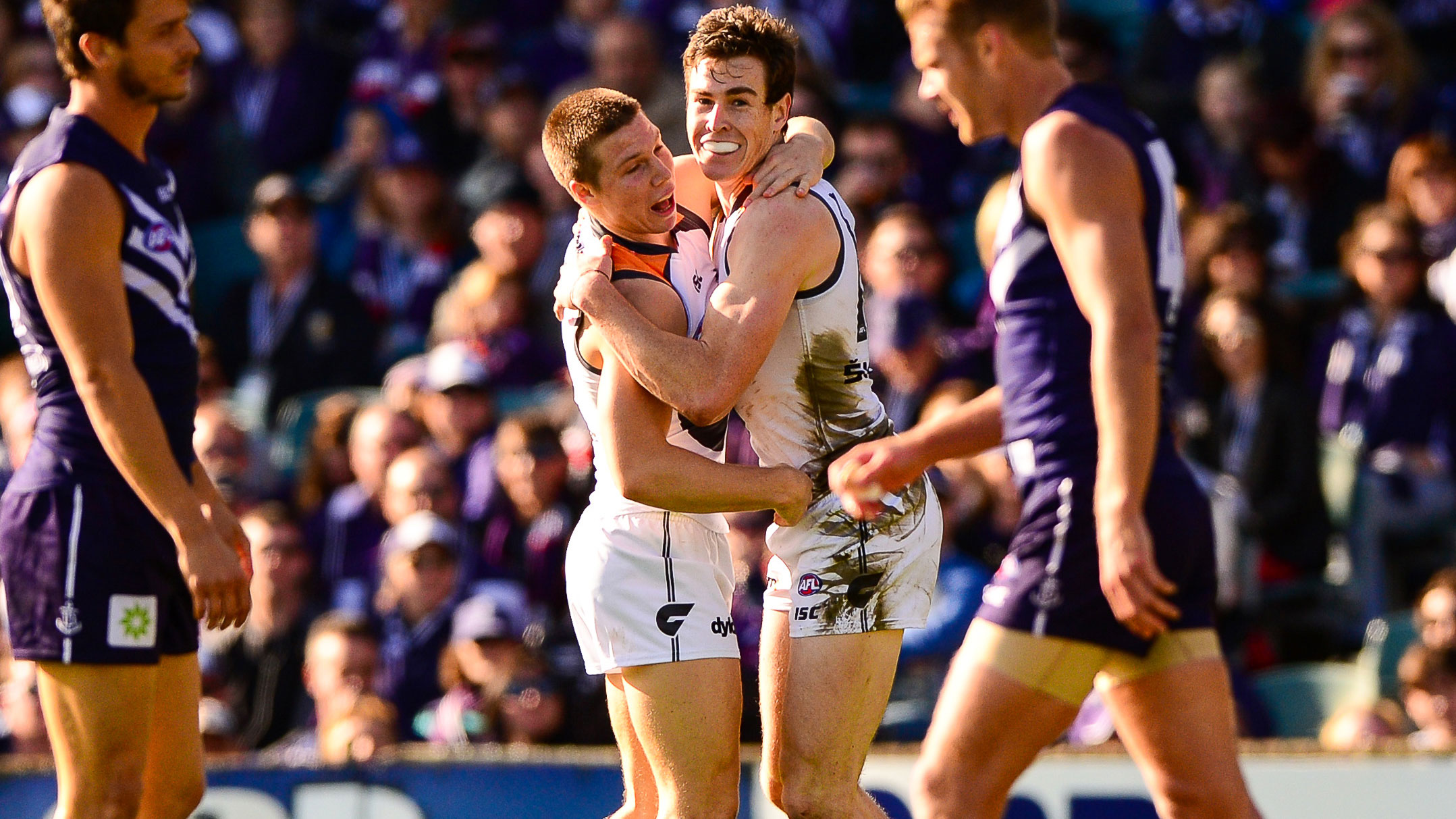 Cameron's empathy and his selflessness are traits that holds him in high regard with his teammates.
His interactions with the GIANTS' forwards young or old are why Cameron, Harry Himmelberg and Jeremy Finlayson have formed a deadly trio up front for the GIANTS.
Himmelberg recalls how important Cameron was in his early days at the club.
"When I got drafted, I was a back so even thought I wasn't doing too much stuff with Jez immediately, he was still one of the most welcoming guys," he said.
"I think he had Flynny (Matt Flynn) stay with him for a couple of weeks while we were sorting out accommodation.
"He's always from day one been really good with us and with our draft being all country boys I think he related to that really well."
Once Himmelberg made the move forward, Cameron was quick to take him under his wing and show him the ropes.
"He's probably not your sort of leader who will be very vocal like guys like Phil (Davis) and Cal (Ward), " Himmelberg said.
"Jezza's more actions and little subtle things. When we're training, he'll give little tips which are all off what he sees happening.
"He's not outspoken, he just likes helping people around him."
Their relationship isn't just football - Himmelberg now calls Cameron a 'great mate'.
"It's huge, he builds relationships first. It's not all business with him," he said.
"He gets to know people on a personal level and then from there nothing's ever too formal."
Characters like Cameron have been important for the culture of the GIANTS as the young club has expanded over the years.
When Simpson arrived at the club, which had just finished its fourth season in the AFL, Cameron was one of the first to welcome him and it became clear to Simpson that the burgeoning forward as an important part of the club's culture.
"Jez is someone who makes up the fabric of a footy club because of the bloke he is off the field," Simpson said.
"That's almost as important as what he can do on the field because he can be such an influence on young people in his own way."
"I didn't know much about Jez other than he was a country bloke who liked fishing and shooting, just like me.
I always knew he was a young star forward and sometimes you get a lot of people who are superstars and people idolise them and it can be a case of 'don't meet you heroes' but with Jez he's the hero you want to meet, he's the hero you want your kids to meet and be around because he's genuine. He's all there.
"He wants to carry that responsibility of being the man on the field but be there off the field to sit with a kid and ask how his day is going.
"You'll see him at clinics he's not just a get-in-get-out guy, he spends time talking to kids and having a kick of the footy."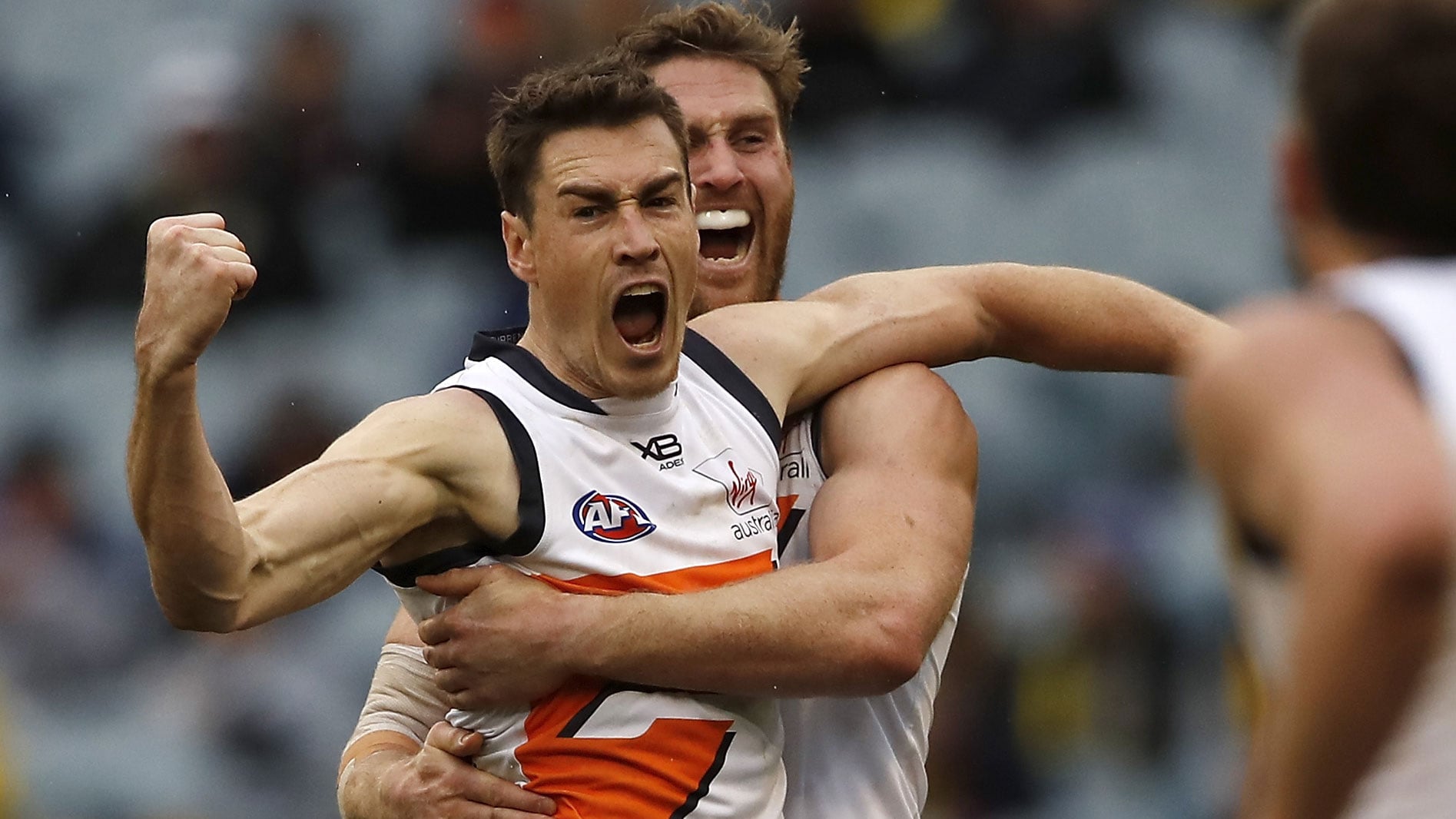 After spending a week on the sidelines and missing the opportunity to celebrate game 150 in front of a home crowd, Cameron returns to the starting 22 for the Round 23 clash with the Gold Coast Suns.
Greene knows the impact his great mate's return will have.
"I know a lot of those younger boys walk a lot taller when Jezza's playing," he said.
"I think what he does is probably underrated in a way and he's helped guys like Finlayson and Himmelberg develop into stars of the competition as well.
"He's been great and just the way he goes about training and playing, he's a great role model."