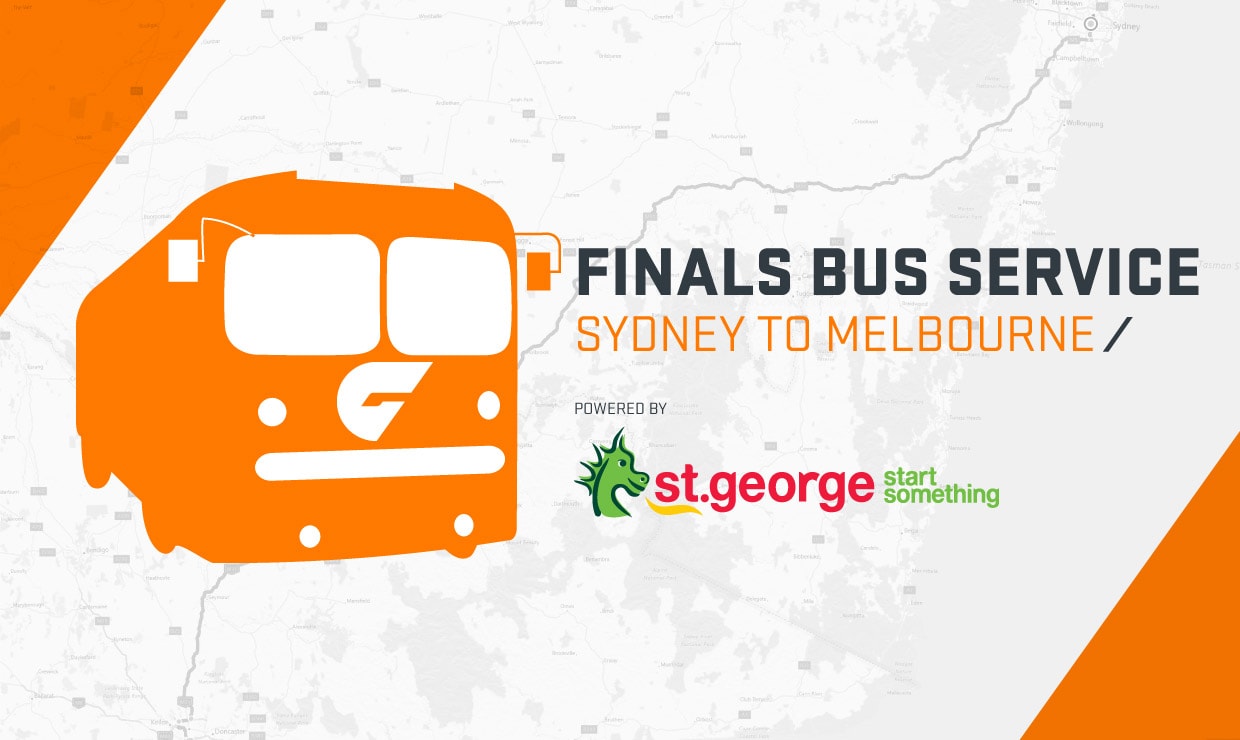 The GIANTS are calling on all fans to join the Orange Army and make their way to the GIANTS' Semi Final at the MCG by booking their place on the GIANTS Express bus, powered by St.George.
Murrays Coaches will be running a GIANTS bus from Sydney to Melbourne for the match, departing Sydney Olympic Park at 5am on Saturday for an estimated 5pm arrival.
Boarding will commence at 4.30am from the bus bays in front of P3 Parking on Sarah Durack Avenue, Sydney Olympic Park.
For the return leg of the trip, boarding commences at 11.15pm for an 11.30pm departure. Drop off and pick up in Melbourne is on Olympic Boulevard near Hisense Arena. It is then a short walk across the footbridge to the MCG.

Thanks to St.George, all guests travelling on the bus to Melbourne will receive a FREE GIANTS beanie. Plus, all St.George Bank customers will receive 50% OFF the price of their bus ticket.
The $139 fare ($69.50 for St.George Bank customers) covers a return trip and includes the booking fee. Please note, bus tickets do not cover your entry to the game or the cost of P3 Parking.
St.George Bank customers wishing to secure their seat to cheer on the GIANTS can email alice.eastman@gwsgiants.com.au for further information.
For all other GIANTS fans, please call Murrays on 13 22 51 to secure your seat and help build our Orange Army.
Terms and conditions apply.
Terms and conditions:
- GIANTS Express Fares are available for a limited time, subject to availability or until sold out
- Fare includes booking fee
- Coach travel only, game tickets and cost of P3 parking are not included in this offer (parking costs are approx. $50 for overnight, contact Secure Parking for more information)
- GIANTS Express fares are non-transferrable, non-refundable
- GIANTS Express fares are subject to the standard Murrays terms and conditions