When Lachlan McNamara started playing football in his western Sydney suburb it didn't take long to work out that he liked it more than soccer, league and the other sports he had tried.
He knew he wanted to keep playing, to be as good as he could be and to go as far as he could, but he wasn't sure how kids moved from a small team like his all the way up to an AFL club.
"I was only 11 when I started and I loved footy but I had no idea. I didn't know anything about how it all worked and what we had to do to go up the ranks and improve our footy," he said.
"Now we get told and we have a clear idea of where we need to be at 16, 17, 18. Not all of us are going to be good enough to play in the AFL but now we all know what we have to do."
McNamara found out even more in the past week, when he spent three days in Albury representing the GIANTS Academy at the under-13 and under-14 NSW state zone trials.
The carnival was run by AFL NSW/ACT, with both the GIANTS and Swans academies fielding three teams of 24 players in each age group while teaching the boys how to put other things into practice before and after they played.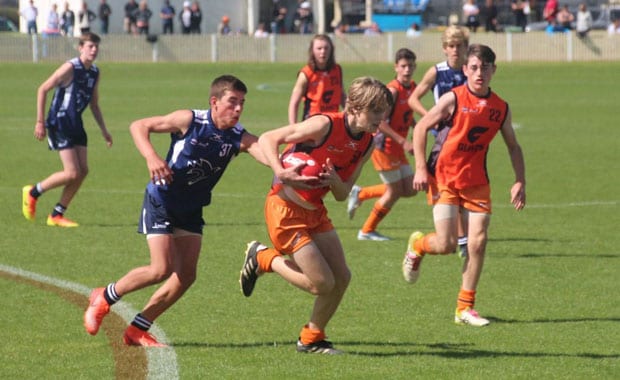 The GIANTS' players, selected at the end of the 20-week academy program run throughout the season, had recovery sessions after each game and were given advice on what they should be eating before and after playing.
It was the first chance for most of them to watch their games back on vision, and be given feedback by their coaches, who worked with them in the lead-up as part of the academy program and oversaw their time together in camp.
The teams wore orange, white and grey guernseys, representing western Sydney, Broken Hill and the central west; the ACT, south coast and western Riverina, and the Albury-Wagga area.
"For us, it's a good chance to sit back and see what we have coming through, but we don't make decisions on any of the boys at this stage," said Jason Saddington, the academy's head coach.
"It's all about giving them another development opportunity off the back of the program we've run throughout the year in each region, and to live, breathe and sleep footy for three days.
"It's an introduction for them, really. They stay together, they do recovery, they get feedback on an individual basis and they sit through team reviews and find out how that all works.
"They learn things we hope will help them when they get through to 16, 17 and 18, and it's a good opportunity for their coaches as well, to come down and help the boys prepare."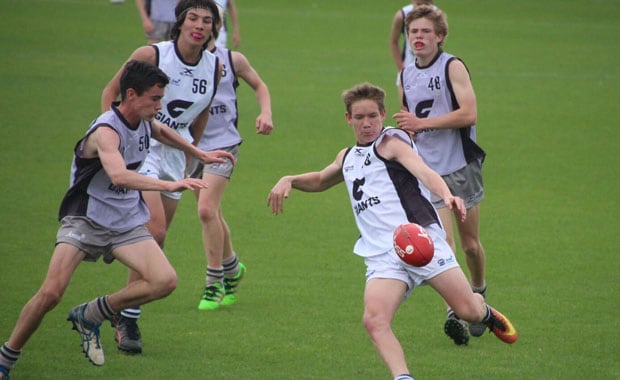 There has been a lot to take in. "They take us out before games, we do warm ups and it's just been a good couple of days for us," said 13-year-old Cameron Moore, from Canberra.
"With the recovery sessions, it helps all your muscles feel better. And with footy, all of the techniques they've showed us will help make us better players back at our footy clubs."
There have been other opportunities too: to mix with kids from other areas, make some new friends and work out how good they really are and what they need to work on.
"When you're at your club you might think you're pretty good, but then you come here and see all the other kids and know that you have to pick things up a fair bit," said Thomas Vella, who plays for Westbrook in western Sydney.
"They teach us the importance of nutrition and good food, which I don't think many of us knew about, so we're learning how to keep fit and keep our bodies healthy."
Then there is the feedback. "When you're watching footy on TV you criticise everything but you don't realise how hard it is until you come here and play against better players and realise it's a very challenging game," said McNamara, who plays for the South West Tigers.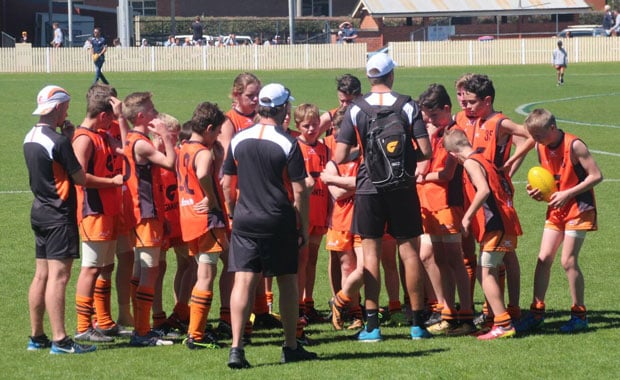 "It's really good how they show us at the end of the day what we did right and what we can work on so that we can go back home and know all the things that we have to do.
"They give us honest feedback and things we can work on and they don't just make it negative, negative, negative. They're very positive and just want to help us improve.
"They've told us it keeps getting more narrow. As the level goes up only some of us boys are going to keep going and get through, so it's up to us to work as hard as we can."
Strengthening the connection with the club is also an important element of the broader academy program, for the kids in each region as well as the people around them.
"You see the boys play on Saturday and as soon as they're done they'll put on their GIANTS jumpers and their training gear," said Cameron Moore's mother, Deb Marett-Moore.
"They're so proud of themselves for being part of it. This week is where they want to and they all train so hard to be part of it, to come here and to really feel like part of the club."