The Manly Wolves are the latest community club to adopt the GIANTS name and colours.
Manly has joined Western Sydney clubs, the Macarthur GIANTS, the Concord GIANTS and the Auburn GIANTS in partnering with the AFL's newest club.
The partnership was announced as the GIANTS completed a recovery session at Manly, which will be used for post-match recovery sessions by the club throughout 2014.
The Manly-Warringah Wolves were formed in 1969 and were premiers of AFL Sydney Premier Division in 2013.
GIANTS Chief Operating Officer Richard Griffiths welcomed Manly to the GIANTS family.
"We've already partnered with a number of great clubs across Western Sydney and around Australia and the world and it's fantastic that Manly has now has also affiliated with the GIANTS," he said.
"Manly is a strong community club and to have this sort of partnership with grassroots AFL in Sydney is really important for us as a new club.
"We want to continue to build these partnerships with clubs in our region but right across Australia and overseas wherever AFL is played."
The Manly GIANTS announcement comes a day after GIANTS Director and inaugural coach Kevin Sheedy was in South West Victoria to unveil the Dartmoor GIANTS, formerly the Dartmoor Swans.
President of the Manly GIANTS Russell Clack said it was an exciting long term opportunity for the club.
"This will help raise awareness of AFL and both clubs in Sydney and strengthen development of junior football on the northern beaches," Clack said.
"It's another significant step for Manly and a great opportunity to partner with an elite AFL club and the benefits that delivers."
Other teams to have adopted the name include the Kew GIANTS in Victoria, South East London GIANTS, the North Leinster GIANTS (Ireland), the Zaprude GIANTS (Croatia), the Skane GIANTS (Sweden) and the Maharashtra GIANTS (India).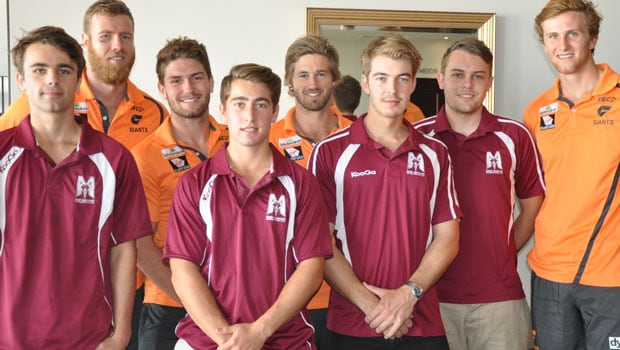 Jonathan Giles, Tomas Bugg, Callan Ward and James Stewart with members of the Manly GIANTS.