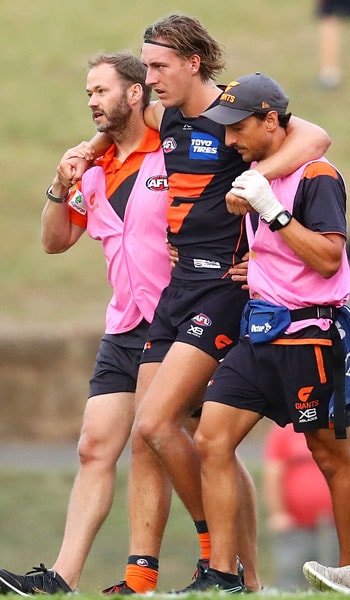 I don't have to look too far in the rooms to learn off people like Jon Patton who have done ACLs before and have come back well. I'll just try and use them as motivation.
GIANTS midfielder Will Setterfield
Anger and frustration washed over the GIANTS' Will Setterfield as he hobbled from the ground during the third quarter of a practice match against the Swans last month.
The luckless midfielder ruptured the anterior cruciate ligament in his left knee when he was tackled by Swans midfielder Jordan Foote.
Setterfield tried to pivot but got caught in the tackle, and with the full weight of Foote on his back, the 20-year-old's knee gave way.
From the pain radiating on the outside of his knee, Setterfield immediately feared the worst.
"I was pretty confident I had done my ACL," Setterfield told AFL.com.au.
"I'd never done one before but I was pretty confident that pain was what it felt like.
"If I'm honest, I was pretty angry at the time because I haven't had a good run with injuries. I got to the rooms and the doc confirmed with me that she thought it was an ACL. I was just shattered, and pretty emotional about that."
Selected by the GIANTS in the 2016 NAB AFL Draft at pick No.5, Setterfield showed plenty of promise in his draft year, despite a couple of injury hiccups.
Tall and mobile, the GIANTS Academy player was one of the most complete midfielders in the draft pool, drawing comparisons to Bulldogs superstar Marcus Bontempelli.
But it has been a tumultuous start to his AFL career, with the youngster managing just two games last year after an ankle injury and a series of concussions limited his first season.
Setterfield will now have to set his sights on 2019, as he once again watches on from the sidelines.
"That's the flattening part about it," he said.
"You train a full pre-season and then the first match of the year you go down, so it is really heartbreaking.
"It is hard not to get down about it all. But I don't have to look too far in the rooms to learn off people like Jon Patton who have done ACLs before and have come back well. I'll just try and use them as motivation."
Setterfield travelled to Melbourne for surgery, and on March 1 had a traditional knee reconstruction with a quad graft used instead of a hamstring graft.
Coincidentally, his surgery took place a week after his cousin, the Western Bulldogs' No.1 AFLW draft pick Isabel Huntington, had her second knee reconstruction.
He has since been recuperating with Huntington in South Melbourne as they both come to terms with missing yet another season of footy.
"It has been nice being together," Setterfield said.
"Especially with me being able to stay here and having Izzy around to ask questions immediately post-op.
"The other night I woke up with a really sore knee, it was about 5am in the morning, and she said, 'Yeah, I get that all the time', so it's comforting."
Despite growing up in Albury, Setterfield and his family made regular trips down to Melbourne as a child, where he and Huntington would kick the footy in the park and attend games with their grandfather.
Family aside, Setterfield also has a close group of friends in Melbourne, having boarded at Caulfield Grammar during his high school years.
"I guess the positive to come out of it is that I've been able to spend a lot more time down here with my family and girlfriend and all my mates from school," he said.
"It is hard being away from them, but you get so excited every time you come back to Melbourne."
Setterfield will return home to Sydney this week and begin rehabilitation at the club.
But he'll be far from alone, with Huntington walking the same path, as they both push for a return in 2019.