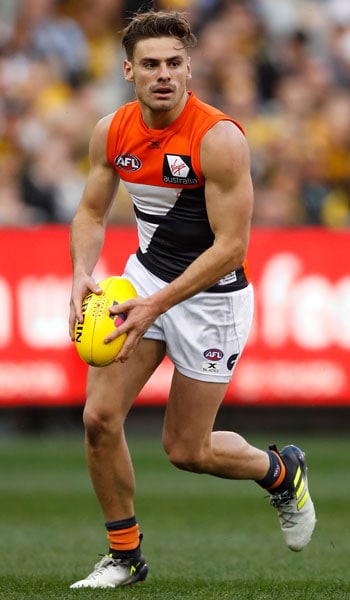 We'll try a few different things next year in preseason and come back in better shape than we were this year to make sure we go one or two steps further.
GIANTS vice-captain Stephen Coniglio
2017 was a season of learning for the GIANTS and Stephen Coniglio.
The 23-year-old was named vice-captain at the start of the season but had to show his leadership from the sidelines for most of the year as ankle injuries saw him miss 15 games.
After an impressive pre-season, Coniglio suffered his first ankle injury in the final JLT Community Series game in Canberra. He returned in round seven but reinjured the same ankle and would not play again until round 19.
"It was frustrating to do the same injury and knowing the second time the process you had to go through to get back the first time," he said.
"With a thing like that another opportunity comes and for me it was spending a lot more time with the rehab group than I usually would and try and help guys through stages where they're battling."
While Congilio was focussed on assisting his teammates in any way possible during his two stints in the rehab group, he was ultimately aiming to return to the starting line-up before finals.
"My thought process through that whole thing was making sure I was right for an important time of the year which is finals," he said.
"I managed to get back for that which is the most important thing for me."
Be GIANT in 2018. Sign up or renew as a GIANTS member now.
The hardworking midfielder made a welcome return, collecting 27 disposals in the GIANTS' win over Fremantle, and was one of the club's standout players during its three finals averaging 28.6 disposals, one goal and 7.3 tackles.
Before Coniglio's return to the side, the GAINTS had endured a month without a win as the club's injury list hit its peak.
The young leader said the entire club learned a lot from that month and it took a back to basic approach for the side to get its mojo back.
"We tried a few different things, there were a few long conversations I think the biggest thing was we really stripped things back," he said.
"It was a big learning curve but we went back to basics and found our spark and energy through our values and why we actually play the game.
"We sort of got on a roll pretty quickly.
"It was an interesting period that we hadn't really faced before and I think if it came around again we'd be better prepared next time."
While the GIANTS bounced back and made it through to their second successive preliminary final, their season again ended in heartbreak with another loss in the penultimate match of the season.
Coniglio said that experience and the lessons learned through the entire season will motivate the GIANTS in 2018.
"We got some good games into some draftee players and second and third year players," he said.
"I guess above all we take in a willingness to get better and we know how much it hurts to lose one prelim but two in a row hurts even more so we come in with an eagerness next year to really achieve our goals as a club.
"We'll try a few different things next year in preseason and come back in better shape than we were this year to make sure we go one or two steps further."