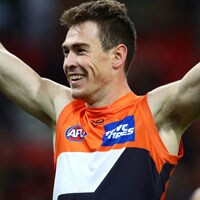 Jeremy Cameron's six-goal haul against Collingwood in round 18 has seen him claim a second 'perfect 10' in the Shadforth AFLCA Champion Player of the Year Award and named at centre half-forward in AFL.com.au's Team of the Week.
10:25am Jul 23, 2019

GIANTS forward Jeremy Cameron has opened up about the fallout from his five-game ban for striking Brisbane's Harris Andrews, and the critics who wrote off his team's season in the aftermath.
1:45pm Jul 31, 2018
GIANTS Co-Captain Callan Ward believes Jeremy Cameron can return to his best in 2015.
9:39am Mar 26, 2015