AFL Round 3
GIANTS v Richmond
Saturday, April 6, 4.35pm
GIANTS Stadium
12.45pm – Gates Open
12.55pm – NEAFL GIANTS vs Swans
4.35pm – AFL GIANTS v Richmond
Location
GIANTS Stadium is located on Grand Parade, Sydney Olympic Park NSW, just minutes from Olympic Park Station and across from ANZ Stadium and Qudos Bank Arena.
With the Easter Show just around the corner, the entry point for GIANTS Stadium has changed for round three. Patrons can enter via Showground Road, off Murray Rose Avenue, directly next to Olympic Park Train Station.
Tickets
Be there on Saturday as the GIANTS take on Richmond, with both teams eager to bounce back and recapture their winning form from the opening round.
To purchase tickets CLICK HERE.
You can also call 13 28 49 or visit Ticketmaster agencies. The ticket office at GIANTS Stadium will be open from 12.45pm, located outside Gate D.
A GIANTS membership is one of the best value in any sport, CLICK HERE to see our range of packages and sign up today or head to the Membership Hub on the corner of Showground Rd, off Murray Rose Avenue.
Easter Show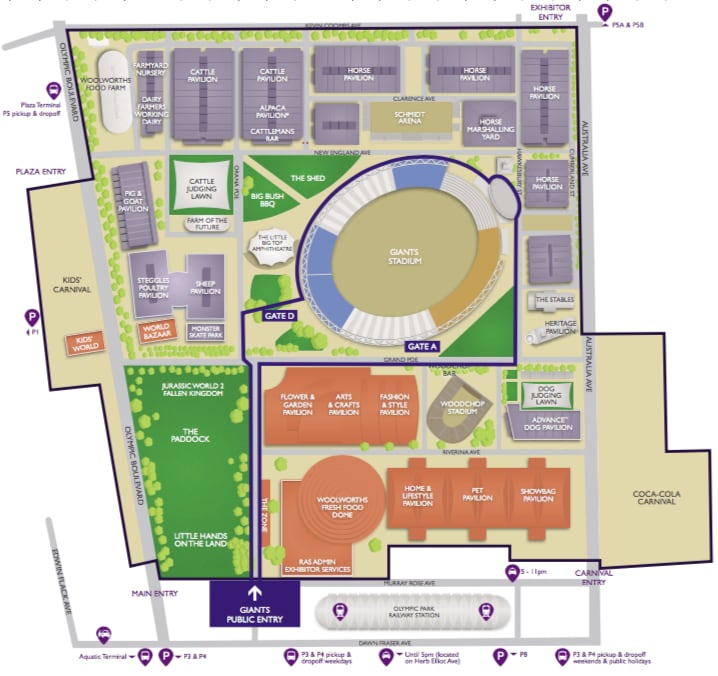 With the Sydney Royal Easter Show just days away, footy fans will get an early taste of the fun and excitement of the big event this Saturday at GIANTS Stadium.
Fans are encouraged to allow extra time to travel to the game and enter the venue with the set up of the Easter Show meaning all members and fans will enter the Stadium via Showground Rd, off Murray Rose Avenue directly next to Olympic Park Station.
There will be plenty of rides and activities for the kids to get you in the spirit of the Show before the first bounce. Check out our Match Day Activities section below for more information.
For members and fans who drive to the game, it's highly recommended to pre-purchase parking with some changes to the carpark layouts in place.
Shuttle buses will be operating between carparks to help fans move around Sydney Olympic Park as easily as possible.
Catching the train is the easiest way to get to GIANTS Stadium, especially with free train transport on game day included in 2019 GIANTS memberships and tickets. And don't forget - GIANTS game-access members get free entry to four days of the Easter Show just by scanning their membership card at the entry gate.
Merchandise and Memberships
You can pick up some gear from the GIANTS Membership Hub at the corner of Showground Rd and Murray Rd, or from the merchandise stall on game day. Members receive 10% off all merchandise! Visit the Members Hub to sign up and take advantage of this members' exclusive discount.
Parking and Public Transport
Car: With the Easter Show just days away from starting, there will be some changes to parking on game day. Pre-purchasing tickets for parking is highly recommended. To pre-purchase parking, click here.
For those who park in P5, the access route to get to Showground Rd is over the bridge, right onto Kevin Coombs Ave, left onto Olympic Blvd and follow the fence line around past Qudos Bank Arena and ANZ Stadium, down Dawn Fraser Ave and left onto Showground Rd (a 15-20 minute walk).
Shuttle buses will be operating between carparks by Sydney Olympic Park Authority. Please refer to the match day event plan for shuttle bus times.
Free train transport on game day is included in your 2019 GIANTS membership and tickets.
Bus: The following Sydney Buses services run to Sydney Olympic Park:
Route 525 runs between Parramatta and Burwood via Sydney Olympic Park.
Route 526 runs from the Sydney Olympic Park Ferry Wharf to Olympic Park. For service disruptions check travel alerts or use the Trip Planner.
Train: The closest station to GIANTS Stadium is Olympic Park. There is a direct service between Lidcombe's platform Zero and Sydney Olympic Park. For the latest information or to plan your journey, use the Trip Planner.
Ferry: Sydney Ferries are a great way to get around the city but services can be popular and may reach capacity, especially on weekends. Check travel alerts or use the Trip Planner. GIANTS Stadium is approximately a 40 minutes' walk (3.6km) from Sydney Olympic Park Wharf. There is a connecting 526 bus to the precinct.
Match Day Activities
The Fan Zone is located inside stadium gates on the Northern concourse - follow G-Man and GiGi's footsteps inside Gate D to locate the GIANTS Fan Zone. There's plenty on offer for every GIANTS fan, including:
- GIANTS GIANTS dual station with netball and AFL and the specky inflatable with free Milo for all!
- GIANTS Recruits: Show your GIANTS Recruits card at the GIANTS Recruits hub in the Fan Zone to collect your limited edition GIANTS Recruits drink bottle and headband
- Show your true colours: Get your face painted in GIANTS colours, OR go bigger with custom GIANTS Tattoos!
- Kia's Beat the Sting: Come and visit the Kia Fan Zone where you can get game ready! Write you message of support on the cheer cards, grab a photo in the Stinger or your face painted in GIANTS colours. Also learn how you can enter into our quarter time on field race to beat The Sting, for your chance to win a Stinger!
- Nova 96.9: Check out the "Ladder of Legends' course to score a piece of signed GIANTS merch! Music and fun as always from the Casanova team.
- Westfund: Head over to the Westfund photo booth, snap a photo of your most creative "game face" and upload to Facebook or Instagram for your chance to WIN a GIANTS shop gift voucher!
- St.George: Pick up your 'Go GIANTS' banner from the St.George promo staff and learn how to apply for a St.George Footy grant for your footy club! All thanks to the St.George Footy Grants program
- Groupon: Win at every home game by heading to the Groupon spin wheel where you could win a cool Groupon experience or GIANTS giveaways
- Head to the GIANTS Fan Hub to get your hands on great game day giveaways
- G-MAN and GiGi will be roaming the concourse near Gate D – or get close to the field during game breaks to get a photo and high-five from the GIANTS' mascots
- Easter Show fun: before the gates open for the Easter Show on April 12, show rides will be open for footy fans!
- President's plaza
Carousel $5
- Gate A – Concourse (Kids Street)
Merry-go-round $4
Tea-cups $4
Mini-chairs $4
Auto Bee $4
Trains $4
Ice Rink $10
Ice Slide $4

Quarter-Time
Kia's Beat the Sting
Get excited GIANTS fans, because in season 2019 we have a brand new quarter time event that you won't be able to take your eyes off – Kia's Beat the Sting. The premise is simple – one lucky contestant is going to run 200m from point post to point post along the boundary for the chance to win a brand new Kia Stinger. The catch? They have to beat The Sting.
Half-Time
NAB AFL Auskick
Cheer on the some of footy's brightest young stars during the half-time NAB AFL Auskick games!
Three-Quarter-Time
Toyo Tires Kick for Cash
The Toyo Tires Kick for Cash is back and bigger than ever! $100,000 is up for grabs at every GIANTS home game this season. But this year, if the participant is a 2019 GIANTS Member, they'll be kicking for an incredible $150,000! Simply post a selfie prior to the first bounce this Saturday on Facebook, Twitter or Instagram using #DrivenToPerform and you could be kicking for $100,000 or $150,000 at three-quarter-time.
Post-Match
Macca's Kick 2 Kick
Kick 2 Kick is back! Thanks to McDonald's, head on-field after the second siren and have a kick with your mates on GIANTS Stadium. Kick 2 Kick will be on at every GIANTS home game at GIANTS Stadium and UNSW Canberra Oval, thanks to McDonald's, the official restaurant and official coffee partner of the GIANTS and AFL.
Mac for a Match
McDonald's, the Official Restaurant of the GIANTS, is rewarding fans with a free Big Mac for each GIANTS Stadium home game win! If the GIANTS win a game at GIANTS Stadium this season, everyone who attends the match can redeem a free Big Mac on the following Monday from participating restaurants. Click here to find out more.
Team
The GIANTS team will be named on gwsgiants.com.au and the Official GIANTS App at 6.20pm on Thursday evening, with the final team to be named 90 minutes before the match.
Broadcast Information
The game will be broadcast LIVE on Fox Footy nationally from 4.30pm, on 7Mate in NSW and ACT, and can be streamed via the AFL Live app, Foxtel Now or Kayo app with a subscription purchase.
Macquarie Sports Radio and Triple M will also be covering the match.
For the latest television and radio broadcast guide, CLICK HERE.
You can also follow the GIANTS on social media for game updates and behind-the-scenes content on Twitter, Facebook, Snapchat and Instagram @GWSGIANTS.
The official match hashtag is #AFLGIANTSTigers.