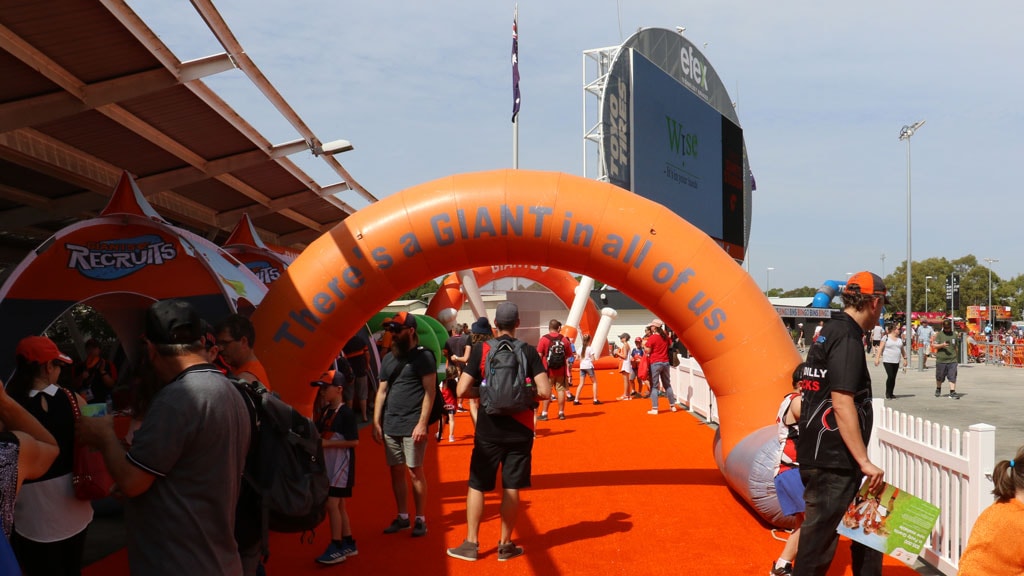 With the GIANTS taking on the Brisbane Lions at GIANTS Stadium this Sunday afternoon, here's some compelling reasons why you should come to the game.
1. It's just the third time the Lions have ever played at GIANTS Stadium
That's right, the Brisbane Lions have played just twice before at GIANTS stadium, losing both games by at least six goals. The GIANTS and the Lions have met eight times in total with the GIANTS having won every contest between the two sides since they last lost to Brisbane in round 21, 2013.
2. It could be a finals preview
While the recent record between the two sides is one of GIANTS dominance, Brisbane are a much-improved side in 2019. They currently sit fifth on the AFL premiership ladder behind the GIANTS on percentage only. If both sides finish in the top eight by the end of the year, they could very well face each other during the finals series.
3. Cameron v Cameron
The GIANTS have Jeremy Cameron while the Lions have Charlie Cameron, and both are excitement machines in their respective forward lines. The GIANTS' Jeremy leads the Coleman Medal race with 43 goals so far in 2019, while the Lions' Charlie sits in ninth spot (and first for his team) – equal with the GIANTS' Jeremy Finlayson - on 27 goals. Both players have been nominated for this year's Mark of the Year, so get ready for some fireworks.
4. The kids are taking over
Kids are taking over this Sunday at GIANTS Stadium! There's a rock climbing wall, extreme bungy, mini golf, the GIANTS Fan Zone, GIANTS Recruits Zone, Woolworth's Fun Zone and so much more! Kids will be on the mic, on the big screen and everywhere else you turn.
5. Kids Get in FREE
Kids under 15 get into the footy for free this Sunday. This offer is available through Ticketmaster.com.au or at the box office on match day, subject to availability.
* Free junior, 15 years and under tickets are available in select seating categories only
6. It's the first time the GIANTS have played in Sydney in five weeks
It's been a while since the GIANTS beat the Gold Coast Suns back in round 11 at GIANTS Stadium. They've been pretty much everywhere since with games in Adelaide, Tasmania and Melbourne. Now they're back home for a game you won't want to miss.
7. You could win A LOT - thanks to Toyo Tires, Kia and Maccas
You could win $150,000 dollars in the Toyo Tires Kick for Cash, a Kia Stinger if you can outrun the Sting and if the GIANTS win on Sunday you'll get a Big Mac for free!
To find out more about how to take part in these amazing competitions click here.
8. Maccas Kick 2 Kick after the final siren
Thanks to McDonald's, head on-field after the second siren and have a kick with your mates on GIANTS Stadium. Kick 2 Kick is on at every GIANTS' home game at GIANTS Stadium and UNSW Canberra Oval, thanks to McDonald's, the official restaurant and official coffee partner of the GIANTS and AFL.
9. There's a Dance Spectacular & the Sydney Youth Orchestra is performing
1,000 dancers from 33 dance schools across Sydney will take part in an incredible pre-game performance on-field as part of the GIANTS' 2019 Dance Spectacular. With choreography by Sass Dance & Entertainment, this is an event you won't want to miss.
Meanwhile, The Sydney Youth Orchestra – New South Wales' leading orchestral training and education provider – will be performing in the Presidents Plaza at GIANTS Stadium from 3:30pm and on-field at half time. 65 students between the ages of 15 and 19 will be playing a range of songs including hits from The Greatest Showman, Disney films and other classics.