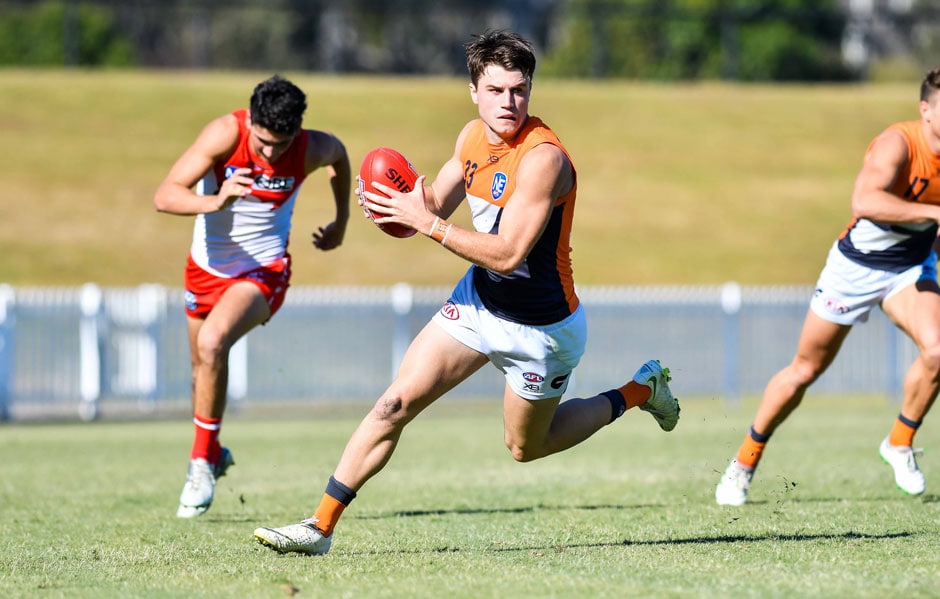 The GIANTS have cemented their spot in the NEAFL top four with a 25 point victory over the Swans at Blacktown International Sportspark.
Having lost their last six games in a row against their cross-town rivals, the GIANTS led for the entire match to run out winners 15.11 (101) to 11.10 (76).
Both teams struggled to find their feet early in the contest because of the dewy conditions, but it was Ian 'Bobby' Hill who dribbled a goal along the ground in the first two minutes to put the GIANTS on the scoreboard first.
The GIANTS' defensive pressure was an early highlight, keeping the Swans scoreless up until the 16th minute.
But the Swans kept within reach throughout the first term, before the GIANTS extended their lead to 17 by the main break.
The Swans again cut the margin back to 11 points with two of the first three majors of the third term, but the GIANTS responded with a flurry of goals opening up a commanding 27-point lead at the final break.
The Swans - who fielded 12 AFL-listed players against the GIANTS' 16 - refused to lie down even when the GIANTS threatened to run away with the contest, clawing their way back within 14 points early in the last.
But the GIANTS had all the answers, thanks mainly to the strong performances by some young midfielders.
First year players Jackson Hately and Xavier O'Halloran were both important for the GIANTS while Jack Buckley played his best game for the season collecting 25 disposals on the wing.
NEAFL coach Adam Schneider said he was happy with the performance.
"They (the Swans) love to tackle so we knew it was going to be a contested battled, we wanted to match them in that area," Schneider said to neafl.com.au following the game.
"All we ask is for our young players to play their role and to better their footy.
"We are in good form so we are looking forward to getting away as a team (next week) and giving it our best shot."
The GIANTS take on Redland at Jack Esplen Oval in Brisbane at 11:30am in round 11 on Saturday, June 15.
GIANTS 3.3, 6.7, 12.8, 15.11 (101)
Def.
Sydney 2.1, 4.2, 8.5, 11.10 (76)
Goals: Langdon 3; Edwards 2; Shipley, E Perryman, Hately, Grant, Buntine, Flynn, D Buckley, Hill, Briggs, J Buckley 1.
GIANTS NEAFL Coach Adam Schneider on the GIANTS' AFL Listed Players:
Jack Buckley – 25 disposals, nine marks, one tackle, one goal
"It was the best best game of the year from Jack; he was super for us all day. His work rate on the outside of stoppages was great and we were really pleased with the role he played on the wing."
Jackson Hately – 23 disposals, nine marks, six tackles, one goal
"Started slowly but fought his way back into the game and never gave up. He worked hard all day and is in some really good form at the moment so I expect him to be in the conversation for senior selection."
Nick Shipley – 22 disposals, four marks, five tackles, one goal
"It was a bit of a different role for Nick playing both on the inside and on the wing. He found it hard to adjust at times but his work rate up and down the ground allowed him to find the ball and help his team mates. He's still working on some little things and trying to improve in all areas."
Xavier O'Halloran – 21 disposals, two marks, four tackles
"It was a really tough game from X. He loves the contest and the push and shove. He copped a knock and it didn't phase him – he just kept going. He's strung together a few good games in a row now and is hitting some form."
Matt Buntine – 21 disposals, five marks, four tackles, one goal
"Captain 'Bunts' was sensational. He was in a lot of the rough and tough stuff down back and always puts his body where it shouldn't be. He's our General out there and in super form. No doubt he'll be spoken about in match committee once again."
Ian Hill – 20 disposals, seven marks, four tackles, one goal
"It was one of the best games of the season from Bobby. As a small forward, he just needs to captilise a little more on the opportunities he gets but pleasingly it was the best defensive game for the year we've seen from him. Not only was he laying tackles, he had a hand in plenty of turnovers that helped us. Won't be far pushing for senior selection if he keeps going this way."
Zac Langdon – 19 disposals, one mark, six tackles, three goals
"Zac was in our top three players for the day and played at AFL standard. He kicked three and probably should have kicked five straight. His forward pressure was right up and his work rate was great. It was good to see him hit the scoreboard like he did."
Lachie Keeffe – 18 disposals, seven marks, one tackle
"Lachie was one of our best. He didn't get beaten in a one on one all day. He chopped out a lot of marking contests and shows great leadership for our young guys, always helping them out. He's like a coach on the field and super for a young team like ours."
Connor Idun – 16 disposals, eight marks, one tackle
"It was a good challenge for Connor as we played him against Ben Ronke in the first half and Connor kept him to just one touch. The second half he dropped off a bit and that might have been some fatigue. We're impressed with what we see as he's building every week."
Callum Brown – 15 disposals, one mark, two tackles
"Another good day from Callum. It was a new role down back following someone around. When he has the ball in his hand he looks dangerous as he's one of the quickest guys you'll seen on a footy field. It was a good learning day with plenty of leading patterns and body work."
Dawson Simpson – 13 disposals, five marks, three tackles
"He dominated the tap outs against a good ruckman and had a good battle against Darcy Cameron. He gave us good use in the ruck and his follow up tackling was pleasing as this is something he's been working on."
Jake Stein – 13 disposals, five marks
It was a solid game from Jake and he's really becoming a defender that is hard to play against and rarely beaten in one on ones. His body work is terrific and he's getting reward for effort by frustrating his opponent. The last fortnight has seen him taking more marks which will help when his name is thrown up at match committee."
Aiden Bonar – 12 disposals, seven tackles
"We knew it would be a tough game that a player like Aiden would enjoy and he tackled well. Unfortunately he didn't complete the game due to a head knock but has pulled up well."
Kieren Briggs – eight disposals, two marks, six tackles, one goal
"It was a quiet game for Kieren and he lacked some run. He was up against a good opponent and while he didn't get the marks we'd like to see, it was pleasing to see him lay six tackles. I'm looking forward to seeing him clunk more marks in the weeks to come."
Matt Flynn – seven disposals, three marks, three tackles, one goal
"He'll be disappointed with his game after a terrific showing last week. We are looking forward to him bouncing back, focusing on the basics and returning to form next week with some follow up around the ground."
Dylan Buckey – six disposals, two marks, one tackle, one goal
"He looked dangerous as one of three smalls in the forward line for us and kicked an early game. Was experiencing some tightness at half time so we didn't take any risks with him sitting out the second half. He'll be assessed further in the coming days."