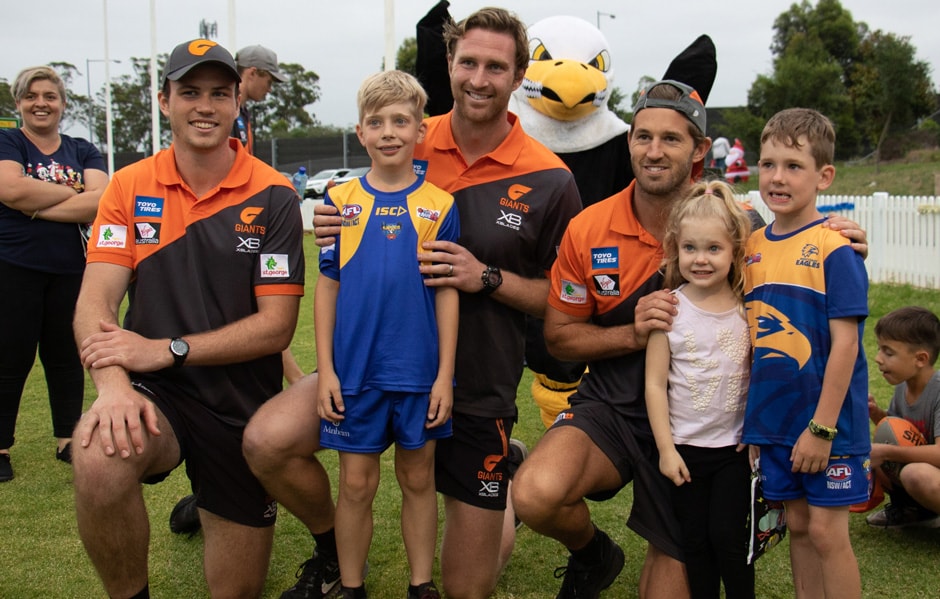 There's just over a week until the AFL season kick starts but with a bit of free time amongst all the preparations, GIANTS players are heading out all across Western Sydney and beyond.
Following in the GIANT footsteps of last week's Canberra AFL Community Camp, Thursday will see the entire GIANTS list spread across Western Sydney.
Select players will head west to Wagga Wagga in the NSW Riverina on Wednesday, before the Community Camp kicks off in full on Thursday.
There'll be a meet-and-greet and the opportunity for signings and photos at Sturt Mall in Wagga Wagga from 5pm to 6pm on Wednesday evening.
Hanging Rock Oval at Batemans Bay will play host to a community clinic, with plenty of games and activities from 3-4pm on Thursday.
Footy fans are welcome to come along for a meet-and-greet, with the opportunity for photos and autographs with attending GIANTS players.
Power FM Bega Bay will also be broadcasting live from the ground for the afternoon.
The Western Sydney Juniors GIANTS Super Clinic will be held at Blacktown International Sportspark from 5-7pm on Thursday.
All junior participants will get the chance to hone their skills before the 2019 season kicks off, with GIANTS players running age-based sessions.
When the clinic is run and done, there'll be a footy forum held in the Blacktown International Sportspark function room, where junior participants, family members, coaches and volunteers can ask the attending GIANTS players all their burning questions.
Entry is free, but to register, head to: https://www.surveymonkey.com/r/gwscommcamp
GIANTS players will also be making a number of schools and clubs in Western Sydney throughout the day.
IN A NUTSHELL
Wednesday, March 13
What: Meet and greet
Where: Sturt Mall, Wagga Wagga
When: 5-6pm
Cost: Free!
Thursday, March 14
What: Batemans Bay Community Clinic
Where: Hanging Rock Oval, Batemans Bay
When: 3-4pm
Cost: Free! Just turn up on the day.

Thursday, March 14
What: Western Sydney Juniors Super Clinic and Forum
Where: Blacktown International Sportspark, Gate C, Eastern Rd, Rooty Hill
When: 5-7pm
Cost: Free, but registrations are required: https://www.surveymonkey.com/r/gwscommcamp