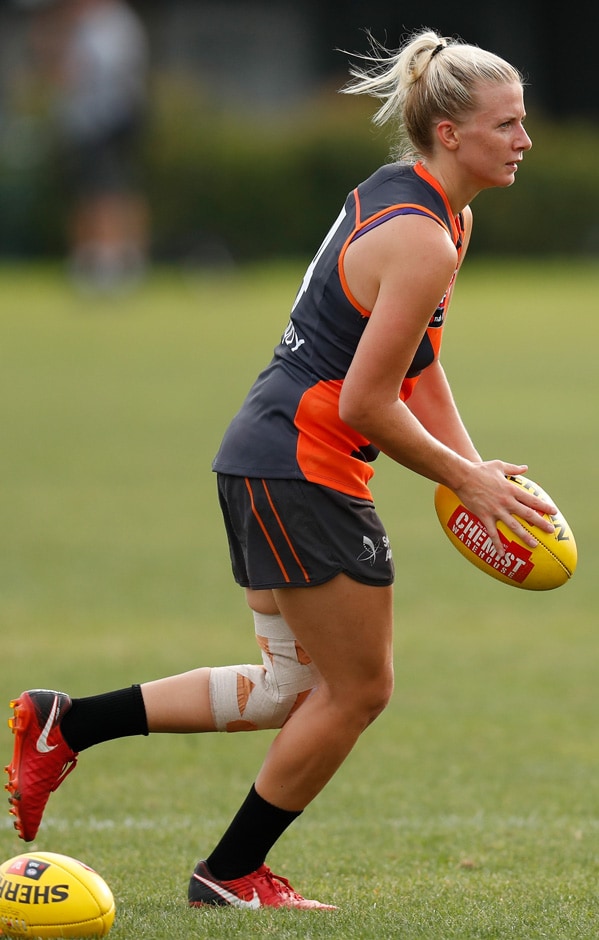 Having Christina in that mix is a good balance for those two in terms of how things go structurally.
GIANTS AFLW coach Alan McConnell
The GIANTS have confirmed their line-up for Sunday's NAB AFL Women's opening round clash with the Brisbane Lions at Moreton Bay Central Sports Complex.
As announced on Thursday, Yvonne Bonner, Alyce Parker and Haneen Zreika will make their AFLW debuts, while Collingwood recruit Christina Bernardi will play her first game in the orange and charcoal.
Coach Alan McConnell said he expects Bernardi to assist Bonner and last season's Irish revelation Cora Staunton in the GIANTS' forward line.
"It's interesting with the two Irish girls together there's not a lot of AFL footy IP (intellectual property), although there's a lot of football IP," McConnell said.
"Having Christina in that mix is a good balance for those two in terms of how things go structurally."
Sunday afternoon's match is the second meeting between the two sides in as many weeks, with the GIANTS soundly beating the Lions by 47 points in a practice match a fortnight ago.
McConnell said despite the win, his team are not getting ahead of themselves and are expecting a tough battle against the back-to-back grand finalists.
"It was encouraging but, that said, both teams played a number of different players in different positions," he said.
"I'm sure it'll be a tough contest on the weekend, and it'll be tougher to move the ball like we did a fortnight ago.
"Brisbane are, by far, the best defensive team in the history of the competition.
"If we do (kick) 10 goals it'll be wonderful, but I'll be astonished if that's the case."
The Lions have named five debutants in a team that is vastly different to the one that lined up in the 2018 AFLW Grand Final, with nine players from that side not taking the field on Sunday.
Meanwhile, GIANTS Amanda Farrugia, Alicia Eva, Jess Dal Pos, Erin McKinnon, Nicola Barr and Rebecca Beeson are all set to play their fifteenth-consecutive game, with all six having not missed a match since debuting in the opening round of the inaugural season.
The GIANTS' clash with the Lions will be shown live and free on 7Two in Sydney and Canberra from 5:00pm (EDT) as well as Fox Footy from 5:00pm (EDT).
Brisbane Lions v GIANTS
Sunday, February 3 at 5:05pm (EDT)
Moreton Bay Central Sports Complex, Queensland
FB: Cora Staunton, Maddy Collier
HB: Tanya Hetherington, Pepa Randall, Amanda Farrugia
C: Elle Bennetts, Jessica Dal Pos, Courtney Gum
HF: Yvonne Bonner, Alicia Eva, Christina Bernardi
FF: Haneen Zreika, Phoebe Monahan
RR: Erin McKinnon, Emma Swanson, Alyce Parker
Interchange: Louise Stephenson, Aimee Schmidt, Nicola Barr, Rebecca Beeson, Jodie Hicks
Emergencies: Tait Mackrill, Brittany Perry