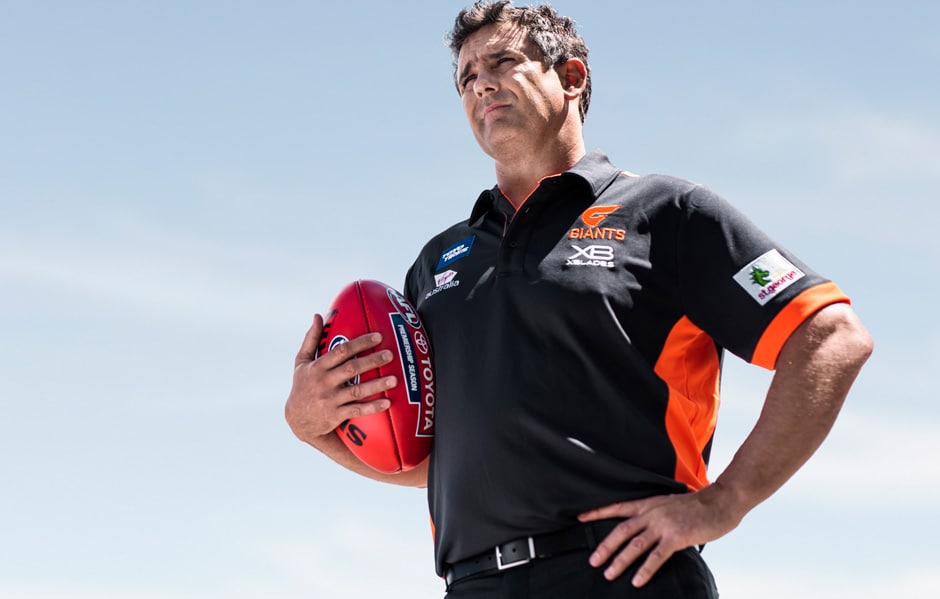 The GIANTS' maiden venture into free agency – on top of gun midfielder Josh Kelly being out of contract – won't be remembered for the wrong reasons, coach Leon Cameron predicts.
The GIANTS already relinquished Dylan Shiel, Rory Lobb, Tom Scully and Will Setterfield in a dramatic NAB AFL Trade Period purge three months ago that eased significant salary cap stress.
Cameron insists the big-name exodus was the natural result of the way the GIANTS list was created, with bulk first-round draft picks, and not because of any financial mismanagement.
It's why he wants mandatory draftee contracts increased from two to three years to offer greater value for the original club and delay a process that can lead to a prematurely large contract.
Everything's bigger up close. To become a GIANTS 2019 member today, CLICK HERE.
The AFL's decision to strip the Swans and the GIANTS of the cost-of-living allowance they previously benefited from has made life more difficult as well.
Devon Smith, Nathan Wilson and Matthew Kennedy departed at the end of 2017, while Will Hoskin-Elliott, Caleb Marchbank, Jarrod Pickett and Paul Ahern went elsewhere a year earlier.
"It was always going to happen – it's been happening for three years. This is a salary cap issue," Cameron told AFL.com.au.
"We're not going to sit here and say every player has wanted to stay at our footy club and we've never had some homesickness issues.
"But we've created a really good atmosphere and culture and we've lost only a couple through homesickness.
"The others have been a natural evolution that, 'Right, you're on x (money) and now you want to get paid y. Well, we can't pay you that and we don't want to hold you back, because you'd have to stay for 'unders'."
Stephen Coniglio, Nick Haynes, Adam Tomlinson and Matt Buntine are the first GIANTS footballers to qualify for free agency, meaning they could walk to the club of their choice at season's end.
SCHOOL OF HARD KNOCKS: GIANTS Draftee Jye Caldwell benefits from lessons in resilience
Coniglio has already been strongly linked to Hawthorn, where his close friend, former Sun and fellow West Australian Jaeger O'Meara is a star.
Complicating matters is that players such as Kelly, Jacob Hopper, Harry Himmelberg and 2017 draftees Brent Daniels and Sam Taylor are also in line for new deals this year.
"I don't see it as a year we're going to spill any players," Cameron said.
"The natural evolution of losing three or four players at the end of the year, in terms of players looking for other opportunities, because they mightn't be in the starting 22 – that's going to happen.
"But Kelly, Coniglio, Haynes and those sorts of players, I'd expect them to be around for the long term."
Cameron's confidence stems, in part, from the sacrifices made in previous years that should enable the GIANTS to be more competitive once the inevitable rival offers roll in.
One thing they haven't done is made requests for how their free agents and co. conduct themselves, after Tom Lynch's public recruiting tour became a media circus last year.
"Every player and their manager will operate differently and on a different timeline," Cameron said.
"We're an open club and if someone was going to go and speak to another club, I'd want to know that … (but) it's their right to explore and they're going to explore.
"What you do and what I'm really confident about is that if someone does explore, they keep coming back and saying, 'We have got a really good club here, it's building, we're building a membership, we've played finals, I'm a regular'.
"I'm really confident we'll either keep all of our first free agents and if not everyone, it will be close to all of them."