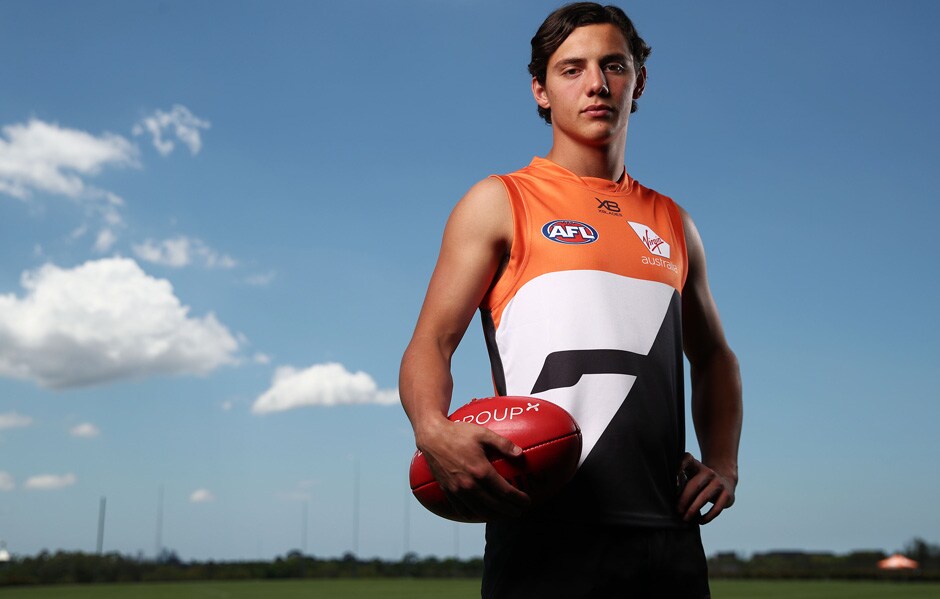 I've always been more that kid who will lead by example, so I had to be around the team and talk more, communicate off the field and get a better idea of how to lead that way.
Jye Caldwell
Emma Quayle is an award-winning journalist and draft expert who spent 16 years covering AFL for The Age newspaper before joining the GIANTS' recruiting team in February, 2017. As one of the industry's most respected writers and talent spotters, Quayle has a unique perspective on the GIANTS' recent crop of draftees and takes you inside the thinking of the recruiting team. In the fourth of her insightful six-part series, Quayle sits down with selection 11, Jye Caldwell.
The first time we met Jye Caldwell properly was in a small office at Geelong Grammar, one afternoon after school. It was the same room we had spoken to Brent Daniels in, about 12 months earlier. Jye had just come back from a couple of injuries – a bruised kidney, then a calf strain – and in his return game for his school team had gotten frustrated at being tagged, and been sent off the ground for 15 minutes after elbowing the kid in the head. (Not too aggressively, it must be said.) We asked him what had happened to bring that on and he sat back in his seat, paused, thought and gave us his answer. "It was anger," he said. "Just anger."
We would have preferred him to stay on the ground, of course. But there was a simplicity about his response that summed up Jye and the way he likes to play footy. He loves to compete. He doesn't know how not to compete. He lives in the moment, he doesn't let things get in his way and he won't let himself be pushed around.
He's always been a bit like that, he thinks. But after he turned 12 – and had shown himself to be good at footy, good at basketball, good at cricket and almost anything else he had a go at – his father Rodney set him up with a boxing coach who trained him at a gym close to their home near Bendigo. The idea was to get him fitter for all of his other sports, and to teach him some basic self defence. Like everything else, though, Jye took to it quickly and easily. He had two fights when he was a 13-year-old, and won both of them. The second got him a state title.
He loved the physicality, even as a kid. He liked the one-on-one battles boxing presented him with, and having the chance to stare someone down. He felt as fit then as he has ever felt since. He gave up boxing when he moved to Geelong Grammar at the end of Year Nine, because he just didn't have time anymore. But he hasn't forgotten how nervous it also made him feel.
"It's so daunting, so intimidating. It made me way more nervous than any game of footy has ever made me. It was 10 times worse. It was shitting myself every time," Jye said.
"I loved it and I loved how it was one-on-one, just you and them, but when you fight it's like every single person there is watching you. It's not like there's heaps of people out there, like there are on the footy ground. All the eyes there are watching you.
"It made me so scared in a way, but it was good, too, because it taught me how to stay calm. I had to deal with all that pressure and then go and fight, so I think it's something that's helped with my footy, and helped in a few different ways.
"It made me fitter and it made me think quicker. So when I get the ball under a pack and have to have quick hands, I think I got those reflexes from boxing. And it got me used to being hit. I remember in one of my first school games after I'd moved down, I got a bump and thought, 'oh crap'. But from boxing, I was used to it. So it didn't affect me as much as it did before I did the boxing. I'd play and get bumped, and from then on I wouldn't even really think about it."
THRILLS AND SKILLS: Bobby Hill wants to bring the excitement
Jye never considered not moving away for school, either, even though it was a big move and challenging in a number of ways. He wasn't the best student back home, but being at Grammar forced him to speak up, ask questions and make sure he was getting by. There was no choice but to get his homework finished, living in the boarding house. He knew no-one when he got there, and made friends he knows will be around forever now. He played alongside Paddy Dow, Jarrod Brander and our own Brent Daniels for the school team in 2017; last year it was his turn to take charge of the younger kids and show them how to do things.
"I'm so glad I went there," he said. "It was a real grind, especially at the end, but it's the sort of school where everything is there for you if you want it and if you want to have a crack. You just have to make the most of it and talk to the teachers and use everything as much as you can. So on the school side it was good, and the sport was so good down there.
"Playing with Dowy and those guys, I got to see how they did things and how they ended up being drafted where they were. And this year I sort of enjoyed it how I got to show some of the other kids who came down what to do, some of the Year 10 kids.
"It was a different role for me from when I got there: I was the kid when I started and by the time I finished I was feeling like I knew what I was doing and like I could show them. I just showed them around the school, showed them all the routines, talked to them. I just tried to look after them a bit."
He did it while worrying quite a bit about other things. It was easy for us to work out why we liked Jye as a player, and how much we liked him. But we also had to consider his injury history: last year, in addition to the calf and the kidney, he had to deal with two separate hamstring strains and a concussion. He hurt his hamstring the first time in the first quarter of the first Vic Country game. He then hurt the other in his second game back for Bendigo Pioneers at the end of the season. We had a few people out at Ikon Park just to watch him play that day and during the quarter time break were texting each other: Jye's injured again.
Brent Daniels and Jye Caldwell were teammates at Geelong Grammar, now the GIANTS.
We also had to think about what he hadn't really had the chance to do yet: be settled in one program, answer to one set of coaches, and play after a preseason. Even last year he played cricket for his school right up until round one of footy season. He also showed us he had some resilience, and could keep working his way back to play.
For Jye, it was all just really frustrating. "The first hamstring was the worst, right at the start of nationals. I'd just come back from the other injuries so I was pretty shitty on the bench and in the rooms. I remember I got a bit of a clip from one of the coaches, telling me I'd bring the team down, so I had to bounce back pretty quickly," he said.
"With the second one it wasn't so bad, but it was just annoying because every time I started to play I did another injury. But I learnt a lot of things. I've always been more that kid who will lead by example, so I had to be around the team and talk more, communicate off the field and get a better idea of how to lead that way.
"That was good, and then with my injuries I had to tick all the boxes, talk to people all the time, make sure I was texting the physio to let him know how I was going and pass messages around between people so everyone knew where I was at. It wasn't too bad. I have a better idea of what my body's like now and that should be a big help. Talking to all the clubs they all seemed to still rate me, so I didn't think I'd drop too far down and that was a relief because I did get worried at first.
"It wasn't the best way for the year to go. I hate having to watch other people play footy, but hopefully it's made me a bit tougher and a bit more resilient and smarter with my body. There's a few positives, so I'm going to take those. It was a frustrating year but I'm here now. It turned out all right in the end."