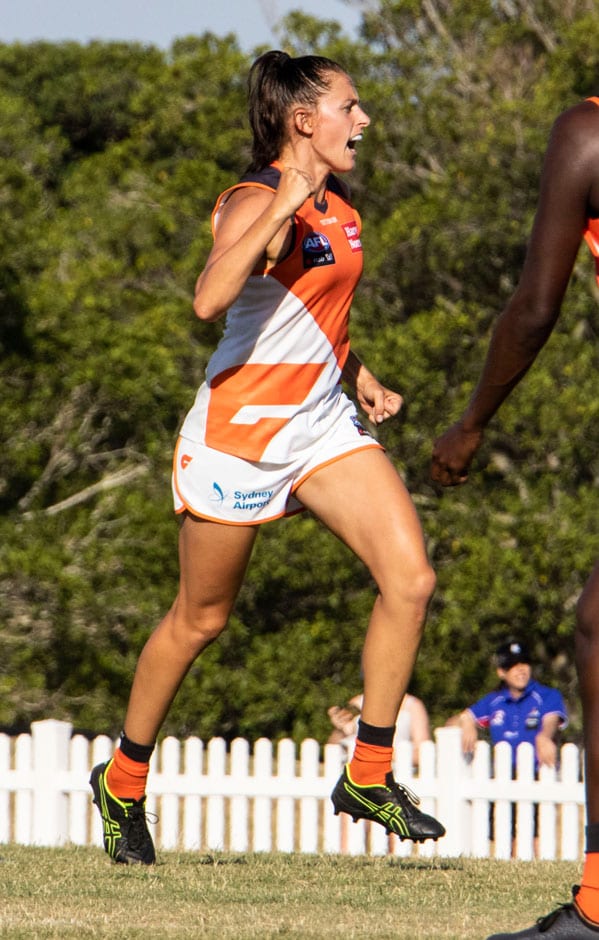 It was fantastic to play our brand of football and I think that's what we took out of it the most.
Courtney Gum
The GIANTS' AFL Women's side has recorded a resounding 47 point win over the Brisbane Lions in a practice match at Layshon Park in Brisbane on Saturday.
Led by three-goal hauls to both Cora Staunton and Aimee Schmidt, the GIANTS won the five-period affair 11.9 (75) to Brisbane's 4.4 (28).
Staunton and Schmidt loomed large in the GIANTS' forward line throughout the afternoon, as did Staunton's countrywoman Yvonne Bonner, whose pace, contested marking and set shot goal were highlights of her AFLW debut.
GIANTS midfielder Courtney Gum said Bonner's efforts didn't go unnoticed by her teammates.
"We had quite a few first-gamers today and I felt so proud of them, in the midfield we had a couple, but Bonner did amazingly," she said.
"She plays forward in Gaelic football as does Cora and their speed was such a bonus for us because it put Brisbane's defenders under a lot of pressure.
"She took a couple of good marks and even though Gaelic doesn't have as much contact she really got into the spirit of the contact in AFLW."
The GIANTS' potent forward line was superbly supplied by its midfield with Haneen Zrieka, Elle Bennetts, Alyce Parker and Jodie Hicks particularly good.
Despite missing reigning Gabrielle Trainor Medallist Alicia Eva due to a shoulder complaint, the young quartet dominated their more experienced opponents for most of the contest.
AFLW UP CLOSE: See how the GIANTS prepared for their practice match
Zrieka and Bennetts provided the GIANTS with pace on the outside, while Hicks and Parker showed great strength around the ball, with all four troubling the Lions with their fierce tackling.
Rebecca Beeson also showed positive signs in a new role in the midfield, displaying her capabilities both as an inside and outside midfielder.
The GIANTS' defence – led by Tanya Hetherington and Pepa Randall – held the back-to-back grand finalists to just four goals, while Nicola Barr and Ellie Brush provided excellent run and carry off half-back.
Former GIANTS netballer Taylah Davies showed she's ready to take on the rigours of AFLW, providing an option up forward and taking a brave mark going back with the flight of the ball.
.@taydavies4's looking good in her first game of football... EVER. The former @GIANTS_Netball player took this mark going back with the flight!

GIANTS lead by 42 points after four periods, with one more to follow. pic.twitter.com/9IXoeMB9Bg

— GWS GIANTS (@GWSGIANTS) January 19, 2019
Despite conceding the opening goal of the game, the GIANTS led at every break with a four-goal burst in the third period setting up the win.
While the GIANTS will take plenty of positives from the match, Gum said they won't be getting ahead of themselves.
"In a pre-season match you're not necessarily worried about the win but that you're worried about getting your structures right and your connections right in the team," she said.
"It was fantastic to play our brand of football and I think that's what we took out of it the most.
"We felt like we really executed what we'd been practicing in training over the last few months, but this did happen last year with us beating Brisbane in a practice match but in the opening game of the season we didn't get the win so we're not getting too ahead of ourselves."
The GIANTS play an intra-club match on Saturday, January 26, before their 2019 NAB AFLW season begins against Brisbane on Sunday, February 3, at the Moreton Bay Central Sports Complex.
The GIANTS' first home game is on Friday, February 8 at Drummoyne Oval against North Melbourne; entry is FREE.
View this post on Instagram