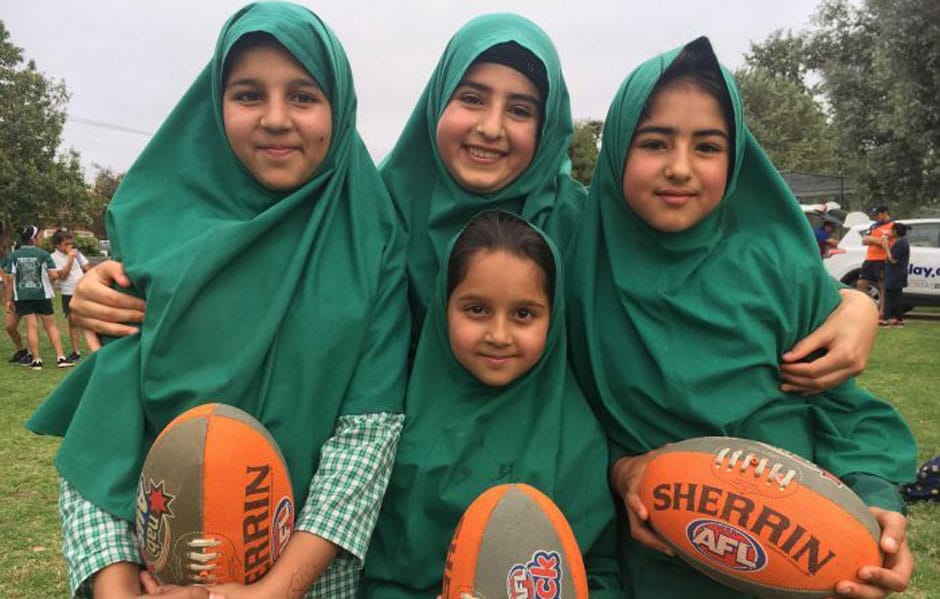 Sport has helped bring people together for generations, and now Australian Rules football is helping young refugees settle into their new surrounds in regional NSW.
The Riverina town of Wagga Wagga has long been a rich source of sporting talent and some new residents from Afghanistan have been quick to learn how to kick, mark and handball.
With the support of the GIANTS and AFL Riverina, a program is running in schools to teach young refugees how to play AFL.
11-year-old Rozaliya Hasan has told ABC Riverina that she found it difficult not knowing how to play a sport that her class mates understood when she first arrived.
"When I first played AFL, I didn't even know how to kick," she said.
"As soon as I did this AFL program, I've learned so many things."
Ismail Darwish's children are taking part in the program and he couldn't be happier with the impact it's having on them.
"Every day when they didn't play football, they asked me 'When are we going to play Australian football?'," he told ABC Riverina.
"Now I'm waiting to pick them up, but they don't want to come home because they're very happy."
The current group of students taking part in the program don't have to look too far to find inspiration at the top level.
The GIANTS have a strong connection with the Riverina, with AFL and AFLW players Zac Williams, Jacob Hopper, Harry Perryman, Jeremy Finlayson, Harry Himmelberg, Alyce Parker and Jodie Hicks coming from the region.
Benjamin Walsh, from AFL Riverina, has been issuing instructions as coach and has found the program very rewarding for all involved.
"It just allows them to fit in that little but more, playing a sport that most of their peers would play, as well as helping them join in and become part of the community that little bit easier," he said.
"I really enjoyed teaching the kids the basics."
Any children wanting to learn more about the GIANTS and how to play AFL can visit www.giantsrecruits.com.au and sign up today.