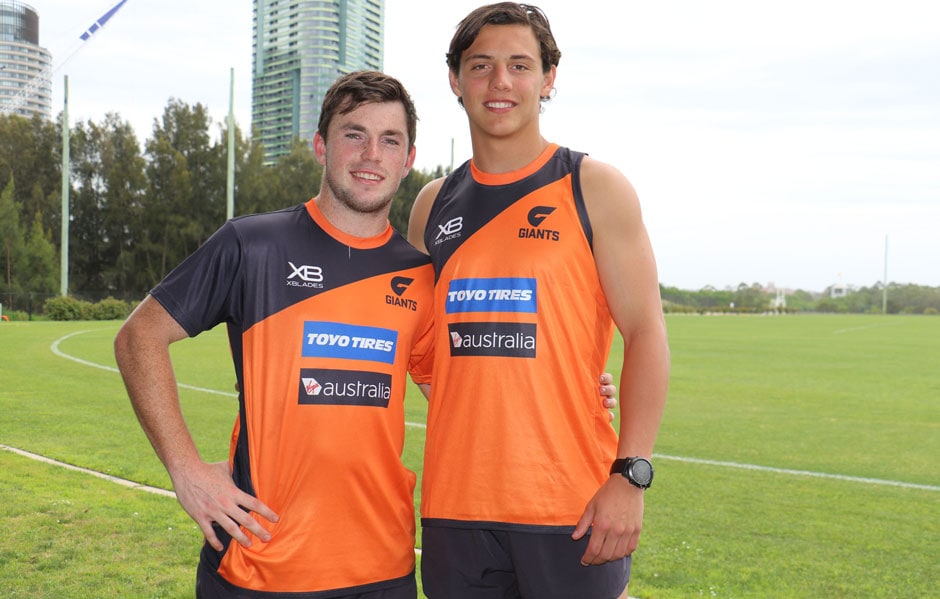 Brent Daniels had been in the ear of GIANTS National Recruiting Manager Adrian Caruso about Jye Caldwell in the lead up the NAB AFL Draft.
Jye Caldwell was a top-rated prospect; powerful, explosive and damaging, he was always touted as a first-round pick.
But Daniels didn't want Caruso to pick him for his talent, he just wanted to see his old boarding school mate join him in Sydney.
Daniels was rapt when the GIANTS called out Caldwell's name at pick 11 and a text from the second-year GIANT was one of the first messages to light up Caldwell's phone.
The pair had been a year apart at Victoria's Geelong Grammar during their school years, but had stayed in the same boarding house and had also been teammates in the TAC Cup.
"It made it a lot easier knowing 'Binga' (Daniels) around here," Caldwell said.
"He was probably the first person who gave me a text saying, 'Welcome to the club', so it was good having him here."
Caldwell and Daniels have been settling into the familiar routine of being teammates again as the GIANTS pre-season has moved into full swing.
Despite being a year apart, they played a handful of games together for Victorian under-18 side Bendigo Pioneers. However, it was at school they best got to know each other as teammates.
As well as boarding in Perry House with about 60 other students, they spent their summer and winter terms on the same sporting teams.
"We played football and cricket together, so we got to know each other pretty well," Daniels said.
"And living in the same boarding house as well, we were pretty good mates by the end of it."
On November 22, the GIANTS entered the NAB AFL Draft with pick nine their first selection at Marvel Stadium.
But thanks to bid-matching from other clubs, that first selection slipped down to number 11.
Few had expected Caldwell to still be available at that stage of the Draft, but the GIANTS were quick to snare the opportunity to pick up the explosive midfielder and Vic Country representative when their turn came.
"I was very happy that he'd got there – I thought he might've been gone with an earlier pick," Daniels said.
"I was rapt when they picked him.
"(GIANTS selectors) Adrian (Caruso) and Emma Quayle messaged me saying they were happy and that they thought I'd be happy as well.
"It was good to get a message from them, they obviously knew that we knew each other pretty well."
Now in his fourth week at the club, Caldwell is adjusting well to life as an AFL footballer as the GIANTS' six draftees and category B rookie Callum Brown work through their pre-season program.
"I feel like the training has been the standard I expected it to be, but the days have been longer, which strains you a fair bit," Caldwell said.
"I didn't really know what to expect (with the club) walking into the WestConnex Centre. I'd never been here before – I'd heard a bit about it – but all the boys are welcoming and it's a really good club."
While he's familiarising himself with the trip from Breakfast Point – where all GIANTS draftees live in their first year at the club – to the GIANTS' headquarters at Sydney Olympic Park, Caldwell's family recently paid a visit to the club.
The Caldwells, along with all the new GIANTS' families, were invited to the WestConnex Centre to see where the draftees and recruits would be forging their AFL career.
"We had the first induction camp and they enjoyed it," Caldwell said.

"They had a tour of the club and where we live at 'Brekky' Point. We went on a cruise on the Saturday arvo, too.
"It was good to see them after a couple of weeks, and they were good with it all."