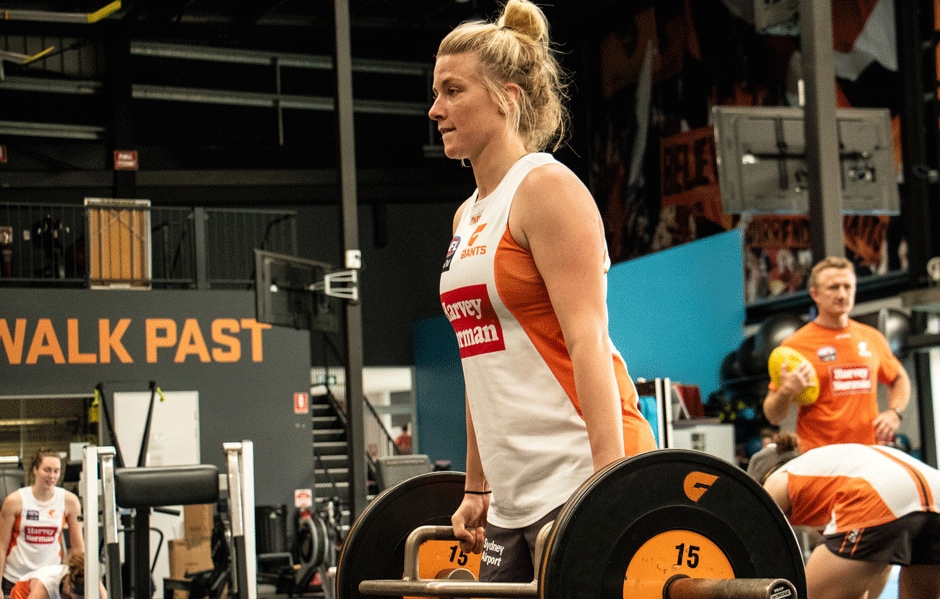 I want to be pushed to be more consistent and grow my game a little bit more in terms of understanding the midfield and its structures.
New GIANT Christina Bernardi
Christina Bernardi is looking to push herself in 2019.
The 28-year-old's move from Collingwood - where she was the club's leading goalkicker in 2018 and a Virgin Australia All Australian - to the GIANTS was one of the biggest of the 2018 NAB AFLW trade period.
But that move was all about pushing herself to another level both on the field and off.
"I absolutely loved my time at Collingwood and I wasn't looking to leave but... I saw an opportunity here," she said.
"It was really going to push me to be a better footballer and push me off the field as well to grow in my personal space.
"Where my past two seasons have been at, I wasn't sure that I was going to get that opportunity again so I thought I'll take it while I'm being offered it."
Bernardi kicked nine goals for the Magpies in 2018 and averaged 11.4 disposals, but the Diamond Creek product wants to have an even better season in 2019.
"Those things (All Australian and leading goalkicker) came off the back of hard work and how hard I pushed myself in the off-season, but I feel that I can be pushed even more," she said.
"I thought from the feedback I'd heard about Alan as a coach and his experience, I thought he's going to be someone who really drives me to do better.
"I got better at Collingwood and I worked really hard there with the staff, particularly Wayne (Siekman), and I just thought that this was going to be something that was going to push me harder than what I had worked before.
"I want to be more consistent, I don't think I was super consistent this year. I want to be pushed to be more consistent and grow my game a little bit more in terms of understanding the midfield and its structures, and to keep building on my leadership.
"I don't really want to put too much pressure on myself even though I do, but I think my game will grow in a different way than it did last year."
GIANTS AFLW Head Coach Alan McConnell said while it's encouraging that his new signing wants to improve, Bernardi should also take a moment to reflect.
"Christina is an All Australian who kicked nine goals in 2018, so I don't think she gives herself enough credit for what she's achieved," he said.
"It's very difficult to do what she's done and for her to challenge herself by moving clubs, moving interstate and then to push herself to be better is fantastic but at the same time she can't lose sight of what she's already done in the game."
It was a chat with McConnell that convinced Bernardi to move to Sydney, but a familiar face helped quell any concerns about a move interstate.
Bernardi played alongside GIANTS vice-captain Alicia Eva at Collingwood during the inaugural AFLW season and it was her advice that helped Bernardi make a seamless transition.
View this post on Instagram
"It was good to have someone that kind of knows the process and can have a chat about it," Bernardi said.
"It was good to have someone to bounce ideas off about both clubs and what benefits I was going to get out of it, things like that."
Bernardi has been at the GIANTS for more than a month now and is enjoying her new surrounds.
"It's been a bit of an adjustment in terms of location and finding my way around Sydney and adjusting to the heat because I don't like the heat," she said with a laugh.
"I'm really enjoying it with the girls and the training sessions so I'm really happy that I've moved up here."