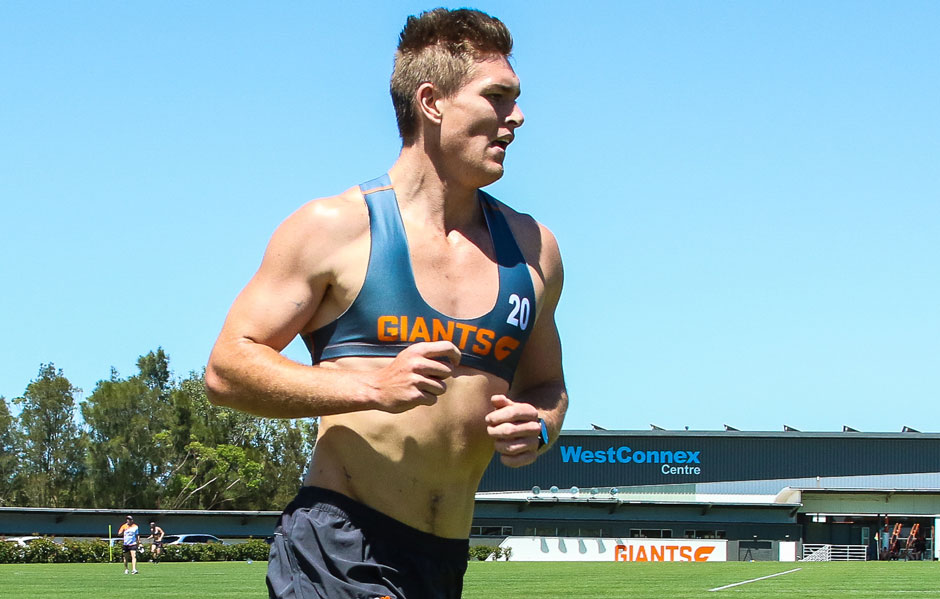 Adam Tomlinson has blitzed the field in the 2km time trial as the GIANTS' full squad returned to the track on Monday.
The GIANTS' senior players started their pre-season on Monday with the traditional time trial, joining their younger teammates at the WestConnex Centre.
As an unforgiving sun beat down on Tom Wills Oval, renowned runner Tomlinson established a lead early and was not challenged for the entirety of the race.
Midfielder Stephen Coniglio and dashing defender Adam Kennedy also broke away from the pack early and held their advantage to finish second and third respectively.
Tomlinson said he was pleased how the run panned out, as the GIANTS this year made the switch to the 2km trial, having completed a 3km time trial in the past.
"It was a different one, because we don't normally do a 2k-er, so I wasn't sure what it was going to be like," Tomlinson said.
"But I had a little plan in my head and it worked out pretty well.
"(The plan was) to go out hard and try to hold on, pretty much – you can make up more time at the start than you can at the end.
"So, I went out pretty hard and luckily enough held on."
In a stark contrast to last week's storms, clear blue skies and warmer temperatures this week made for a hard track, helping players make good time in the trial.
Now entering his eighth pre-season, Tomlinson said he was feeling good after completing some running and weights while he was holidaying in America over the off-season.
"But nothing too strenuous," he said.
"Going into my eighth pre-season, it feels like it's gone pretty quick. Luckily, they get a little bit easier as you get older, and you know your body and what's coming a little bit more."
New GIANT Tommy Sheridan was first past the post two weeks ago when the GIANTS' second-to-fourth year players completed their 2km time trial.
GIANTS Senior Players' 2km Time Trial Top 5

1. Adam Tomlinson
2. Stephen Coniglio
3. Adam Kennedy
4. Matt de Boer
5. Matt Buntine