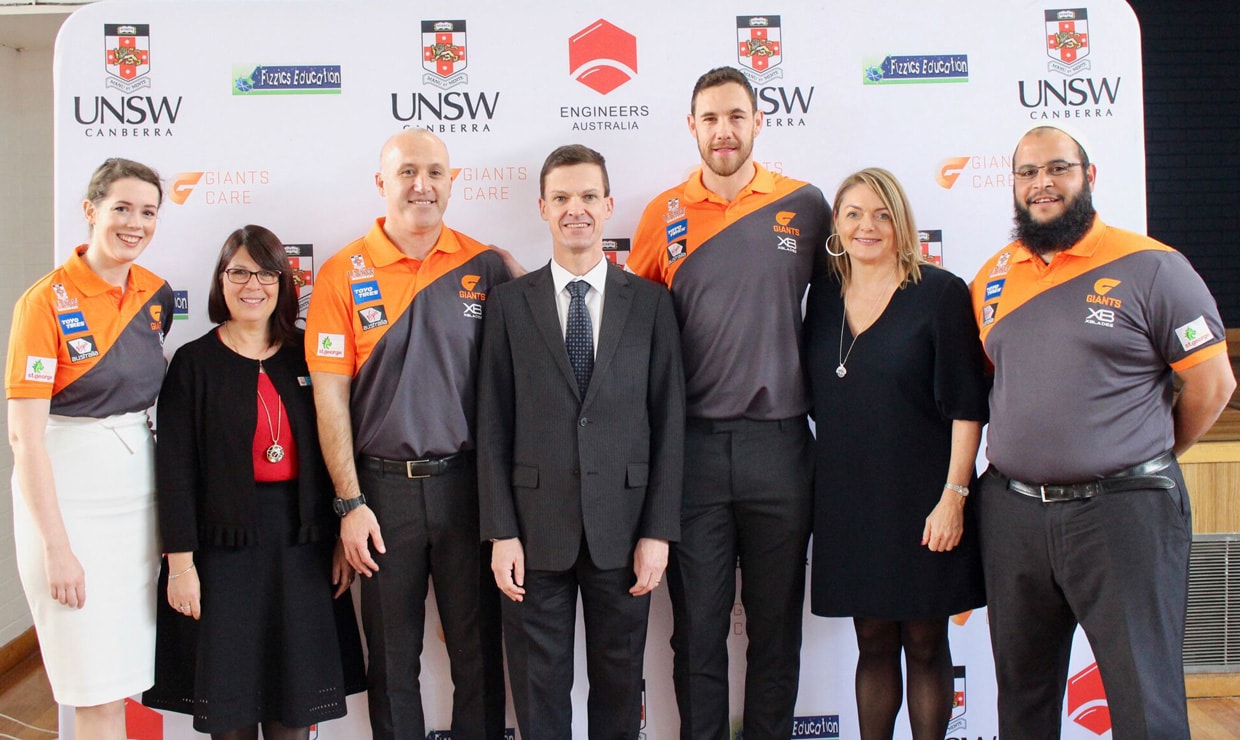 The GIANTS have partnered with UNSW Canberra and Engineers Australia to provide a range of innovative programs for primary schools in the ACT designed to spark students' interest in science.
From flying saucers to tornado tubes, Science with GIANTS, presented by Fizzics Education, launched at Holy Spirit Primary School on Thursday morning ahead of National Science Week.
Science with GIANTS is part of the GIANTS Care community initiative and will be used as a vehicle to deliver on the four key pillars of the club's community agenda: Health, Harmony, Education and Employment.
GIANTS Care is an innovative community initiative like no other program run by a sporting club across Australia. It was first launched in 2015 to further enrich the lives of people in Western Sydney and expanded to Canberra in 2018.
GIANTS Chief Executive Officer David Matthews said today's launch is an important step in the growth of the GIANTS Care initiative.
"In the space of a few short years, the GIANTS have quickly become a key part of the ACT sporting community with a strong membership base and sell out crowds at UNSW Canberra Oval," said Mr Matthews.
"This unique program will allow the club to continue to forge strong relationships within the Canberra community and will see the GIANTS play a key role in the lives of families here for many years to come."
"We are proud of the work we do in the community and GIANTS Care will see us take this to a whole new level across the capital."
Some of Australia's most respected organisations with a like-minded vision for the Canberra community have joined together to make this initiative possible. Presenting partner, UNSW Canberra are the founding partner of GIANTS Care in the ACT.
"UNSW Canberra is committed to encouraging careers in science, technology, engineering and maths with a particular focus on reducing the gender gap in STEM subjects," said UNSW Canberra Rector, Professor Michael Frater.
"By supporting this initiative, we hope to inspire a new generation of Australian leaders in STEM fields."
Engineers Australia, program partner of Science with GIANTS, further highlighted the importance of creating an engaging classroom environment.
"As you may know, 75% of this generation's (Year 1 & 2) career opportunities are going to rely on STEM based skills. But we also know that only 6% of girls, and 11% of boys are studying advanced maths and science in year 12. So there is a gap. " said Justine Romanis, National Manager of Professional Diversity and STEM.
"By engaging them when they are young, with an exciting program – we can change this. The Science with GIANTS program is exactly what we need"
ABOUT
UNSW CANBERRA- Presenting Partner
With more than 15,000 alumni, UNSW Canberra graduates continue to shape Australia, the region and the international community as leaders in defence, government and industry.
UNSW is one of Australia's "Group of Eight" research intensive universities. As a campus of UNSW, UNSW Canberra is extremely research active and very much a part of Canberra's higher education landscape.
While many people think of ADFA and UNSW Canberra as an undergraduate facility, UNSW Canberra now graduates nearly twice as many postgraduate students as undergraduate students.
ENGINEERS AUSTRALIA – Program Partner
Engineers Australia is the largest and most diverse body of engineers in Australia. As Australia's principal engineering association they serve and represent over 100,000 professionals at every level, across all fields of practice. They are committed to advancing engineering and the professional development of their members.
FIZZICS EDUCATION – Program Partner
Fizzics Education has been working with the GWS Giants since 2015 with the vision to deliver engaging science to any audience, anywhere. As one of Australia's leading science outreach providers of interactive workshops and shows, they deliver programs to approximately 300,000 children each year.