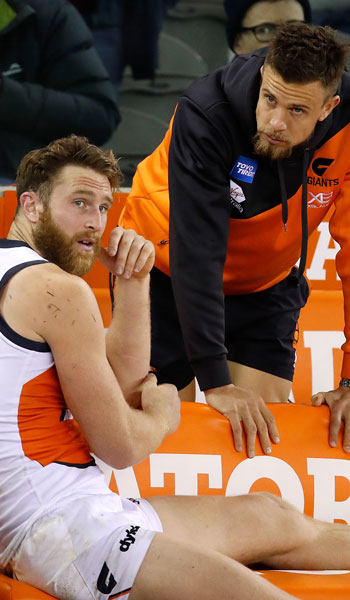 The big fella is in remarkable spirits considering what he's been through, but this will be a lengthy rehab, unfortunately.
GIANTS Head of Athletic Performance David Joyce on Dawson Simpson
All four players injured during Sunday's big win over Carlton will face time on the sidelines, however, there is good news on the horizon with four GIANTS set to press their case for a return this week.
The GIANTS were down to zero rotations in the final quarter after losing Sam Taylor (hamstring) and Brett Deledio (calf) before the main break and Toby Greene (hamstring) and Dawson Simpson (ankle) in the third term.
Simpson landed awkwardly after a ruck contest in the third quarter and is expected to miss at least eight weeks.
"Essentially he's torn the ligaments on the inside of his ankle called the deltoid ligaments and they're really tough and strong ligaments. They're really tough to damage in isolation," GIANTS Head of Athletic Performance David Joyce said.
"Because of the way the foot has fallen he's managed to fracture his ankle on the other side so on the lower part of the fibula he's got a compression fracture there.
"The big fella is in remarkable spirits considering what he's been through, but this will be a lengthy rehab, unfortunately."
Joyce said the club is yet to put a timeframe on Brett Deledio's calf injury, with the 259-gamer not taking part in the GIANTS' win after half-time.
"Brett has injured his left calf, he's had well documented issues with both calves in the past and unfortunately this just adds to that," Joyce said.
"We will need to be pretty conservative with this injury given the history that we're dealing with."
Forward Toby Greene and Rising Star nominee Sam Taylor will both be sidelined for at least a fortnight after sustaining hamstring injuries during the win over the Blues.
While the GIANTS will be forced to make at least four changes to their line-up for Saturday's crunch clash with Adelaide; Tim Taranto, Dylan Shiel, Sam Reid and Ryan Griffen could all return.
"We would expect all of those guys to train tomorrow (Wednesday)," Joyce said.
"Tim Taranto has enormous game loads and plays a highly contested combative role, so we just wanted to give him a spell as he was nursing some soreness.
"Ryan Griffen has recovered really well from that hamstring tendon strain that he had and trained strongly on the weekend.
"Sam Reid was nursing a bit of knee pain which is quite common, and he was sore last week but has rebounded beautifully.
"Dylan Shiel rolled his ankle in training last week and has recovered really well but we just weren't going to risk him when it wasn't quite right."
Meanwhile, Tom Scully will not return this season despite having made progress in his recovery from the broken ankle he suffered in round two.
"Unfortunately for Tom he only played a quarter of footy for the year," Joyce said.
"He had that really nasty syndesmosis injury, a fractured fibula and he's chipped a bit of cartilage in his ankle as well.
"We allowed a good length of time for that to knit and heal, which we're really happy with, but once we started to get him going on the alter-g his ankle didn't really react the way we'd like, and he was starting to get some pain and stiffness.
"We've decided to wrap Tom up and not cut a single corner for his long-term health and wellbeing of his ankle as it's such an important part of what he does, and we thought it wasn't worth the risk."
Injury List - August 7
| | | |
| --- | --- | --- |
| Tim Taranto | Knee | Test |
| Dylan Shiel | Hamstring | Test |
| Sam Reid | Knee | Test |
| Ryan Griffen | Hamstring | Test |
| Zac Williams | Achilles | 1 week |
| Aidan Corr | Groin | 1-2 weeks |
| Sam Taylor | Hamstring | 2-3 weeks |
| Toby Greene | Hamstring | 2-3 weeks |
| Nick Shipley | Ankle | 6 weeks |
| Dawson Simpson | Ankle | 8 weeks |
| Brett Deledio | Calf | TBC |
| Tom Scully | Ankle | Season |
| Will Setterfield | Knee | Season |
| Jon Patton | Knee | Season |
| Lachie Tiziani | Knee | Season |