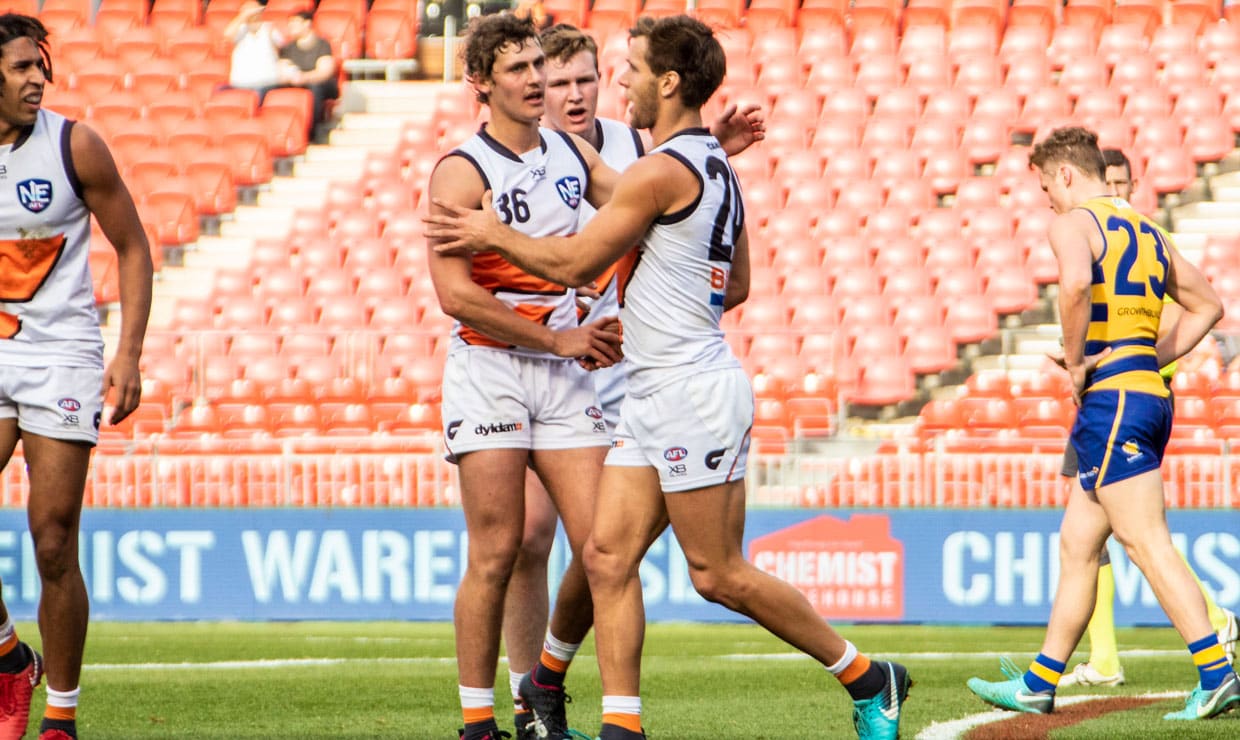 Sydney University is a good side but we really stood up to them and in the last quarter we found an extra gear.
GIANTS NEAFL coach Adam Schneider
Matt de Boer and Zach Sproule have starred in the NEAFL GIANTS' resounding 55 point win over Sydney University at Spotless Stadium on Saturday.
Returning from an ankle injury and playing 75 per cent of game time de Boer was everywhere, collecting 36 disposals, laying 11 tackles and kicking three goals as the GIANTS overran the Students in the final term to win 20.12 (132) to 11.11 (77).
Sproule was a handful for Sydney University's defenders all day kicking five goals, taking six marks and laying nine tackles.
Harry Perryman was also busy throughout the day, picking up 36 disposals and taking eight marks as he roamed the midfield and half-back.
The Students – who went into the clash as favourites - were wasteful in the opening term, kicking 2.4 to the GIANTS' 6.1.
The second quarter saw the contest become a goal-for-goal slugfest as the Students were again inaccurate in front of goal despite Jacob Derickx running the GIANTS defenders ragged.
Derickx kicked his fourth goal at the start of the third term to cut the margin to 16 points before the GIANTS got on a roll.
Two goals to Sproule and one to de Boer opened a 35 point lead for the GIANTS, but Sydney University fought fire with fire, kicking the next three goals – including Derickx's fifth – to draw within 16 points at the final break.
The GIANTS burst out of the gates in the final term with Daniel Lloyd kicking a goal inside the first minute to start an avalanche of five straight GIANTS goals.
The seven goals to one final term saw the GIANTS take a much needed four points and stay in touch with the top six.
"It was a really, really good effort, it's been a tough couple of weeks so it was good to run away with the game like that," GIANTS NEAFL coach Adam Schneider said.
"Sydney University is a good side but we really stood up to them and in the last quarter we found an extra gear."
The win was slightly soured by an injury to key defender Tim Mohr, who played no further part in the game after suffering an ankle injury late in the opening term. Mohr will be assessed further during the week.
The GIANTS now have a bye before they play the first of their final three games of the NEAFL season against Gold Coast at Metricon Stadium on Saturday, August 11.
GIANTS 6.1 10.3 13.7 20.12 (132)
SYDNEY UNI 2.4 6.7 10.9 11.11 (77)
GOALS – GIANTS: Sproule 5; De Boer, Buckley 3; Pollock 2; Green, Bonar, Driscoll, Delahunty, Lloyd, Peatling, Evans.
GIANTS NEAFL coach Adam Schneider on the GIANTS' AFL Listed Players:
Matt de Boer – 36 disposals, 3 goals, 11 tackles
"He was really professional the way he came back from his ankle injury. He was unbelievable doing everything right and making the players around him better. It was a good reward for effort, he couldn't have done any better."
Dylan Buckley – 10 disposals, 3 goals
"He's been in fantastic form. When the ball goes into the forward half something always happens when he's near, today he was rewarded with three goals."
Zach Sproule – 13 disposals, 5 goals, 9 tackles
"I was very pleased with Zach, it was a complete game for him which he's been building over the last few weeks and I loved that he was able to get the nine tackles. He calls himself the 'Big Presence' and he certainly was today."
Tim Mohr – 8 disposals, 3 marks
"He's been super for us and hopefully his injury isn't too bad."
Jack Buckley – 18 disposals, 5 marks
"Jack was great, it was good to see him use his speed. He's extremely fast and when he gets the ball and breaks the lines he looks really good. I was pleased with his return after an interrupted year."
Aiden Bonar – 25 disposals, 1 goal, 5 tackles
"Another great effort by Bonar, they (Sydney University) put a lot of time and effort into him. They hassled him around the ball a fair bit but his power and drive around stoppages was great to watch. It's been a super year for Bonar and he's learning each week."
Lachie Keeffe – 13 disposals, 6 marks
"Lachie played a role for us down back, I felt he won every contest that he had to win. After doing a really good job last week at AFL level he was a little unlucky to be back in the NEAFL side but it was just another solid performance from Lachie."
Jake Stein – 11 disposals, 5 tackles
"Really great game by Jake, he was one of our top players today. I really don't think he lost a contest all day down back so we were really pleased with his effort."
Jeremy Finlayson – 12 disposals, 3 tackles, 4 marks
"Jeremy played another different role for us this week, playing deep in defence. He had a tough day on a really good opponent who might have got the better of him, but I know that Jeremy is a really super talent who will bounce back."
Daniel Lloyd – 23 disposals, 1 goal, 4 tackles
"He was a professional again. Just a tough nut who really crashes in and helped us around stoppages, and was really dangerous around goal for us as well."
Isaac Cumming – 20 disposals, four marks, 5 tackles
"Isaac was great for us down back with opportunities for us to run and carry the footy. He's got a really good balance of his offence and defence and when to run for us. He was great and has been building for us the last few weeks as well."