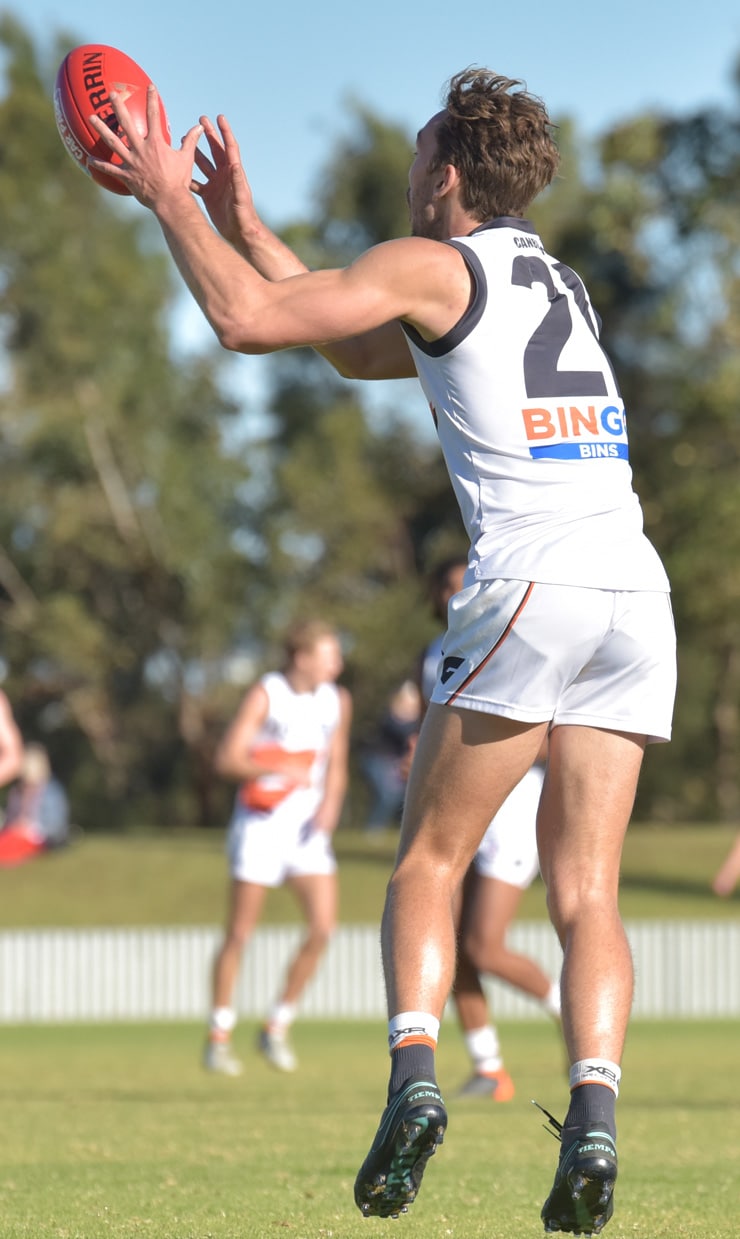 Defensive duo Adam Kennedy and Matt Buntine put in impressive performances as the NEAFL GIANTS went down to a powerful Sydney Swans outfit by 46 points at Wollongong on Saturday.
On a tough day for the GIANTS – who were missing several of the AFL-listed players who had helped to team to a five-game winning streak – Kennedy and Buntine stood tall in the 4.5 (29) to 10.15 (75) defeat.
Kennedy has now played four strong games since returning from a knee reconstruction, averaging 26 disposals a game.
NEAFL GIANTS coach Adam Schneider switched Kennedy from a midfield/wing role to a full game playing half-back flank, and was pleased with the result.
"He's put a good month of footy together now, and I reckon he'll be putting his hand up for (AFL) selection soon," Schneider said.
Don't miss out on the AFL GIANTS taking on reigning premier Richmond at Spotless Stadium this Saturday. CLICK HERE to purchase your tickets.
Buntine continues to impress, notching up 27 disposals, clunking eight marks and laying three tackles in a best-on-ground performance.
The contest was close to half-time in tough, windy conditions at North Dalton Park, with the Swans holding a seven-point lead at the main break. But they pulled away in the second half, piling on seven goals to one for the 46-point win.
"It was disappointing from our end," Schneider said. "Credit to Swans, they were very good, they really beat us in a couple of areas on the weekend. Their midfield really got on top of our midfield.
"It was a disappointing result in challenging conditions, but we just weren't up to it.
"It was a game of halves. Half-time it was nice and even, close. We played some pretty good footy and our contest was there.
"The Swans let us off the hook a little bit with their goal-kicking accuracy, but then in the second half, their mids just took over and outworked us and they started to hit the scoreboard."
The forward-entry count was skewed heavily in the Swans' favour – they entered the forward arc 70 times for the match – but Schneider was impressed by the resilience of his defenders.
"Our defenders were very good – the ball came in there 70 times, and they (the Swans) scored at 35 per cent, so that's a pretty good number for us," he said.
"Playing at Wollongong for the first time was interesting for us – it's a great little town.
"The oval is right on the beach, so there were 50km/h winds, I think it was, and it made it pretty challenging for some of the guys' skill work. We saw a couple of funny kicks go out on the full, but there's not a lot you can do about that – it's the same for both teams."
Swans 2.3, 3.11, 6.13, 10.15 (75)
GIANTS 1.2, 3.4, 3.5, 4.5 (29)
The NEAFL GIANTS host the Gold Coast Suns at Spotless Stadium at 1.45pm this Saturday, as a curtain-raiser to the AFL match between the GIANTS and Richmond.
Be GIANT in 2018. Renew or sign up as a GIANTS 2018 Member today!
GIANTS NEAFL coach Adam Schneider on the performance of GIANTS AFL-listed players:
Matt Buntine – 27 disposals, 8 marks, 3 tackles
"Bunts was probably our best player on the weekend. He was super important for us with the ball coming in, a lot of pressure. His work just to help teammates out, but also just to win his one-on-one contests was fantastic."
Adam Kennedy – 22 disposals, 6 marks, 3 tackles
"He played the whole game on the half-back flank this week, which he hadn't done yet. He'd played midfield and wing the previous weeks. It was just great to see his run and drive from there when he got the ball in trying conditions, and I don't think he got beaten much in one-on-one contests either."
Jake Stein – 21 disposals, 3 marks, 1 tackle
"Fantastic game from Jake, rarely got beaten in the one-on-one. He gave us a lot of spoils and a lot of pressure down there fast and quick. It was a really good, complete game for Jake. He did a lot for us offensively as well."
Zach Sproule – 19 disposals, 3 marks, 6 tackles
"Very quiet for us on the weekend. Just being starved of opportunity in the first three quarters – with the ball not going down forward a lot – we put him in the midfield in the last quarter and I think he got 13 or 14 touches. It was good for him to finish off like that."
Isaac Cumming – 18 disposals, 3 marks, 5 tackles
"'Cheese' has had a bit of a different role for us in the last few weeks. He's really focused on the defensive side of his game and it's definitely showing. He had five tackles on the weekend and 12 the week before. We're really pleased with him in that area and as long as he can put the two together, defensively and offensively, he will be a very good player for us."
Aiden Bonar – 17 disposals, 2 marks, 10 tackles
"He crashed and bashed all day in there, against quality midfielders in Newman, O'Riordan and Foote who were in there for the Swans. It was a tough day with Bonar being our sole listed midfielder, but to compete as hard as he did was fantastic. Every week we know he's going to compete really well for us in there."
Tim Mohr – 16 disposals, 5 marks, 2 tackles
"'Mohry' was very solid for us down back. He really helped us offensively as well to try to get us going. He was looking to run off as much as possible and test his opponent."
Lachie Keeffe – 16 disposals, 1 goal, 3 marks, 3 tackles
"Quiet game for 'Keeffey' on the weekend, played on the wing the whole game, and it was the kind of style of game where it was just down-the-line footy. Keeffey on the wing has been really fantastic for us running both ways, but the game was pretty slow and contested, so it didn't really suit. I'm sure he'll rebound next week."
Matt Flynn – 12 disposals, 4 marks, 3 tackles
"He had a great challenge with Darcy Cameron, who's in some really good form. I thought Darcy might've got the better of him on the weekend, but Flynn's tap work was still very good as a ruckman, but just around the ground he hasn't been as good as the last few weeks, but he was still okay for us."