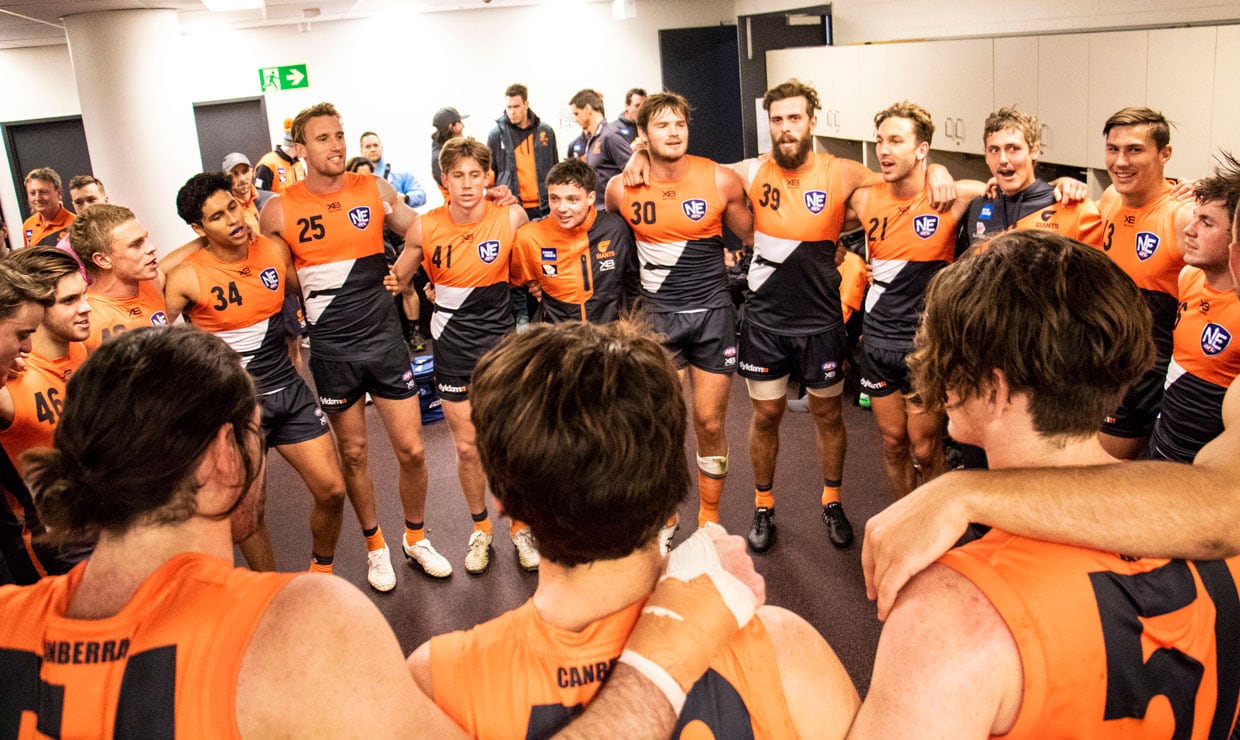 The GIANTS' NEAFL team have claimed their fifth win on the trot and advanced their position on the NEAFL ladder, after defeating Aspley 15.10 (100) to 8.12 (60) on Saturday afternoon at Spotless Stadium.
Nick Shipley had a huge afternoon, kicking three goals to add to his 26 disposals and six tackles, with fellow AFL-listed players Dylan Buckley and Zach Sproule were also amongst the top goalscorers, both adding three each.
Adam Kennedy was again strong in his third match back from a knee injury, with his 26 disposals and 11 marks typifying the GIANTS' hard-working midfield.
GIANTS Development coach Damian Truslove was pleased with the way the team handled the challenge, particularly after losing key midfielder Harry Perryman and forward Dylan Buckley to injuries midway through the second quarter.
"Aspley is a very physical, contested team that plays a really tough brand of footy, so we knew we needed to match them in that regard, which I think we did fairly well," he said.
"We were a couple of rotations down in the last half, which was a big challenge for us, so for the boys to hang on and grind out a tough win was really impressive."
The form of both sides was evident in the opening stanza of the game in what was a tight first quarter. As they have throughout the sides recent winning streak, the GIANTS' midfield unit was again strong, with AFL-listed players Matthew Flynn along with Kennedy and Perryman getting plenty of time on the ball early in the game. Academy-listed player Matt McGrory picked up two goals, however, Aspley took a 25-22 lead into the first break.
Aspley began the second quarter purposefully and created many early opportunities to convert possession into points, however, they faced issues early in the quarter with their kicking accuracy.
Back-to-back goals from Buckley midway through the quarter allowed the GIANTS to reclaim momentum and helped the side take a well-fought six point lead into halftime.
The third quarter was where the GIANTS' kicked clear, with Jack Rowston contributing two strong goals, although it was Nick Shipley's early goal which was the standout - an arching grubber under pressure from deep inside the pocket.
Tim Mohr and Riley Budd continued to dominate at the back, limiting Aspley's tall forward line and providing a strong platform for the GIANTS to progress up the field. The GIANTS' five goals to two in the third meant they took a 26 point lead into the final term.
Aspley needed early goals in the final term to give them any chance of a miraculous late fightback, but with Sproule adding his second early in the quarter, and another from Shipley soon to follow, the GIANTS were once again too strong for their opponents in the second half, claiming a hard-fought 15.10 (100) to 8.12 (60) victory.
GIANTS 3.4, 6.7, 11.9, 15.10 (100)
Aspley 4.1, 5.7, 7.7., 8.12 (60)
Goals - D Buckley, Z Sproule, N Shipley 3; M McGrory, J Rowston 2; R Pollock, L Delahunty 1

The NEAFL GIANTS will face Sydney Swans next Saturday at North Dalton Park in Wollongong at 12:00pm.
GIANTS development coach Damian Truslove on the GIANTS' AFL Listed Players:

Aiden Bonar - 22 disposals, 6 clearances, 5 inside 50's
"He gave us a lot of drive around stoppage and his offensive drive was fantastic. He had a bit of tough job marking Swallow today and he did that really well, so it was a great experience for him."
Adam Kennedy - 26 disposals, 11 marks, 4 tackles
"Kenner's third game back from his knee injury. He just keeps getting better. His runs have been really impressive, and his defensive actions continue to improve so I think he'll be knocking on the door of the AFL team soon."
Isaac Cumming - 14 disposals, 12 tackles, 5 marks
"Isaac was good today, he had 12 tackles. We know what he has to offer offensively so to get that out of him defensively today was really pleasing."
Lachlan Keefe - 17 disposals, 5 marks, 5 inside 50's
"Continues to run hard up and down the ground, he's got a huge tank. He competes really well around stoppage too, so he was really good for us again today."
Dylan Buckley - 3 goals, 8 disposals
"He really impacted the game early and sparked the team. He's just got such great energy with his tackling and kicking those goals really got us going early in the game."
Jake Stein - 8 disposals, 3 marks
"Steiny played a deep defensive role today, a selfless role on the resting ruck, and he did that well so didn't really have any impact on the game, so Jake was really disciplined there."
Brent Daniels - 18 disposals, 4 marks, 4 inside 50's
"Brent played around the midfield and forward and he gave us plenty of drive centre forward, and his tackling and pressure are both great features of his game."
Harry Perryman - 17 disposals, 5 tackles, 3 clearances
"Perryman only played the first half, unfortunately, he was unable to play the second half, however, he was one of the better ball winners in the first half, he really sparked us with his contested possessions."
Tim Mohr - 23 disposals, 9 rebound 50's, 6 marks
"Again played a key defensive role. A lot of spoils and key contested moments where he won some critical contests, and he really led the back six today I thought."
Matthew Flynn - 25 disposals, 39 hitouts, 8 clearances
"His best performance for the club so far with 25 possessions, 21 contested. He's been challenged to play four quarters and he most certainly did that today."
Nick Shipley - 3 goals, 26 disposals, 6 tackles
"Ships played mid forward, where he hasn't played much, but he showed his talent by kicking three goals forward, so I'd say he'll want to play a bit more time there I think."
Zach Sproule - 3 goals, 15 disposals
"His second half was really good. He was a bit quiet in the first half, but his second half his legs were really important to us. He gave us plenty of run and drive. Something always happens when Sproule is around the ball."
Matt Buntine - 23 disposals, 9 marks, 5 tackles
"Outstanding. His courageous chop-out marks in front of packs, his leadership and direction is fantastic and he continues to knock on the door of the AFL team with his consistent performances."