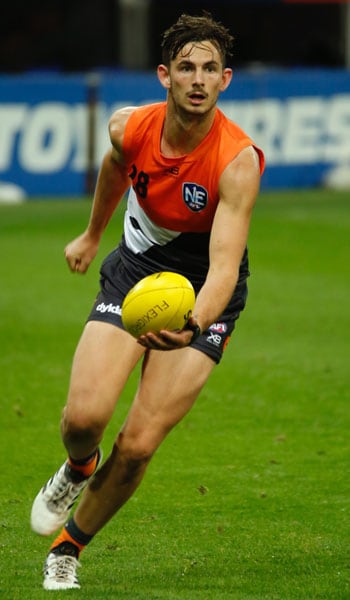 I said to them before the game it was going to be a grind, and there would be an opportunity to tear the game open.
Adam Schneider GIANTS NEAFL Coach
Dominant performances from Zach Sproule and GIANTS Academy player Shaun Driscoll have helped the GIANTS Reserves to a 65 point win over Redland at Spotless Stadium on Saturday.
Sproule was workmanlike in the middle with 34 touches, whilst Driscoll led the goal scorers with four majors in the 18.16 (124) to 8.11 (59) victory over the Bombers.
Matthew Flynn and Rhys Pollock were also strong in front of goal, kicking three goals each.
GIANTS NEAFL coach Adam Schneider was happy with his side's strong showing.
"It was good to see a reward for the boys after 90 minutes of good footy," he said.
"We had a plan to work the footy early, play smartly and not let them have use of it, and then score off the back of that."
The GIANTS set the pace early with an effective display in the midfield, with Sproule and Aiden Bonar dominant finding plenty of the football.
The GIANTS kicked three unanswered goals in the first quarter, taking a 23 point lead into the opening break.
The second quarter was grinding, with Redland able to add their first goal six minutes into the second term.
GIANTS Reserves have beaten Redlands by 65 points in the NEAFL! #BeGIANT pic.twitter.com/KGFV8aKbVO

— GWS GIANTS (@GWSGIANTS) May 26, 2018
However, the GIANTS gradually regained momentum, kicking four unanswered goals to take a healthy 32 point lead into the main break.
After allowing Redland more opportunities late in the first half, the GIANTS started the third term relentlessly, kicking eight goals to one with four of those within the opening seven minutes.
"I said to them before the game it was going to be a grind, and there would be an opportunity to tear the game open," Schneider said.
That opportunity proved to be the third quarter as the GIANTS helped themselves to a 78 point lead heading into the last term.
Despite Redlands' best efforts in the fourth quarter, with their five goals helping to reduce the margin a, it proved a mountain too tall to climb with the GIANTS too dominant early on.
GIANTS 3.7, 7.8, 15.13, 18.16 (124)
REDLAND 0.2, 2.6, 3.7, 8.11 (59)
GOALS – Giants: S Driscoll 4 R Pollock 3 M Flynn 3 I Cumming 2 J Finlayson 2 E Perryman N Coxall M McGrory L Keeffe.

The GIANTS Reserves now head to TIO Stadium to play the Northern Territory Thunder on Sunday, June 3 at 6:30pm .
GIANTS NEAFL coach Adam Schneider on the performance of the GIANTS' AFL-listed players:
Zach Sproule - 34 disposals, 11 marks
"He's been in good form for the last five weeks for us. He's played everywhere on the field, except ruck, and again he was great. He's getting rewarded for hard work"
Aidan Bonar - 31 disposals, 4 marks, 4 tackles
"Bon's an animal inside. He's still working on a few things but he's going to be a great player for us down the track"
Nick Shipley - 26 disposals, 3 marks, 11 tackles
"He is a workhorse. He probably would've run 16km again this week. He just covers ground, it's amazing how he does it. It didn't quite go his way offensively today, but he had 11 tackles for us, and he just never gives up."
Isaac Cumming - 33 disposals, 10 marks, 5 tackles, 2 goals
"Cumming was great coming back from the AFL."
Lachlan Keefe - 14 disposals, 3 marks, 2 tackles
"Keefe was super for us. Both he and Cumming were huge."
Matthew Flynn - 17 disposals, 5 marks, 2 tackles, 3 goals, 21 hitouts
"It was big Flynn's 50th NEAFL game for the GIANTS and he was captain today. It was good to see him come out again and be competitive. To get a reward with three goals was great for him."
Jeremy Finlayson - 25 disposals, 7 marks, 4 tackles
"Jeremy's just extremely deadly when he gets the footy in hand. He was fantastic for us."
Sam Taylor - 13 disposals, 3 marks, 1 tackle
"Was really good for us tonight. They were both on really good opposition players in Paine and Hamilton and to keep them to one goal between the two of them was fantastic."
Jake Stein - 15 disposals, 6 marks, 2 tackles
"He came off a quiet game last week but footy's a funny thing, things turn around pretty quick and he certainly did that tonight."
Brent Daniels - 15 disposals, 2 marks, 2 tackles
"He got tagged by Brad Howard who's played with St Kilda at AFL level so it was a good challenge for him. What I was proud about was that he fights through it. It wasn't his day offensively with the ball and possession wise but his high pressure and never give up attitude certainly stood out"
Dawson Simpson - 6 disposals, 2 marks, 2 tackles, 25 hitouts
"He's a freak. Continues to get his hands on the ball and make our midfielders look good. I'd love to be midfield with him that's for sure. But he was super and his spirit around the boys is second to none."