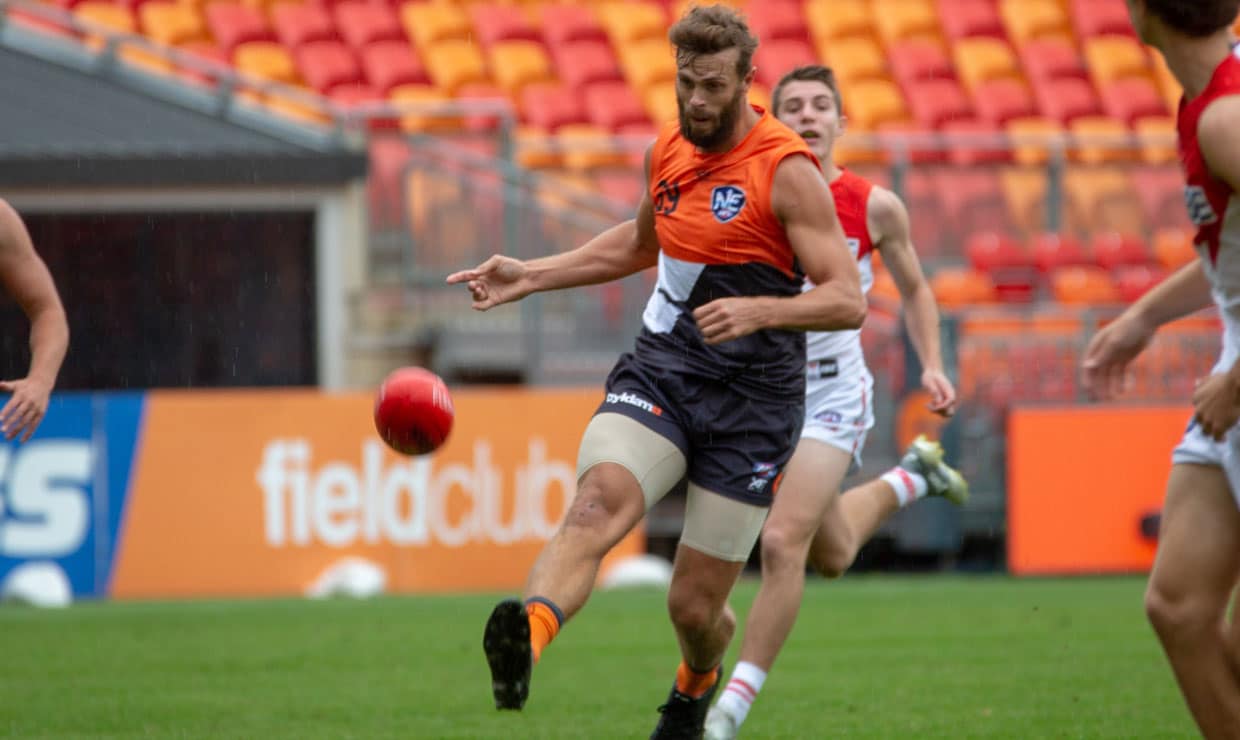 In just his third match back from a knee reconstruction, defender Matt Buntine has starred for the GIANTS Reserves in their 31-point loss to the Swans Reserves at Spotless Stadium on Saturday.
Buntine collected 39 disposals and took nine marks as the GIANTS fell short at home in round six of the NEAFL, 5.12 (42) to 10.13 (73).
"It was disappointing weekend, unfortunately, just a couple of simple things in our fundamentals that cost us," GIANTS NEAFL Coach Adam Schneider said.
"The Swans were too good."
Wet conditions marred the first half, making life tough for tall forwards Jonny Patton and Zach Sproule.
The GIANTS were more attacking in the second half as skies cleared but they couldn't reel in the Swans' half time lead of 23 points.
GIANTS Reserves 5.12 (42)
Swans Reserves 10.3 (73)
Goals: Dylan Buckley, Aiden Bonar, Zach Sproule, Dave Smith, Matt Flynn
The GIANTS will travel to Canberra to take on the Canberra Demons at UNSW Canberra Oval on Saturday, May 19 at 12 noon. The match is set to be live-streamed by the NEAFL, CLICK HERE for more information.
GIANTS NEAFL coach Adam Schneider on the performance of the GIANTS' AFL-listed players:
Matt Buntine – 39 disposals, 9 marks, 5 tackles
"He was super impressive. I'm just rapt to watch him play footy again and the way he played his role for the team and helped set us up down back. He's building each week which is just great."
Tim Mohr – 31 disposals, 8 marks, 2 tackles

"Once again he beat his man. He was relentless and also got a lot of the footy to set us up offensively."
Nick Shipley – 31 disposals

"It was a great learning curve playing AFL and he brought the experience he learned back to NEAFL. He ran over 16km in the game and was fantastic for us."
Harry Perryman – 26 disposals, 5 tackles

"He had a tough day getting tagged but fought really hard through it. He really dug in and just showed his true class again with ball in hand."
Sam Taylor – 25 disposals, 11 marks

"Sam took another 11 marks and again one-on-one was extremely good. He's very hard to beat and he seemed to win more contests than he lost."
Aiden Bonar – 22 disposals, 1 goal

"Bonar was a little bit quieter than normal. He got a bit of the ball and was still working hard. But again, he's a developing player and he's got so much upside which is great to see it's just about putting every little bit he's learning into one game which is not far away."
Zach Sproule – 20 disposals, 1 goal, 3 behinds

"Zach's been great, his work rate has been fantastic. He just missed a few easy opportunities in front of goal."
Dylan Buckley – 14 disposals, 1 goal

"He was very lively with ball in hand. When he uses his speed he's an extremely impressive player and looks extremely dangerous for us."
Dawson Simpson – 13 disposals, 6 tackles

"He won over 30 hit outs again for us, he had a good challenge against Darcy Cameron and beat him. Dawson's follow up at ground level with six tackles was good."
Brent Daniels – 12 disposals, 4 tackles, 4 marks

"Like Dylan Buckley, with ball in hand he's very exciting. When he uses his speed and hits the target he's dangerous. It was a tough day for the small forward but he's still a work in progress in his third game back."
Jonny Patton – 12 disposals, 6 tackles
"Jonny's effort was good. One-on-one he was fantastic. He had Aliir Aliir on him for most of the game and had another defender dropping in front of him for most of the game. He competed well but just couldn't quite hit the scoreboard."
Matt Flynn – 13 disposals, 1 goal, 5 marks, 2 tackles

"He did some really good work with his follow up around the ball for a big fella. He beat Cameron in the ruck and was impressive in flying for marks and crunching some packs."