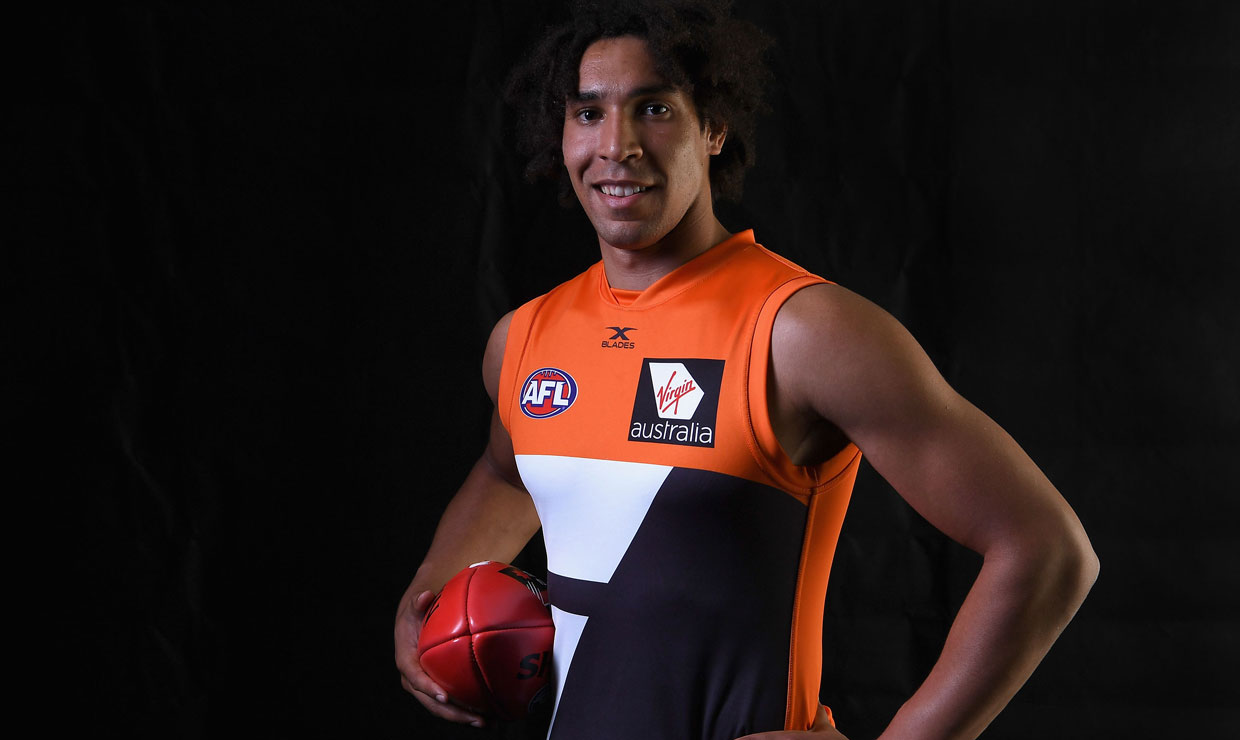 Emma Quayle is an award-winning journalist and draft expert who spent 16 years covering AFL for The Age newspaper before joining the GIANTS' recruiting team in February, 2017. As one of the industry's most respected writers and talent spotters, Quayle has a unique perspective on the GIANTS' recent crop of draftees. In the fifth of her insightful six-part series, Quayle sits down with selection 10, Aidan Bonar.
Aiden Bonar was asked the same question every day for more than two years. The words weren't always the same but the sentiment never changed, no matter where he was or what he was doing. How was he going? How did it feel? Was it getting strong? Was he coping with all the rehab? When was he going to play again? "It came out in different ways but it was the only thing people wanted to know about," he said. "It was the only thing they had to ask me about."
We need to start with the right knee here too. Sorry, Aiden. Our first pick in last November's draft wanted badly to become an AFL player before it ruptured for the first time, and is not sure his injuries made him crave that any more. "It's the only thing I ever really wanted to do," he said, "and that never changed." What he does know, though, is that spending 14 months in rehab, then having to start all over again just four games into his comeback made him a little bit more of everything. "I was more disciplined," he said. "I was more focused. I knew I had to do every single thing right."
Bonar has not forgotten the day his anterior cruciate ligament first crumbled, almost two years ago. He remembers every little bit of it: the date, the weather, where he was on the oval when the player fell across him early in his second game for the Dandenong Stingrays' under-16 team. He waited for almost two hours in a Bendigo hospital to be scanned that day, and the drive home took three more. He had no idea what an ACL was when he got hurt; he was 16 and had never really heard the word. But he was tired, sore and he knew from what the doctor said that he wasn't going to play football again for a very long time, if at all. "I cried the whole way home," he said. "I didn't think I'd ever play again."
He didn't let himself believe that for too long. He had to come back; there was no choice because there was nothing else he wanted to do. But Bonar had no real idea what he was doing, before his surgery or straight after it. He saw a physio and followed every instruction he was given, "but it was mostly stick figure drawings on a paper" and he felt as though the big decisions were basically left us to him: when to run, jump and play again. He stuck to it for more than a year but when he played for the first time last year ran onto the ground with his fingers crossed, wondering what would happen and hoping he would be all right. For three games, everything was fine. But in the fourth Bonar twisted his body one way, felt his knee buckle as he turned and knew he had done it again. "I cried, again," he said. "I cried in the rooms and then I went back onto the bench and cried some more. But I kind of knew, that this time would be better."
There were reasons for that. Bonar, in his bottom-age year at the Stingrays by then, had a manager, who put him in touch with a new knee surgeon straight away. He can remember googling Julian Feller's name, reading about how many AFL players he had got back up and running and feeling immediately certain that he would get better just like they did. He already had a new physio, one he had met through his Haileybury College school side, and he had started working with a personal trainer, too. He was ready for the thing he had hoped would never happen again, but had felt nagging in the back of his mind for weeks. "I was already taking my footy more seriously when it happened again," he said. "But then I had to start doing even more."
So, Bonar bought a whiteboard, put it in the garage at his Cranbourne West home and started mapping out his rehab plans for each week on it. He took resistance bands to school with him and would stand at the back of the room getting his glute exercises done. He started spending an hour and a half at a gymnastics centre every Wednesday night, practising his jumping and landing on the trampolines there. He got up at six o'clock almost every single morning before school, woke his father up and headed outside with him. His dad, Joe, would time his runs, help count his reps, kick footballs to him and just be there to help him keep going. Not that he needed much urging. "My dad never wanted to be the one forcing me out of bed every day," Bonar said. "He always said the motivation had to come from me."
This was all new to Joe, too. As it was to Aiden's mother Suzie, who drove him to and from the trampoline centre each Wednesday night, not surprised by his desire to get better but impressed with his persistence; Aiden made sure he made it there every single week. Joe was born in Scotland, and was three when he moved to Melbourne; nobody in his family had played football before Aiden joined the Auskick program at Crib Point, making his way to Karingal and then Seaford, where he was the kid who needed to be moved from the midfield to the back pocket some weeks so his teammates could get a kick. He went happily. "I didn't care where they asked me to play as long as I was out there," he said. "I loved being part of the team. Before my knees happened football was just fun for me. As long as I was out on the ground I was happy."
He didn't get his footballing genes from his mother's side, either. Suzie grew up in Kiunga, in the western province of Papua New Guinea, a few hours from Port Moresby. She and Joe met when he moved there in the late 1980s to work as a volunteer teacher at a school for handicapped kids; she helped out there too. By the time they moved back to Melbourne together a few years later Aiden's sister Roseanna had been born. She, along with his second sister Jessica helped him out as much as his parents did while he was getting his knee better. "I'd always go around to Roseanna's house just to talk," he said. "Not really about football, but just about life in general and how I was going with everything, how I was feeling. I had times of feeling frustrated and feeling upset. My family helped me a lot."
Other emotions turned up as he started to play again, in the second half of last year. Bonar wanted to pick up right where he had left off. He wanted to play well from his very first game with the Stingrays, to do all the things he had been picturing in his head. When we first spoke to him, a few games into his comeback, he was talking about all the things he wanted to do. But one week, he would charge through the midfield, get lots of the ball, lay lots of heavy tackles and feel good about himself. The next, he would play in the forward line and feel like he had no idea where the ball was going. People kept telling him to be patient, and he had to learn how to manage his own expectations and tell himself that the ups and downs were normal, "that some weeks were just going to be better than other weeks, that it wouldn't just go in a straight line."
In the meantime we learnt other things about him. That you could show him his gym program once, then trust him to go away and follow it. That he never missed a session. That he loved having specific goals to work towards, and that he had been helping two of his teammates through their own rehab programs. How he got upset after one game because he felt like he hadn't done enough to help the Stingrays win. That he liked direct feedback. That he had a quiet nature but a big group of friends, both at school and around his footy teams. That he had a cheeky side, too: at the end of a chin-up competition in the Dandenong gym one day Bonar threw in a couple of one-armed ones, to make everyone laugh.
"It was a long wait, and I just wanted to play well. People kept telling me that I didn't have to play amazing games and that I should just enjoy being able to play again, but I didn't really like that. It kind of annoyed me because I wanted to just get back out there and do what I was doing before, show what I could do and work my way up to the top," he said.
"It's annoying watching other people when you're injured, because all you can do is sit there and think about what you could be doing, and when I came back I felt like I had fallen behind and like I had a lot of catching up to do. Every time I got near the ball I wanted to do something good with it and I probably put a bit too much pressure on myself like people were warning me about. But I just wanted to get on the best player list and make sure I was there every week if I could. I wanted everything to be like it was, and then I wanted everything to keep going so that I had other things to think about and new things to do."
Getting drafted feels like his chance to do that, for real now. "It does. I was sitting at the draft looking over at the clubs and the tables, and as soon as I heard my name, everything felt new to me," Bonar said. "No one asks about my knee anymore, it's that good. For two years I got asked by someone every single day, even when I came back and played, but now I feel like I can leave that behind and talk about other things and do other things. I'm only 18, but it feels like I'm making a fresh start and like footy is about better things now."