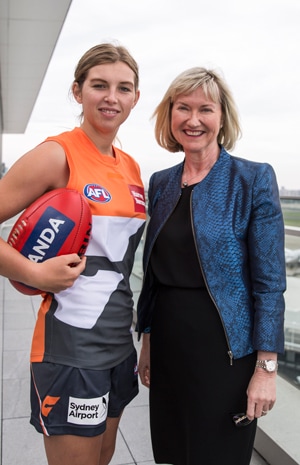 It's a little bit of history I get to keep, saying I'm the first NSW/ACT priority pick player in the women's league so it's pretty awesome.
GIANTS player Maddy Collier
At just 21 years old, Maddy Collier has made history as the first NSW/ACT player to be selected for the GIANTS' women's team.
Growing up in Nowra on the New South Wales South Coast, Collier has developed into one of the top female talents in the state since taking up the game six years ago.
"It feels awesome, I can't really describe how it feels. It's a little bit of history I get to keep, saying I'm the first NSW/ACT priority pick player in the women's league so it's pretty awesome," Collier said.
"We've been thinking about this for so long and dreaming of it happening but it's finally here now. It's a dream come true.
"My brother used to play at home and I got really jealous of him kicking a footy and I was on the sidelines. My Pop, who moved from Western Australia, started footy back home was a big influence and so was my Dad.
"He always wanted me to play but I never had any opportunities until a couple of years ago."
Collier burst onto the local football scene when she won the AFL Sydney Women's Premier Division Best and Fairest Award in 2013 at just 18 years old.
The AFL NSW/ACT Development Officer has been selected for the Western Bulldogs in the past two Women's All Stars matches however injured her ankle ahead of the 2015 match.
She made her debut for the Western Bulldogs in this year's match which was a ratings hit and the first time in five attempts the Bulldogs have beaten the Melbourne Demons.
This season Collier has represented NSW/ACT and the Swans in Women's Exhibition Series matches and was named Best on Ground for NSW/ACT in their narrow loss to South Australia in June.
Collier was also a key member of the UNSW-Eastern Suburbs Stingrays side which took out the 2016 AFL Sydney Women's Premier Division title last weekend.
She described what GIANTS fans can expect to see when she runs out in the orange and charcoal next year.
"I usually play in the midfield but I have been known to have a run on the half-back line in defence," Collier said.
"I'm more of an inside player, I put my body on the line and like to get a hard ball. I've been told I have quite good foot skills so I'm a good decision-maker as well."
Turning 21 this week, Collier is the first priority player to be selected by the club, following the signings of West Australian pair Renee Forth and Emma Swanson as the club's marquee players.
The GIANTS were granted four priority selections to sign players from any state to help ensure an even competition in 2017.
With Forth suffering a season-ending injury in her local WAWFL semi-final, the club has also been granted an additional priority pick.
At every level, Collier can see first-hand the impact of the introduction of the AFL Women's competition.
"I work in AFL and I can see from grassroots level the amount of vibe and hype going on about women's footy," she said.
"You can tell while coaching that a lot more Youth Girls are getting into it and taking steps to try and play the game.
"They're going home to Mum and Dad and saying, 'This is a really cool game and I want to play'.
"Although they're young, when the women's league becomes more established, they're going to be the next stars."
It's been an exciting time for the GIANTS' women's team following the announcement of Forth and Swanson as the club's marquee players.
The club has also announced Harvey Norman as the premier partner of the women's team with FlexiGroup coming on board as the platinum partner and Sydney Airport as the shorts partner.
Earlier this week, Collier had the opportunity to meet Sydney Airport Managing Director and Chief Executive Officer Kerrie Mather who personally signed off on the partnership with the club.
"I'm passionate about supporting women's sport and helping women to become the best they can be at whatever they do," Ms Mather said.
"I played a lot of sport growing up and it's fantastic that young women today have so many more options to play their chosen sport at the highest level.
"Maddy and her fellow women's AFL players will be great role models and I look forward to watching them compete in next year's inaugural season."
More than 500 fans have signed up to be Foundation Members of the women's team ahead of next year's competition with a unique opportunity to be there from the start and be part of history.