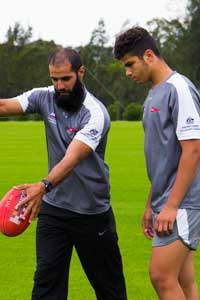 We're all about opening up our arms and providing opportunities for these kids
Emad Elkheir, GIANTS Community Engagement Coordinator
It might not be too long before we see a muslim teenager from western Sydney playing in the AFL.
The GIANTS recently opened their doors to more than 30 muslim youths who got a taste of professional football as part of the Bachar Houli Academy.
The academy, founded by Richmond defender Bachar Houli and supported by GIANTS Care, provides a talent pathway to the AFL.
The academy is made up of teenagers from a range of sporting backgrounds, including cricket, soccer, rugby league, athletics and tennis.
Some of the participants also took part in the Bachar Houli Cup earlier this year, an annual football tournament in Auburn that features more than 200 students from Islamic schools across western Sydney.
Over the course of three days at the GIANTS' Learning Life Centre participants took part in physical testing, skills sessions, nutrition seminars and leadership exercises.
A devout muslim, Bachar Houli said the program teaches life skills as well as showcasing the professionalism needed to become elite footballers.
"Most of these kids haven't been exposed to AFL before so we're trying to give them a taste of what it's like," Houli said.
"We give them all the possible tools to progress and move forward in life which will help them become good community leaders."
It's not the first time Houli has worked closely with the GIANTS to promote social inclusion and encourage participation in the sport.
In June he attended the GIANTS' Iftar Dinner which celebrates Muslims ending their daily Ramadan fast at sunset.
Bachar Houli Academy member Hisham Hoblos, 16, of Casula, said he has quickly developed a strong passion for Australian Football since joining the program.
"I have been playing soccer all my life but I just fell in love with AFL and the GIANTS," Hoblos said.
"This is actually my second year following AFL and next season I am going to join a club for the first time.
"Bachar is the perfect mentor, he is a great role model who we can all learn from in both football and life."
GIANTS Community Engagement Coordinator Emad Elkheir said the club will continue to support talent pathways aimed at western Sydney youths.
"We're all about opening up our arms and providing opportunities for these kids," Elkheir said.
"That's what GIANTS Care is all about. It's about the club seeing what we can do for western Sydney, not what we can take from western Sydney."
GIANTS Care focuses on people from low socio-economic backgrounds and disadvantaged communities across Western Sydney.
The initiative provides a vehicle to help deliver on the four key pillars of the club's community agenda which are: Health, Harmony, Education and Employment.