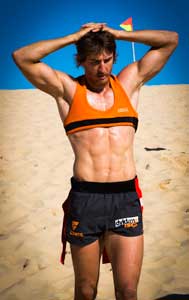 It's probably the hardest thing I've ever done.
Tom Boyd
It's one of the most brutal sessions on the GIANTS' annual pre-season calendar and for new recruit Tom Boyd, Saturday morning's training at Wanda sand dunes was one of the toughest things the young forward has ever done.
"Being the first time I've been out here, it was a bit of a shock seeing the dunes," Boyd said.
"It's probably the hardest thing I've ever done but it's these kind of sessions where you push through as a team that make the team stronger than ever.
"I'm really happy it's over but I feel like I got a lot out of it."
In scorching conditions at the dunes near Cronulla Beach, the GIANTS completed a one-hour session which Head Coach Leon Cameron said was designed to take the players out of their comfort zone.
CLICK HERE TO VIEW A PHOTO GALLERY OF THE SESSION

"It's just a lot of hills in the sand and games played in the sand just to test them out mentally," Cameron said.
"They're cooked now so they'll need the whole weekend to recover before Monday."
Cameron named youngsters Lachie Whitfield and Sam Frost as standouts on the dunes.
"Lachie Whitfield was terrific and Sam Frost's had a really good pre-season, but all the guys dug in - it's in an uncomfortable sort of surroundings to being out on the ground so their attitude was great."
It's the third time Adam Tomlinson has faced the dunes but the utility said it doesn't get any easier as the years go by.
"A few of the boys didn't sleep much last night," Tomlinson said
"We enjoy coming down here, it's a bit different, it's really tough and it brings us all together just that little bit closer even though it's probably the hardest thing we do.
"The physical side of things is really good but I think the mental stuff that we talk about during the course of today is what we really want to get out of it."
With just over a month until the GIANTS kick off their NAB Challenge campaign against cross-town rivals the Swans at StarTrack Oval in Canberra, Cameron said all the players are gearing up for a big 2014.
"Their effort and energy has been great all pre-season and they've come back after Christmas in great spirits and this sort of session brings them together and shows that," Cameron said.
"It (the season) comes around really quickly, especially after the Christmas break.
"The boys have got the long weekend off next weekend and then when they come back basically we've got some intra-club games and then we start our NAB Cup campaign and we're all building up to Round 1 against the Swans and we look forward to meeting them at GIANTS Stadium."